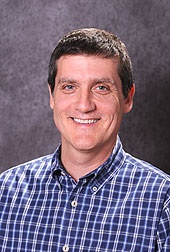 Paul Ginter, Ed.D., is an licensed psychologist and lead senior IFS trainer at the IFS Institute. In his private practice, Paul primarily uses the Internal Family Systems Model in his work with individuals, couples and families He works with a wide range of concerns including depression, anxiety, grief and relationship issues.
Paul is the co-founder of the Center for Psychotherapy and Wellness. He also served as the Organizational Learning Officer at the Fetzer Institute, a private operating foundation in Kalamazoo. Before living in Kalamazoo, Paul was the Program Director for Wellness House, a not-for-profit organization located in Hinsdale, Illinois providing psychosocial support for cancer patients and their families. Prior to living in the Chicago area, Paul was a psychologist at college counseling centers at the University of Georgia and East Tennessee State University.
Paul received his B.A from Albion College, master's degrees from the University of Iowa and Western Michigan University and his doctorate from WMU.