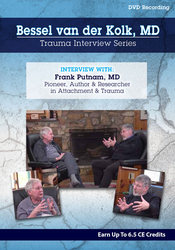 PART 1
Frank Putnam, MD, Pioneer & Researcher in Attachment & Trauma
Recently I was fortunate to engage in a personal interview with my colleague and pioneering researcher, Frank Putnam, MD, who is without question one of the world's foremost scientists in the field of trauma, dissociation and attachment.

His remarkable research reveals findings that are of significant relevance to trauma treatment today. And in this video interview, you'll hear first-hand about his dutiful and passionate studies on sexual abuse, transgenerational trauma, and dissociation and multiple personality disorders (DID).

As Frank describes the arc of his discoveries from one intervention project to the next, and our conversation moves from one question to another, you'll gain an understanding of the impact of trauma on the mind and brain that will immediately inform your trauma treatment.

I invite you to delve into this journey with me to learn of this man's important work, impact and contributions to the field.

Bessel van der Kolk
February 2017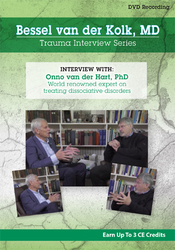 PART 2
Onno van der Hart, PhD World renowned expert on treating dissociative disorders
In this intimate interview, Bessel van der Kolk interviews one of the pioneers in the field of trauma and dissociation - a world-renowned expert whose has written extensively on understanding and treating chronic traumatic stress, and helped guide trauma treatment worldwide.

Listen to Drs. Van der Hart and Van der Kolk in a captivating exploration of the nature of trauma and dissociation and learn how dissociation has often been under-diagnosed and poorly treated in mental health circles. They cover issues of the history of the field, recognition, assessment and effective treatment techniques.

With case studies to illustrate the reality of dissociation, and enriching commentary, this continuing education moment will enhance your understanding of the clinical presentation of dissociation and trauma and the challenges of treatment.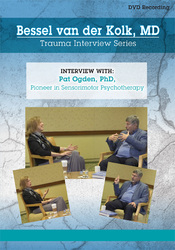 PART 3
Pat Ogden, Ph.D., Pioneer in Sensorimotor Psychotherapy
In this special personal interview, Dr. Bessel van der Kolk guides Dr. Pat Ogden in describing her journey as becoming one of the foremost trauma experts from her development of Sensorimotor Psychotherapy.

Hear in Dr. Ogden's own words how she discovered body-focused techniques that healed trauma clients when her colleagues were unable to achieve the same through talk therapy. Learn how to adapt your practice to incorporate the body and avoid evoking the trauma client's emotion during therapy.

You will hear how Dr. van der Kolk learned from her work and why he credits her for setting his direction in his research and formed him as a trauma clinician.

This hour-long conversation between two of trauma's world experts will leave you with a concrete vision of where you should take your trauma therapy techniques.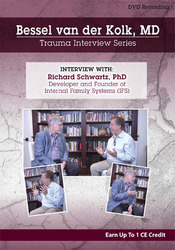 PART 4
Richard Schwartz, Ph.D., Developer and Founder of Internal Family Systems (IFS)
In this interview, Dr. Bessel van der Kolk talks with Richard Schwartz, Ph.D., developer and founder of Internal Family Systems (IFS) - hailed by Dr. van der Kolk as "the treatment method that all clinicians should know to treat clients effectively".

Listen to Dr. Schwartz's discovery of IFS through his work with families and the roles that individuals play in a family system. Within an individual, these same roles exist as parts - all of which serve important and purposeful functions. Drs. van der Kolk and Schwartz identify each part and the role they play, illustrate the relationships between them, and stress the importance of honoring and welcoming all parts in helping clients.

Through role play, observe how Dr. Schwartz uses IFS in therapy. Find tips, tricks, and resources that you can use to begin your journey using this treatment modality for your traumatized clients or gain additional insight for the seasoned IFS practitioner.