Description
Get the therapist's toolkit you need to optimize your work with clients facing their traumatic pasts.
Watch trauma expert Daphne Fatter, PhD, who has almost 20 years of experience providing trauma treatment and completed her postdoctoral fellowship in clinical psychology under the direct supervision of world-renowned trauma expert Dr. Bessel van der Kolk.
Certified in EMDR, IFS and trained in CPT, Dr. Fatter will provide you with a guide on how you can better attune to trauma clients, elicit more stability prior to deeper work, and utilize an evidence-based Three Phase Model to help you create appropriate treatment plans to meet your clients' unique needs.
Dr. Fatter's training will give you a roadmap to providing quality trauma treatment based on today's most in-demand treatment modalities so you can:
Identify which candidates are ready for trauma processing
Best support clients during triggering moments
Access critical traumatic content during trauma processing
Appropriately work with culturally relevant factors
Discover the nuances of EMDR, CPT, IFS, and PE through case examples
Choose the right trauma processing model for your clients
Help clients regulate arousal and stabilize by integrating adjunctive interventions
Identify indicators of progress in effective trauma treatment
PLUS, when you complete this training, you'll be eligible to become a Certified Clinical Trauma Professional (CCTP) through Evergreen Certifications at no additional cost.
Don't miss this chance to get the expert guidance and interventions you need to make your trauma treatment toolbox more robust than ever before.
Register now!
---
CERTIFICATION MADE SIMPLE!
No hidden fees – PESI pays for your application fee (a $99 value)*!
Simply complete this course and the post-event evaluation included in this training, and your application to be a Certified Clinical Trauma Professional through Evergreen Certifications is complete.*
Attendees will receive documentation of CCTP certification from Evergreen Certifications 4 to 6 weeks following completion of the program.
*Professional standards apply. Visit www.evergreencertifications.com/CCTP for professional requirements.
Credits
---
CE Information Coming Soon
---
Continuing education credit information is coming soon for this non-interactive self-study package.

CEs may be available for select professions, as listed in the target audience. Hours will be dependent on the actual recording time. Please check with your state licensing board or organization for specific requirements.

There may be an additional fee for CE certificates. Please contact our Customer Service at 1-800-844-8260 for more details.

**Materials that are included in this course may include interventions and modalities that are beyond the authorized practice of mental health professionals. As a licensed professional, you are responsible for reviewing the scope of practice, including activities that are defined in law as beyond the boundaries of practice in accordance with and in compliance with your professions standards.
---
---
Speaker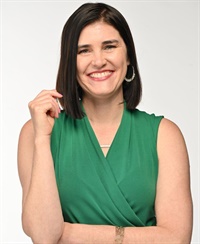 ---
Daphne Fatter, PhD, is a licensed psychologist, certified Internal Family Systems (IFS) therapist, and clinical IFS consultant. She is also certified in EMDR and has completed advanced training in cognitive processing therapy. She was awarded her doctorate in counseling psychology from Pennsylvania State University. She completed a postdoctoral fellowship in clinical psychology at the Trauma Center, an affiliate of the Boston University School of Medicine, under the direct supervision of Dr. Bessel van der Kolk. She is the former military sexual trauma coordinator at the Fort Worth Veteran Affairs Outpatient Clinic. She speaks to mental health clinicians internationally providing engaging continuing education on nuances on trauma treatment from her seasoned clinical experience treating PTSD and complex trauma. She is in private practice in Dallas, Texas.
Speaker Disclosures:
Financial: Dr. Daphne Fatter maintains a private practice. She receives a speaking honorarium and recording royalties from PESI, Inc. She has no relevant financial relationships with ineligible organizations.
Non-financial: Dr. Daphne Fatter is a member of the American Psychological Association, the EMDR International Association, and the Texas Psychological Association.
---
Additional Info
Access for Self-Study (Non-Interactive)
Access never expires for this product.
Questions?
Visit our FAQ page at www.pesi.com/faq or contact us at www.pesi.com/info
Objectives
Assess clients for indicators of unprocessed traumatic memories.
Utilize CAPS-5, PCL-5 and other appropriate clinical evidence-based assessments to identify traumatic events and PTSD diagnosis.
Assess clients for racial trauma and/or stress from discrimination.
Differentiate between hyper-arousal and hypo arousal signals in clients.
Employ an evidence-based Three Phase Model in trauma treatment that begins with establishing safety.
Analyze how therapeutic presence facilitates positive therapeutic relationships and effective therapy through the lens of Polyvagal Theory.
Determine how clinicians can utilize adjunctive interventions like yoga to help clients regulate arousal and stabilize. 
Employ breathing and somatic interventions clients can use when they are in acute distress.
Apply culturally relevant information to treatment plans and to build working alliance with clients before trauma processing. 
Assess clients to determine which are good candidates for trauma processing.
Analyze factors to consider in choosing the appropriate trauma processing model for a client.
Integrate effective adaptions when working with bi-lingual clients or neurodiverse clients.
Evaluate signs that clients are making progress during trauma processing.
Differentiate the benefits and potential drawbacks of EMDR, CPT, IFS and PE to establish which might best fit a particular client's needs.
Determine what to include in your clinical documentation when working with PTSD.
Outline
How the Neuroscience of Traumatic Stress Informs Your Treatment Plan
Impact on Brain Stem, Limbic System, & Pre-Frontal Cortex
How Trauma Impacts Information Processing
Indicators that a Client has Unprocessed Trauma
How Understanding the Neurobiology Informs Treatment Plans
Trauma Assessment Tools
Trauma Symptomology
Simple vs. Complex Trauma
Intergenerational Trauma
CAPS-5 and PCL-5
Screening for Racial Trauma and Stress Due to Discrimination
Dual Diagnosis & Differential Diagnosis
Creating Treatment Plans Focused on Arousal Regulation
PTSD & the Nervous System
Reading Your Client's Signals
Signs Your Client is in Hyperarousal
Signs Your Client is in Hypoarousal
Polyvagal Theory
Emotional Attunement in Therapeutic Relationship
Employing the Phase-Oriented Treatment Model: A Roadmap to Safe and Effective Trauma Processing and Resolution
Benefits, Risks, Limitations
Phase One: Stabilization
Phase Two: Trauma Processing & Grieving
Phase Three: Present Day Life
What to Include in your Clinical Documentation
Adjunctive Interventions: 4 Proven Tools to Reduce Symptomology, Enhance Calm, and Improve Functioning
Arousal Regulation & Coping Skills
Yoga
Safe & Sound Protocol
Heart Rate Variability
Neurofeedback
How to Integrate These into Your Practice
Limitations of the Research and Potential Risks
Navigating Acute Distress for State Change In and Out of Session
Bi-lateral Stimulation & Resource Tapping
Relational Resources & Integrating Culturally-Based Strengths
Breathing & Somatic Interventions
Emotion-Freedom Technique
Sensory Resources
Self-Compassion and Mindfulness
Limitations of the Research and Potential Risks
Trauma Processing: Accessing Trauma Memory Networks, Managing Triggers, and More
What It Is and What It Isn't
Accessing Traumatic Memory Networks
What Happens When a Client is Triggered
Engaging the Right & Left-Brain Hemisphere
Is Your Client Ready? Contraindications for Trauma Processing
Common Contraindications for Trauma Processing
Understanding Factors that Contribute to Early Termination
Informed Consent
How to Communicate Realistic Expectations
Things to Ask out Before Beginning
Including Partners & Family in Trauma Treatment
Cultural & Relational Factors in Trauma Treatment
Cultural Humility & Cultural Attunement
Systemic & Oppression-based Traumas
Social Location & Creating Working Alliance
Language Code Switching
Treatment Plan Considerations
Prolonged Exposure and Cognitive Processing Therapy: 2 of the Best-Validated Top-Down Models for Trauma Resolution
Prolonged Exposure Therapy (PE)
Cognitive Processing Therapy (CPT)
Case Conceptualization & Case Examples
Treatment Goals & Roadmaps
Therapist's Role
Limitations of the Research and Potential Risks
EMDR and IFS: Evidenced-Based Bottom-Up Models to Heal Trauma
Eye Movement Desensitization and Reprocessing (EMDR)
Internal Family Systems (IFS)
Memory Reconsolidation
Case Conceptualization & Case Examples
Treatment Goals & Roadmaps
Therapist's Role
Limitations of the Research and Potential Risks
Choosing the Right Trauma Processing Model for Your Client
Treatment Considerations
Shared Decision Making
Indicators of Effectiveness & Progress
When Is Trauma Processing is Complete
Specific Considerations & Future Directions in Trauma Treatment
Nuances with Neurodiverse Populations
Considerations with Traumatic Loss
When is Group Therapy Appropriate
Future Directions & Psychedelic-Assisted Therapy
Free Phone Apps and Resources for Clients
Target Audience
Counselors
Social Workers
Physicians
Psychologists
Case Managers
Therapists
Addiction Counselors
Marriage & Family Therapists
Nurses
Other Mental Health Professionals