Description
After sustaining a loss of function, patients and 3rd party payers want immediate change. Rehab clinicians rightfully expect the same efficiency from skills-based education. This 2-day training will not disappoint - you will get a wealth of information for immediate application with guaranteed results.
You will discover how to approach assessment and rehab differently. If you're still relying on the standard single plane assessment methods, you're missing a big piece of the puzzle – functional, real-world application! Level up your treatment with multiplanar active assessments that are easy to apply to the whole body. Uncover the unique properties of concurrent mobility and stability throughout the kinetic chain to enable whole body functional movement patterns.
This comprehensive, joint by joint approach seamlessly transitions from assessment to treatment. You'll learn today's best practices to:
Quickly determine the actual anatomic contributor to the loss of mobility and function
Integrate manual therapy techniques – trigger point release, IASTM, vibration, joint mobilization and more
Incorporate strengthening with an emphasis on dynamic stability and graded progression
Real world application that accommodates all fitness levels from independent ADLs up to elite athletic performance
Best of all, no expensive equipment needed. You'll discover novel approaches utilizing basic supplies including exercise bands/tubing, foam, physio balls and more. Look no further because it doesn't get better than assessment, manual therapy techniques and stabilization exercise – ALL in one course!
Credits
---
CE Information Coming Soon
Continuing education credit information is coming soon for this live webcast.

---
---
Speaker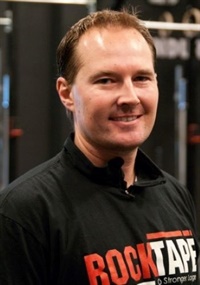 RockTape
---
Tony Mikla, DPT, CSCS, XPS, is a sports physical therapist and performance coach. Dr. Mikla speaks and teaches nationally on sports physical therapy and is active in research having published multiple papers in international journals. He is the founder and CEO of KIME Human Performance Institute focusing on improving people's lives through movement and physical therapy. He previously served as the physical therapy manager at the world renowned EXOS in Phoenix, AZ, working with best athletes in the world.

He is the medical director for Sacramento Sports Commission and adjunct faculty in PT at Sacramento State University and Northern AZ University. In 2015, Tony was named a finalist for the NSCA Sports Medicine Specialist of the year. Tony speaks nationally on movement principles. He is both published in peer-reviewed articles (Journal of Sport Physical Therapy, Journal of Sports Medicine) as well as nationally recognized magazine publications (Sports Illustrated and Shape Magazine).

He has worked tirelessly in implementing movement retraining principles at the highest level of competition, including the Olympics in Beijing, London, and Rio. He blends the worlds of performance and physical therapy to help unite the greater purpose of Sports Medicine at the youth, collegiate, active adult, and pro level.
Speaker Disclosures:
Financial: Anthony Mikla has an employment relationship with Kime Human Performance Institute. He receives a speaking honorarium from RockTape and PESI, Inc.
Non-financial: Anthony Mikla is a member of NSCA Southwest Region Advisory Board and the National Strength and Conditioning Association.
---
Additional Info
Access Period for Live Webcast
For live CE credit, you must watch the live webcast in its entirety at its scheduled time and complete the CE quiz and evaluation within one week. You will have access for 90 days after the program for review.
Webcast Schedule
Please note: There will be a 60-minute lunch and two 15-minute breaks; one in the morning and one in the afternoon. Lunch and break times will be announced by the speaker and at their discretion. A more detailed schedule is available upon request.
Questions?
Visit our FAQ page at www.pesi.com/faq or contact us at www.pesi.com/info
Objectives
Investigate functional implications of mobility at the ankle and hip.
Determine why stability is required in the knee and L/S junction.
Investigate what anatomic structures impact mobility and how.
Analyze the functional implications of stability at various regions in the body.
Integrate various equipment, tools, and exercises in a plan of care to generate mobility.
Propose the application of various equipment, tools and exercises to generate stability.
Formulate a customized structured plan of care driven by assessment and objective findings.
Construct guiding principles to advance a plan of care to achieve functional stability.
Identify the difference between an active and latent trigger point.
Differentiate common orthopedic dysfunctions of the hip, knee and ankle.
Identify 3 MFR/IASTM techniques to use for common orthopedic conditions.
Differentiate different types of tools and effective use for addressing soft tissue dysfunction.
Defend correct selection and application of IASTM tools based on treatment goals.
Outline
Day One
Foundations of Mobility
Identify biomechanics of major joints in the UE/LE kinetic chains and how this relates to stability and function
Examination of how mobility is restricted – connective tissue, muscle, etc
Strategies to address the above limitations
Foundations of Stability
Examination of how static and dynamic stability impact function
Loading, eccentric control, multi directional sports
Postural Dysfunction
Etiology and cause
Examination of postural and phasic muscles and impact on movement
Fascia – function, role, adaptations
Upper/lower cross syndrome examined – postural vs phasic muscles
Trigger points – physiology, active vs latent, literature review of treatment methods and outcomes
Movement Assessment
Upper Body and Lower Body
Gross assessment techniques
Dynamic and multiplanar functional movement assessment methods
How to Improve Mobility
Manual therapy techniques
Soft tissue techniques: vibration, IASTM, soft tissue techniques
Active management: stretching, contract/relax
Movements, Equipment and Exercises to Improve Mobility
Strategies to address body regions for maximum return and efficiency
Application of force couples
Create a plan without specialized equipment that blends seamlessly with home program development
Progression from single to triplanar movement – low functional demand to athletic application
Methodology driven by static and dynamic mobility AND stability
Day Two
How to Create Static Stability
Upper extremities, lower extremities, torso
Management strategies for all environments

Body weight, manual resistance, tubing/bands, foam, physio balls, etc
Creating Dynamic Stability
Exercise application and progression
Emphasis on progression from static to dynamic activity
Goal setting to structure plan of care and progression

Introduce graded challenges/progression to meet functional goals
Movements, Equipment and Exercises to Improve Stability
Gross motor application with emphasis on progression to dynamic kinetic chain stability
Application to address the 'whole body' through customized assessment driven treatment plan
Target Audience
Physical Therapists
Physical Therapy Assistants
Chiropractors
Occupational Therapists
Occupational Therapist Assistants
Athletic Trainers
Massage Therapists
Personal Trainers and other Allied Health Professionals