Description
Unsure where to start when working with dementia? You're not alone!
This certification was designed with you in mind – a comprehensive dementia care program developed to specifically meet the needs of OTs, PTs and SLPs, as you are a vital part of the dementia care team.
Understanding the unique challenges and considerations involved in providing care for individuals with dementia and their care partners is crucial, and this course will provide you a tried-and-true dementia framework that will simplify your assessment and treatment plan, no matter where in their dementia journey they are.
Understand the types of dementia, their progression, and how they impact your plan of care
Behavior management tools to reduce challenging behaviors like agitation, anxiety, and aggression
Create dementia-friendly environments: reduce confusion, improve orientation & enhance safety
Adapt your communication style to accommodate cognitive changes to reduce overwhelm and confusion
Incorporate simple cognitive treatment strategies to enhance engagement in therapy and home program
Integrate functional activities that align with their routines and interests
Slow cognitive decline with cognitive stimulation therapy and multisensory stimulation
Enhance collaboration with care partners to provide education and practical tools
Navigate ethical challenges: informed consent, decision-making capacity, and autonomy
This training filled with practical and applicable strategies will help you confidently provide person-centered care to each unique case based on their needs and limitations. Plus, you're instantly eligible to become a Certified Dementia Care Specialist (CDCS) through Evergreen Certifications!*
So what are you waiting for? Purchase today!
---
BONUS!
The tuition includes your CDCS certification fee!
There're no hidden charges. Just complete this training. When you finish, you'll get simple instructions on how you can easily apply to become certified at no additional cost to you!
*Professional standards apply. Learn more at www.evergreencertifications.com/ecdcs.
Credits
Planning Committee Disclosure - No relevant relationships
All members of the PESI, Inc. planning committee have provided disclosures of financial relationships with ineligible organizations and any relevant non-financial relationships prior to planning content for this activity. None of the committee members had relevant financial relationships with ineligible companies or other potentially biasing relationships to disclose to learners. For speaker disclosures, please see the faculty biography.
---
CE Information Coming Soon
---
Continuing education credit information is coming soon for this non-interactive self-study package.

CEs may be available for select professions, as listed in the target audience. Hours will be dependent on the actual recording time. Please check with your state licensing board or organization for specific requirements.

There may be an additional fee for CE certificates. Please contact our Customer Service at 1-800-844-8260 for more details.

**Materials that are included in this course may include interventions and modalities that are beyond the authorized practice of mental health professionals. As a licensed professional, you are responsible for reviewing the scope of practice, including activities that are defined in law as beyond the boundaries of practice in accordance with and in compliance with your professions standards.
---
---
Speaker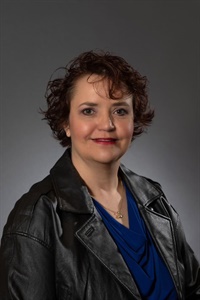 ---
Lizette Cloete, OTR/L CADDCT, CDP, is a Skills2Care occupational therapist, who graduated from the University of Pretoria (South Africa) in 1992. Recently, she and her husband moved to Greenville, SC, to be closer to her parents, who both are aging with cognitive impairment. Her primary goal is to help her parents age in place.

With an international educational background and upbringing, Lizette brings a unique perspective to the table, incorporating her Occupational Therapy training from South Africa with her 30 years of experience in caring for people with dementia in the USA.

In 2020, Lizette established her company, Think Different Dementia, LLC with the goal of helping families committed to keeping their loved one with dementia at home, do so without sacrificing their own lives, health or relationships.

Lizette has been a frequent guest lecturer on various dementia-related topics at various state-level conferences over the past decade. She has been a guest on numerous podcasts and interviewed for the newspaper, educating people on dementia and dementia care. She is a Certified Alzheimer's Disease and Dementia Care Trainer (CADDCT) and Certified Dementia Practitioner (CDP) through the National Council of Certified Dementia Practitioners (NCCDP). She volunteers as an Alzheimer's Association Advocate for South Carolina, working towards advocacy for legislation to benefit people with dementia.

In 2020, using her clinical observation skills and evidence-based practice, Lizette developed an easy-to-use framework through which to view how to care for people with dementia, providing formal-care partners a systematic way to problem solve common dementia-related behaviors, called Dementia Made Simple.

Lizette thrives by helping families who are committed to keeping their loved one with dementia at home, while supporting them in this oftentimes difficult journey. For more information, visit her YouTube channel called Think Different Dementia or her website www.thinkdifferentdementia.com
Speaker Disclosures:
Financial: Lizette Cloete is the founder and CEO of Think Different Dementia, LLC. and has an employment relationship with Self Regional Medical Center. She receives a speaking honorarium from PESI, Inc. She has no relevant financial relationships with ineligible organizations.
Non-financial: Lizette Cloete has a parent with dementia.
---
Additional Info
Access for Self-Study (Non-Interactive)
Access never expires for this product.
Questions?
Visit our FAQ page at www.pesi.com/faq or contact us at www.pesi.com/info
Objectives
Utilize cognitive assessments to differentiate depression from dementia.
Identify personalized care strategies that improve patient functioning.
Compare the 19 primary types of dementia to improve patient assessment.
Select environmental assessments to identify modifications that will improve patient safety.
Identify treatment approaches to prevent cognitive decline and enhance quality of life.
Identify characteristics of a resilient care circle to improve daily function and quality of life.
Distinguish between normal and abnormal aging processes.
Differentiate between subjective cognitive impairment and mild cognitive impairment.
Choose cognitive treatment strategies to improve engagement in therapy and home programs.
Identify symptoms of pseudo-dementia.
Determine treatment plans to help dementia patients maintain the highest ability to function.
Identify how the PEACE approach reduces challenging behaviors.
Integrate functional activities that align with patient routines and interests to maintain independence in ADLs and IADLs.
Utilize the PEACE approach to educate families how to proactively manage behaviors.
Outline
Getting Started: An Easy To Use Dementia Care Framework with Comprehensive Care Planning
Applicable for every unique dementia care situation, without being overwhelming to patients and their care partners
Importance of specialized care for individuals with dementia
Role of rehab therapists in dementia care
Develop an effective care circle: Who is along for the journey?
Who Controls the Dementia Journey? When Care Partners Need To Take Control
Advanced functional assessments for complex ADLs and iADLSs
The Burden Being Carried: Impact of Dementia on Care Partners and Society
Dive into the primary dementia types, symptoms, risk factors and progression

Alzheimer's disease
Vascular dementia
Lewy body dementia
Frontotemporal dementia
Other types of dementia: mixed dementia, Parkinson's dementia, etc.

Atypical presentations of Alzheimer's disease
Differentiate between primary and secondary progressive aphasia
Evidence-based tools for prevention of cognitive decline with clinical application for patients and their care partners in their daily challenges.
Understanding Cognition: Advancing Critical Thinking Skills
In-depth exploration of comprehensive cognitive assessments & specific benefits of each
Short Blessed Test, BCAT and The MoCA, CNS Vital Signs, Kingston Scales
Tools to differentiate depression from dementia
Assess physical and sensory impairments in individuals with dementia
Practical Solutions To Challenging Behaviors: How and Where To Focus PEACE Approach for agitation, aggression, wandering, repetitive questions and more!
Person With Dementia:

Manage common dementia related "challenging behaviors".
Recognize and manage comorbidities in dementia care

Environment of care:

How it can either help (or hinder) function
Effective home evaluation tips for dementia
Complex environmental assessments and modifications for safety and independence

Activity engagement:

Tools to promote psychosocial well being
Example: Montessori-Based Dementia Programming as a treatment modality

Care partner stressors and the impact on patient's function

Explore readiness to change related to becoming a care partner

Education:

How to tailor the treatment plan and care partner education
Research updates on non-RX interventions & person centered care
Best practices to address challenging behaviors
Advanced Treatment Approaches for Dementia Care
Interventions for maintaining mobility, preventing falls and promoting independence in ADLs
Adaptive equipment, environmental modifications and emerging technology
Exercise and physical activity recommendations
Little known tools, checklists and resource guides for therapists and assistants
Ethical considerations in decision-making and endof- life care for individuals with advanced dementia
Help the Helper: What Rehabilitation Professionals Need To Know About Being A Care Partner
Support families and caregivers through the challenges of advanced dementia care
Community resources and support networks for caregivers
Self-care and stress management for caregivers
Integrate mindfulness and holistic approaches
Balancing autonomy and safety concerns in dementia care
Tips to avoid early institutionalization
Develop a Comprehensive Dementia Care Plan: Putting It All Together
Help your care partners develop their own comprehensive dementia care plan
Develop care plans and treatment strategies based on case scenarios
Analyze complex and multidimensional case studies in dementia care
Apply advanced problem-solving and critical thinking skills
Role-playing exercises to enhance communication and intervention
Target Audience
Physical Therapists
Physical Therapists Assistants
Occupational Therapists
Occupational Therapy Assistants
Speech Language Pathologists