Description
Trauma and addictions go hand in hand. And without addressing both, stable and long-term recovery is unlikely.
An integrative approach to treat substance use disorders and heal trauma simultaneously seems ideal. But you worry that addressing the trauma could lead to relapse, derailing your client's recovery journey for months or years. Maybe forever.
How can you provide the effective integrative treatment your clients really need?
EMDR allows you to get to the traumatic root causes and contributing factors of each client's addiction so you can individualize treatment and achieve incredible results.
And now in this live two-day webinar, EMDR and addictions expert Megan McQuary, LCSW, ACADC, CCTP-II, EMDR-C, will provide you with the step-by-step guidance you need to help dual diagnosis clients reach their goal of long-lasting recovery.
When you register, you'll get clinical tools and guidance you can immediately use to overcome resistance and other barriers you face in treatment. PLUS you'll get a roadmap to using EMDR in your addiction treatment plans so you can reduce your clients' urges, decrease their cravings and lower their risk of relapse…all while processing the traumas of their past.
Don't pass up this opportunity to bring the proven power of EMDR into your work with trauma clients with SUDs.
Register today!
Credits
---
CE Information Coming Soon
Continuing education credit information is coming soon for this live webcast.

---
---
Speaker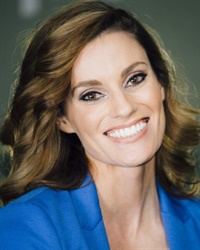 ---
Megan McQuary, LCSW, ACADC, CCTP-II, EMDR-C, is a Certified EMDR Clinician and Trainer, as well as a Certified Clinical Trauma Professional II through Evergreen Certifications. Megan is also an Advanced Certified Alcohol and Drug Counselor, who formerly owned and operated one of the largest treatment centers for substance abuse and trauma in Southeast Idaho, which was voted best in practice for 2019.

Her trainings have helped thousands of clinicians across the US get the most out of EMDR, trauma and addiction-based skills and practices. She has been invited to train internationally at the International Society of Addiction Medicine in India, the International Conference on Addiction Research and Therapy in Amsterdam and at the Psicologia Institute of Italy. Megan has extensively been trained on the use of EMDR as a protocol and uses EMDR in her practice to achieve improved outcomes with a broad spectrum of clients in the areas of trauma, abuse, attachment and substance abuse. She is an expert witness at the State and Federal level for her expertise in areas surrounding trauma.

Ms. McQuary is the author of EMDR Workbook for Trauma and PTSD: Skills to Manage Triggers, Move Beyond Traumatic Memories, and Take Back Your Life set to be released by New Harbinger Publications in late 2022. She earned her master's in Clinical Social Work from Northwest Nazarene University in 2011 and is an active member of the International Society of Addiction Medicine and the National Association of Social Workers. She currently owns and operates her own Counseling, Consulting and Training Business and is passionate about genuinely changing the landscape of trauma treatment through an authentic, hands-on perspective, that she has uniquely made her own.

Speaker Disclosures:
Financial: Megan McQuary is the owner of Recoverhe Counseling & Consulting. She receives a speaking fee from Psicologia.io of Italy, Online CECredits.com, and Telemental Health Summit. Ms. McQuary receives a speaking honorarium and recording royalties from PESI, Inc. She has no relevant financial relationships with ineligible organizations.
Non-financial: Megan McQuary is a member of the International Society of Addiction Medicine and the National Association of Social Workers. She is an author with New Harbinger Publications, her book will be published in late 2022.
---
Additional Info
Access Period for Live Webcast
For live CE credit, you must watch the live webcast in its entirety at its scheduled time and complete the CE quiz and evaluation within one week. You will have access for 90 days after the program for review.
Webcast Schedule
Please note: Each day there will be a 70-minute lunch and two 15-minute breaks; one in the morning and one in the afternoon. Lunch and break times will be announced by the speaker and at their discretion. A more detailed schedule is available upon request.
Questions?
Visit our FAQ page at www.pesi.com/faq or contact us at www.pesi.com/info
Objectives
Analyze the clinical implications of the link between trauma and the development of maladaptive addictive coping mechanisms.
Analyze research on the feasibility and efficacy of using EMDR in addiction-focused therapy.
Utilize treatment strategies to help clients with substance use disorders identify triggers that can lead to increased urges to use.
Use the Feeling State Addiction Protocol to reduce compulsive behavior in clients with substance use disorders.
Utilize the CRAVEX Protocol to decrease cravings and desensitize addictive memories in clients with substance use disorders.
Use the DeTUR Protocol to desensitize triggers and lower urge level in clients with substance use disorders.
Employ EMDR resourcing strategies to prepare clients for simultaneous treatment of trauma and addiction.
Employ an integrative approach that uses parts work and EMDR to disarm protective mechanisms in clients.
Use EMDR to foster resilience and reduce the risk of relapse when clients are confronted by a similar trauma.
Develop individualized treatment plans for clients with differing levels of awareness of addiction and different levels of motivation to change addiction-related behavior.
Use EMDR therapy as a component of clients' addiction continuing-care to help with emotional core access and perspective shift.
Utilize EMDR therapy in conjunction with other treatment approaches to enhance client stability in the treatment of co-occurring trauma and addiction.
Outline
How Trauma and Addiction are Intertwined
Identifying early experiences of trauma and the impact
Addictive behaviors as methods of protection, safety, control, or coping
How perceptions develop and influence addictive behaviors
The loop of trauma symptoms that trigger substance use
Identifying forms of addiction
Barriers in Substance Use Treatment
Resistance
Unresolved trauma driving addictive behaviors
Exploring Feeling State and addiction
Trauma and risk of relapse- how to handle relapses during trauma processing
The EMDR Framework in SUD Treatment: Addressing Addictive Behavior through an Adaptive Information Processing Lens
Review of EMDR's 8 phase model and 3 prong approach
EMDR & the brain- why EMDR is effective
How EMDR improves work with addiction related memories
Research, risks and treatment limitations
EMDR Protocols and Methods: Reduce Urges, Decrease Cravings and Maximize Treatment Retention
Feeling State Addiction Protocol - reduce the desire for addictive behavior
CRAVEX Protocol - decrease cravings and desensitize addictive memories
DeTUR Protocol - lower urge level
When to use each protocol
Integrate EMDR and Stages of Change in treatment
Crisis Management and Relapse Prevention Strategies
EMDR Resourcing Skills and Clinical Strategies for Enhanced Recovery
Parts Integration with EMDR to disarm protective mechanisms
Sober self and addicted self
EMDR resourcing strategies to redefine beliefs and implement sober values
Addressing alexithymia in clients
Tools to strengthen self-compassion, selfregulation and motivation for change
Target Audience
Counselors
Social Workers
Psychologists
Addiction Counselors
Marriage & Family Therapists
Nurses
Case Managers
Physicians
Other Mental Health Professionals