Description
Hope and light are on the horizon to help clients overcome the challenges of healing and releasing the pain of relational trauma.
The highly acclaimed Transcending Trauma explores a unique, compassionate, and evidence-based approach to resolving complex and dissociative trauma. In this transformative book Frank Anderson, MD, masterfully details an IFS path to therapy that allows clients to access their inherent capacity for healing – called Self-energy – while also helping them welcome, as opposed to manage, the extreme emotions frequently associated with trauma.

Included are clinical case examples, summary charts, current neuroscience research, and personal stories that will enable your clients to reclaim self-connection, experience self-love, and regain the ability to connect with and love others. Designed with clinicians in mind, this book offers a comprehensive map to complex trauma treatment that will enable readers to:
Learn how to stay calm and steady in the presence of extreme symptoms
Discover a different approach to resolving attachment trauma
Gain confidence when addressing shame, neglect, and dissociation
Understand the neurobiology of PTSD and dissociation
Integrate neuroscience-informed therapeutic interventions
Effectively address medication and common comorbidities
Incorporate IFS with other models of treatment
Author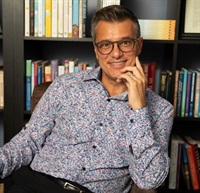 ---
Frank Anderson, MD, completed his residency and was a clinical instructor in psychiatry at Harvard Medical School. He is both a psychiatrist and psychotherapist. He specializes in the treatment of trauma and dissociation and is passionate about teaching brain-based psychotherapy and integrating current neuroscience knowledge with the IFS model of therapy.
Dr. Anderson is a lead trainer at the IFS Institute with Richard Schwartz and maintains a long affiliation with, and trains for, Bessel van der Kolk's Trauma Center. He serves as an advisor to the International Association of Trauma Professionals (IATP) and was the former chair and director of the Foundation for Self-Leadership.
Dr. Anderson has lectured extensively on the Neurobiology of PTSD and Dissociation and wrote the chapter "Who's Taking What" Connecting Neuroscience, Psychopharmacology and Internal Family Systems for Trauma in Internal Family Systems Therapy – New Dimensions. He co-authored a chapter on What IFS Brings to Trauma Treatment in Innovations and Elaborations in Internal Family Systems Therapy, and recently co-authored Internal Family Systems Skills Training Manual.
His most recent book, entitled Transcending Trauma: Healing Complex PTSD with Internal Family Systems was released on May 19, 2021.
Dr. Anderson maintains a private practice in Concord, MA.
www.FrankAndersonMD.com
Speaker Disclosures:
Financial: Dr. Frank Anderson maintains a private practice. He is the Executive Director of the Foundation for Self Leadership and has employment relationships with The Trauma Center and The Center for Self Leadership. Dr. Anderson receives royalties as a published author. He receives a speaking honorarium, recording, and book royalties from PESI, Inc. He has no relevant financial relationships with ineligible organizations.
Non-financial: Dr. Frank Anderson is a member of the New England Society Studying Trauma and Dissociation and the International Society for the Study of Trauma and Dissociation.
---
Endorsements
A crucial contribution that brings clarity and light to the often dark, confusing journey of treating complex PTSD.
Richard C. Schwartz, PhD, founder of Internal Family Systems (IFS)

For me, and most of my close colleagues, Internal Family Systems therapy is the fundamental psychotherapeutic approach that we use to help most of our adult patients who deal with the legacy of trauma. It is therefore a gift to all of us that Frank Anderson has written such a lucid, engaging, and comprehensive book that can help us navigate the complicated journey of resolving relational trauma. With the help of exquisite personal anecdotes, Anderson explains the deeper origins of apparently irrational and self-destructive behaviors that people have developed to deal with overwhelming realities. Most of all, he describes how to guide people in reclaiming "self-leadership" and taking back ownership of their lives. This is a wonderful book that should be read by anyone who wants to lay down the burdens of past trauma and those who seek to accompany them on this journey
Bessel A. van der Kolk, MD Author of New York Times bestselling The Body Keeps the Score

In Transcending Trauma, Frank Anderson offers a methodical, clear, and highly instructive pathway to healing complex trauma through IFS, an astute therapeutic approach that is logically presented and generously illustrated with case examples and enriched by personal insights.
Gabor Maté, MD, Author, When the Body Says No: Exploring the Stress-Disease Connection