Description
Forensic nursing has become the fastest growing specialty within nursing.
Dr. Pamela D. Tabor, DNP-Forensics, AFN-BC and Lauren Wegener, BSN, RN, Forensic MSN-student, are the highly qualified experts selected for this intensive training. They know all too well that across various nursing roles, specialties and settings you are seeing victims of trauma, violence, intentional/unintentional injuries, and death.
Advance your practice as you synthesize crimes involving patients, including forensic case studies and photographs. This practice changing event will provide resources and tools to learn from: evidence collection kits, body maps/diagrams, bite mark rulers, alternative light sources and a shaken infant model to demonstrate traumatic injuries.
Explore fascinating charting examples that delve into very difficult clinical scenarios: drug facilitated sexual assault, strangulation, intimate partner violence, human trafficking and infant death investigation.
Our patients require and deserve compassionate, devoted, and well-trained forensic nurses to avoid re-victimization - and to begin the healing process. Imagine if you had that superpower!
Credits
---
Nurses, Nurse Practitioners, and Clinical Nurse Specialists
PESI, Inc. is accredited as a provider of nursing continuing professional development by the American Nurses Credentialing Center's Commission on Accreditation. Nurses in full attendance will earn 12.5 contact hours. Partial contact hours will be awarded for partial attendance.
---
California Nurses
PESI, Inc. is a provider approved by the California Board of Registered Nursing, Provider Number 17118 for 12.5 contact hours. Full attendance is required. No partial contact hours will be issued for partial attendance.
---
Florida Nurses
PESI, Inc. is an approved provider with the Florida Board of Nursing, Provider # FBN2858. This course qualifies for 12.5 contact hours.
---
Iowa Nurses
PESI, Inc. is an approved provider by the Iowa Board of Nursing. Provider #: 346. Full attendance at this activity qualifies for 12.6 contact hours. Full attendance in the activity is required; no partial contact hours will be issued for partial attendance. These contact hours are used for your license renewal. Please email cepesi@pesi.com with your license number, include the webcast title, speaker name and date. PESI must have this number on file in order for your hours to be valid for the webcast.
---
Other Professions
This activity qualifies for 760 continuing education minutes as required by many national, state and local licensing boards and professional organizations. Save your activity advertisement and certificate of completion, and contact your own board or organization for specific requirements.
---
---
Faculty
Director
Board of Directors of the IAFN
---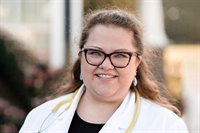 ---
Lauren Wegener, BSN, RN, Forensic MSN-student, is a forensic nurse examiner. Her current role includes performing case reviews, precepting new sexual assault nurses and practicing through telemedicine. Her expertise has been sought for trial work consultation/expert testimony and serves as a preceptor for regional and statewide Sexual Assault Nurse Examiners (SANE) throughout Arkansas.

She is didactically trained through the International Association of Forensics Nurses approved program to provide acute and non-acute for the adult, adolescent, and pediatric victims of sexual assault and abuse.

Speaker Disclosures:
Financial: Lauren Wegener has employment relationships with UAMS and Child Safety Center. She receives a speaking honorarium from PESI, Inc. Lauren Wegener has no relevant financial relationships with ineligible organizations.
Non-financial: Lauren Wegener is a member of the American Nurses Association.
---
Additional Info
Webcast Schedule
Please note: Each day there will be a 70-minute lunch and two 15-minute breaks; one in the morning and one in the afternoon. Lunch and break times will be announced by the speaker and at their discretion. A more detailed schedule is available upon request.
Access Period for Live Webcast
For live CE credit, you must watch the live webcast in its entirety at its scheduled time and complete the CE quiz and evaluation within one week. You will have access for 90 days after the program for review.
Questions?
Visit our FAQ page at www.pesi.com/faq or contact us at www.pesi.com/info
Objectives
Analyze case studies to identify and interrupt healthcare serial killers.
Develop a critical plan for the medicolegal professional to testify as an expert witness.
Evaluate how to thoroughly address infanticide, abusive head trauma and sudden unexplained infant death investigation.
Create a stalking case through patient interview and utilization of SHARP.
Differentiate clinical relevance between intentional and unintentional injuries.
Apply evidence-based strategies to assess intimate partner violence and case file construction.
Determine how to assess and document child maltreatment with body maps.
Appraise elder abuse patterns and necessary steps to work with an ombudsman.
Design an evidence-based sexual assault program, including supported tools and forms.
Construct a human trafficking case to collaborate with local police and the FBI.
Develop nurse coroner skills to perform death investigations using evidence-based documentation and photography.
Construct an assessment and treatment plan for victims of strangulation.
Apply forensic photodocumentation approaches to prove and preserve critical patient findings.
Outline
Clinically Relevant Identification of Intentional vs Unintentional Injuries
Intentional injuries
Unintentional injures
Blunt and sharp force trauma and gunshot wounds
Diagrams, photos, and documentation
Investigating Infant Deaths
Five cardinal rules of bruising
Abusive head trauma
Differentiate between types of sudden unexplained infant death
Case study demonstration: Using an infant death investigation kit
Child Maltreatment: The Death of Innocence
Mechanisms of trauma
Neglect and the difficulty of substantiating
Identification and documentation
Photos and case study
Sexual Assault: Comprehensive Assessment and Evidence Collection
Obtaining history
Forensic exam demonstration with chart examples
Evidence collection process
Demonstration of alternative light source, collection techniques, sexual assault collection kit, and body maps
Stalking: Lethal Hide and Seek
Categories of stalking and case study
Stalker typologies
Stalking, intimate partner violence and femicide
Stalking of healthcare workers
Interactive use of the Stalking and Harassment Assessment Risk Profile (SHARP) Tool
Strangulation: Snuffing Out Lights and Lives
Types of strangulation
Symptoms and health consequences of strangulation
Case study with photos
Intimate Partner Violence (IPV): Love Turned Violent
Direct and indirect indicators of IPV
Behaviors of abusers
Walker's Cycle of Violence
Demonstration of IPV screening tools
Human Trafficking: Modern Day Slavery
Scope of human trafficking
Types of human trafficking with case examples
Human trafficking vs. human smuggling
Actus Reus requirements
Forensic Mental Health Nurse (FMHN): Therapeutic Alliance
Consulting with defense, prosecution, and law enforcement
Suicide and case study
Critical stress debriefing
Elder Abuse: Caring for Those Who Cared for Us
Vulnerability
Seven categories of elder abuse
Resources for investigation
Case study with photos
Medicolegal Death Investigation: Be an Investigator or Nurse Coroner
Manners and causes of death
Signs of impending death
Postmortem changes and decomposition
Case study with photos
Testifying as an Expert Witness or Serving as a Consultant
Factors in the judicial process
Testifying for the defense or prosecution
Mock trial and techniques for testifying
Building a consulting practice
Healthcare Serial Killers (HSK): Killers Instead of Healers
Case studies
HSK behaviors, methods, and motivations
Victimology
Strategic positioning for the forensic nurse in interventions, identification, and investigations
Correctional Forensic Nursing: Behind the Bars
Correctional settings
Role and practice issues
Geriatric and female offenders
Vicarious Trauma (VT): Fortifying Forensic Nurses
Case study utilizing a personal story of VT
Terminology associated with VT
Symptoms and progression of VT
Target Audience
Nurses
Nurse Practitioners
Clinical Nurse Specialists
Nurse Educators
Risk Managers
Legal Nurse Consultants