Description
Trauma recovery is as much about healing the body as it is the mind.

Yet, so often, the focus of healing involves retelling the story of the past without addressing the physiological imbalances that trauma leaves in its wake.

Therapeutic Yoga for Trauma Recovery bridges this path of healing between the psyche and the body by walking you through the sacred practice of yoga so you can release the burdens of trauma from your body and mind.

Grounded within the principles of polyvagal theory, affective neuroscience, and trauma-informed care, this book will help you gain a better understanding of how our brains and bodies respond to stress and trauma and offer a self-led healing journey toward feeling more empowered, grounded, clearheaded, inspired, and at ease.

With her innately compassionate and gentle guidance, Dr. Arielle Schwartz introduces you to the power of the yogic philosophy and offers a variety of accessible yoga poses and breathing practices that will allow you to:
Nourish your nervous system
Reconnect with your body
Ground yourself in the present moment
Release unresolved patterns of fight, flight, freeze, or faint
Widen your ability to tolerate emotional discomfort
Develop a felt sense of resilience
Anchor yourself in self-love
Reclaim connection with and trust in your body
Create a personalized yoga practice for your own self-care
Author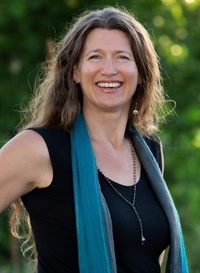 ---
Arielle Schwartz, PhD, CCTP-II, E-RYT, is a clinical psychologist, internationally sought-out teacher, therapeutic yoga instructor, and leading voice in the healing of PTSD and complex trauma. She is the author of six books based upon her integrative, mind-body approach to trauma recovery: The Complex PTSD Workbook; The Post Traumatic Growth Guidebook; A Practical Guide to Complex PTSD; EMDR Therapy and Somatic Psychology; The Complex PTSD Treatment Manual, and Therapeutic Yoga for Trauma Recovery. Her unique blend of spirituality and science can be found in her writings, guided trauma recovery programs, and applied Polyvagal Theory in yoga for trauma recovery.
Dr. Schwartz is an accomplished teacher who guides therapists in the application of EMDR, somatic psychology, parts work therapy, and mindfulness-based interventions for the treatment of trauma and complex trauma. She has a succinct way of speaking about very complex topics. She is a longtime meditation and yoga practitioner with a passion for the outdoors; all of which she incorporates into her work as founder of the Center for Resilience Informed Therapy in Boulder, Colorado where she maintains a private practice providing psychotherapy, supervision, and consultation. Dr. Schwartz believes that the journey of trauma recovery is an awakening of the spiritual heart. Discover more at drarielleschwartz.com.
Speaker Disclosures:
Financial: Dr. Arielle Schwartz maintains a private practice and is a trainer with Advanced EMDR Therapy Trainings. She receives royalties as a published author and receives compensation as an international presenter. Dr. Schwartz is a paid consultant for Evergreen Certifications. She receives speaking honorarium, recording, and book royalties from PESI, Inc. She has no relevant financial relationships with ineligible organizations.
Non-financial: Dr. Arielle Schwartz is a member of the American Psychological Association, EMDRIA, Colorado Association of Psychotherapists, and the Yoga Alliance.
---
Endorsements
This excellent resource on trauma therapeutics fits well as a training text for schools or a personal journal and activity roadmap to wellness. It is scholarly, science-backed, and packed with apt definitions of our current understanding of neuropsychology. But what I love most about Arielle's way of addressing trauma is that she doesn't see the process as grim, but as an inviting, warm, and curious adventure that we undertake with every part of our humanness. She cleverly reframes classic movement and breath and offers new somatic/embodiment work. Arielle eliminates any rigidity around looking within, so even meditation seems more approachable. This is clearly a labor of love, and applying the wisdom of this book give us a glimpse of smarana, remembering who we are.
Beth Spindler, C-IAYT, E-RYT 500, yoga therapist, teacher and author of Yoga Therapy for Fear: Treating Anxiety, Depression and Rage with the Vagus Nerve and Other Techniques.

Trauma: a tale as old as human life on this planet. Over thousands of years, many powerful healing modalities have emerged to guide people back to an experience of wholeness. Therapeutic Yoga for Trauma Recovery brilliantly illuminates these modalities by weaving together major systems of trauma recovery: yoga, embodiment, and Polyvagal theory. Dr. Schwartz offers an empowering holistic guide to reclaiming your deepest sense of belonging: to yourself, to others, and the world around you. I highly recommend this book for those currently on their personal journey, as well as anyone working as a practitioner.
Dr. Scott Lyons, PhD, RYT-500, and founder of The Embody Lab

The science of self-care has grown by leaps and bounds over the past few decades. We now know that regular self-care practices offer an essential tool to navigate the inevitable ups and downs of life on planet earth. With her new book, Dr. Arielle Schwartz has created an incredible resource for how we can integrate the important findings from polyvagal theory with ancient yogic breath, movement, and awareness practices. The result is a must-have guide to the numerous techniques yoga offers for fostering greater well-being and balanced in life.
Eva Norlyk Smith, PhD, president YogaUOnline.com

In her newest book, Arielle's expert voice invites us into the sacred space of self, knowingness, and healing with the authentic poignance of one who has traveled the journey themselves. It is with loving kindness and compassionate wisdom that she invites us to experience new opportunities for healing through connecting inward using powerful and valuable tools that will transform your relationship with your body and, ultimately, with yourself.
Kate Truitt, PhD, MA, MBA, CEO of the Trauma Counseling Center and Havening Techniques® global director of research and curriculum development

In Therapeutic Yoga for Trauma Recovery, Dr. Arielle Schwartz combines her extensive background and experience working with trauma survivors with a warm and welcoming style. The book covers a lot of ground, addressing the needs of yoga teachers, students, and therapists when working with a trauma-informed approach to yoga practice. I was particularly impressed with the practical therapeutic guidelines in the appendix for individual yoga therapy sessions and for a six-week therapeutic class, where she recommends specific movement and breathing exercises from the text.
Joann Lutz, MSW, LICSW, C-IAYT, E-RYT, author of Trauma Healing in the Yoga Zone: A Guide for Mental Health Professionals, Yoga Therapists, and Yoga Teachers

Arielle's teachings weave together deeply embodied knowledge, accessibility, and heart. The tools she offers provide a pathway toward hope in these incredibly trying times. Arielle has a way of connecting that is clear, compassionate, and impactful. Her work has never been needed more, and I am looking forward to sharing this offering with my students. What I know is this: When we use the tools offered to us in Arielle's book, we have the ability to not only heal ourselves, but to heal the world.
Lauren Lewis, mother, yoga teacher, chef, and student

Therapeutic Yoga for Trauma Recovery is a magnificently written new book by Arielle Schwartz. You will be empowered to understand your nervous system and the vagus nerve as never before. Dr. Schwartz's expertise and compassion shine through each chapter. You can count on her as a reliable guide on your healing journey. This book will take you on a deeper dive into yoga as a path for recovery. I highly recommend it!
Joanne Spence, BSW, MA, E-RYT 500, C-IAYT, author of Trauma-Informed Yoga: A Toolbox for Therapists

Embodiment practices and the health of the nervous system are key components of contemporary psychology and physical well-being. Dr. Arielle Schwartz does it all well. In this book, she is a brilliant cartographer of the nervous system and she shows us, through her deft integration of ancient yoga practices and contemporary polyvagal theory, that choice and safety can be cultivated through embodied breath, conscious movement, and stillness. There are many wise clinical pearls embedded in this book that I regularly use with my patients to soothe trauma imprints, which so often show up as neurologic patterns such as cognitive decline or chronic illness. One of the root causes of trauma is disconnection, and Arielle shows us how to reconnect with ourselves and with each other, even more so if you have the opportunity to practice trauma-informed yoga with her. How fortunate we all are that Arielle shares her highly evolved mastery with us in this jewel of a book as a path to waking up and healing the nervous system of the world.
Ilene Naomi Rusk, PhD, clinical psychologist, neuropsychologist, director of the Healthy Brain Program at the Brain and Behavior Clinic

As a medical physician addressing the effects of stored trauma on our biology, I consider this book a must read for all professionals who work with people who have a human body. This is not just for trauma, though it will be a game-changer for those who have trauma patterns. By applying Polyvagal Theory to embodiment yoga in her wonderful and unique way, Arielle has just set a new standard for working with the body and a chronic freeze response.
Dr. Aimie Apigian, MD, MS, MPH