Description
Weight gain, insomnia, anxiety, cravings for sugar or salt, constipation, brain fog, menstrual irregularities… many of these symptoms are tied to hormonal imbalances and seemingly everyone is dealing with at least one of them.
The hormonal web (HPATG Axis) creates a cascade of reactions throughout the entire body – it can seem daunting and overwhelming to decipher…
But with this evidence-based approach, you can accurately identify the root cause of imbalance and confidently create a customized treatment plan for your clients! Join Cindi Lockhart, RDN, LD, IFNCP, to learn how to curate a nutrition and lifestyle-based program to naturally rebalance hormones and reduce unwanted symptoms BEFORE your patient turns to meds! You'll explore:
An in-depth tour of the HPATG axis and systemic implications imbalances with cortisol, insulin, thyroid, estrogen, progesterone, and testosterone
How to identify triggers & root cause of hormone imbalance
Solutions for a variety of conditions: insulin resistance, hypothyroidism, estrogen dominance, endometriosis, adrenal fatigue, PCOS, perimenopause, andropause and more!
When to refer for lab testing…and what kind!
Proven methods to lock in long term behavior change
Hormonal disruption leads to crippling symptoms, but you will discover the keys to restoring the delicate balance and improving health. With solutions for seemingly healthy patients to those with chronic conditions, you don't want to miss out on this new functional and integrative approach that gets results – register today!
Credits
---
CE Information Coming Soon
Continuing education credit information is coming soon for this live webcast.

---
---
Speaker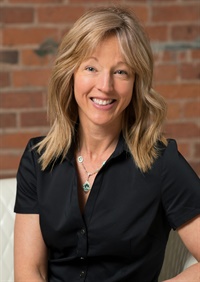 Lockhart Wellness Solutions, LLC
---
Cindi Lockhart, RDN, LD, IFNCP, is board-certified as an integrative and functional nutrition practitioner with over 30 years in professional practice. She has trained nutrition, fitness, and medical practitioners throughout most of her career, yet maintains a personal practice with clients as she believes that the only way she can effectively educate and inspire other practitioners is through her own practical experience with clients. In addition to educating on how Food is Medicine, Cindi also specializes in coaching clients and practitioners on the importance of managing stress, optimizing sleep, proper exercise and movement, and reducing exposure to environmental toxins. Cindi has extensive expertise in women's health issues including hormonal imbalances, thyroid dysfunction, and autoimmunity as well as gut health, weight management, histamine intolerance, and immune health.
Speaker Disclosures:
Financial: Cindi Lockhart is the owner and founder of Lockhart Wellness Solutions, LLC. She receives a speaking honorarium and recording royalties from PESI, Inc. She has no relevant financial relationships with ineligible organizations.
Non-financial: Cindi Lockhart is a member of the Academy of Nutrition and Dietetics, Dietitians in Integrative & Functional Medicine, the Institute for Functional Medicine, and the Integrative & Functional Nutrition Academy.
---
Additional Info
Access Period for Live Webcast
For live CE credit, you must watch the live webcast in its entirety at its scheduled time and complete the CE quiz and evaluation within one week. You will have access for 90 days after the program for review.
Webcast Schedule
Please note: There will be a 60-minute lunch and two 15-minute breaks; one in the morning and one in the afternoon. Lunch and break times will be announced by the speaker and at their discretion. A more detailed schedule is available upon request.
Questions?
Visit our FAQ page at www.pesi.com/faq or contact us at www.pesi.com/info
Objectives
Inspect the 6 core hormone systems and how they are inter-related – cortisol, insulin, thyroid, estrogen, progesterone, and testosterone.
Determine how the gut affects hormone balance via digestion, intestinal permeability, and the microbiome.
Investigate common symptoms of specific hormone imbalances through subjective and objective assessments.
Determine how to identify triggers and root causes of hormone imbalance.
Differentiate how the 6 lifestyle-based root causes affect hormone balance - standard American diet, obesity, too much or too little exercise, chronic stress, inadequate sleep, and environmental toxins.
Assess how the 5 key lifestyle strategies naturally rebalance hormone systems - diet, exercise/activity, stress management, sleep optimization, and reduction in toxin exposures.
Determine a prioritized and systemized approach for effective lifestyle interventions.
Outline
The Hormone Web: An Inter-Connected System
How each hormone affects the other vs in isolation
Lab testing:

Subjective vs objective
Options available
Pros/cons to each

Conventional vs functional lens
Who can order?
When to refer out
Gut Function Impact on Hormone Balance
You are 'what you digest, absorb, and use'
Intestinal permeability: leaky gut
Microbiome: enter the estrabolome
How the gut impacts each of the 6 hormone systems
5R protocol: 5 steps to repairing your gut
Lab testing options
REBALANCE Hormones and Reduce Unwanted Symptoms
Cortisol
Related disorders/conditions: anxiety, insomnia, high blood sugar, high blood pressure
Underlying causes: stressors – physical, emotional/psychological, nutritional, environmental, physiological
Common symptoms:

High: nervousness, irritability, anxiety, insomnia, sugar cravings, belly fat
Low: apathy, fatigue, low libido, insomnia, lightheaded when rising, salt cravings

Lab testing options
Lifestyle strategies to naturally rebalance cortisol
Insulin
Related disorders/conditions: prediabetes, metabolic syndrome, diabetes, hypercholesterolemia
Underlying causes: high sugar diet, deficient minerals/vitamins, obesity, environmental toxicity, lack of exercise, stress, lack of sleep
Common symptoms: energy roller coaster during the day, headaches, foggy brain, weight gain around spare tire or scapular region
Lab testing options
Lifestyle strategies to naturally rebalance insulin
Thyroid
Related disorders/conditions: hypothyroidism,
Hashimotos thyroiditis, hyperthyroidism, Grave's disease
Underlying causes: stress, nutrient deficiencies, toxins, estrogen dominance, liver or kidney dysfunction, gut dysfunction, infections
Common symptoms:

Persistent fatigue, weight gain, fluid retention, depression, constipation, cold extremities; dry hair/ skin, brittle nails, hair loss

Lab testing options
Lifestyle strategies to naturally rebalance thyroid
Estrogen
Related disorders/conditions: estrogen dominance, PMS, fibrocystic breasts, uterine fibroids, endometriosis, perimenopause, menopause
Underlying causes: gut dysfunction, stress, xenoestrogen exposure, obesity, medications (oral contraceptives, HRT), conventional animal products
Common symptoms:

Low: menopause, depression, increase in UTI's
High: fibrocystic & swollen/painful breasts, cystic ovaries, uterine fibroids, endometriosis

Lab testing options
Lifestyle strategies to naturally rebalance estrogen
Progesterone
Related disorders/conditions: infertility
Underlying causes: stress, xenoestrogen exposure, obesity, medications (oral contraceptives, HRT), conventional animal products
Common symptoms:
Headaches, mood changes, irregular menstrual cycle
Lab testing options
Lifestyle strategies to naturally rebalance progesterone
Testosterone
Related disorders/conditions: andropause, hypercholesterolemia, increased blood pressure, pre-diabetes, diabetes, erectile dysfunction, dementia, PCOS
Underlying causes: stress, xenoestrogen exposure, obesity, insulin resistance, poor diet, gut dysfunction
Common symptoms:

High: acne, hair loss on head, facial hair (women), deeper voice, increased muscle mass, irregular periods, mood changes
Low: burned out, belly fat, decreased libido, decreased strength & stamina, muscle loss, mood changes, erectile dysfunction, poor concentration & focus

Lab testing options
Lifestyle strategies to naturally rebalance testosterone
Help Clients Prioritize an Effective Lifestyle Intervention
Client assessment first – what do they need?
Prioritize lifestyle factors for:

Sleep & circadian rhythms
Food as medicine approach
Stress management
Exercise
Simple ways to reduce exposure to environmental toxins

Case Studies related to estrogen dominance, andropause, & hypothyroid
Target Audience
Dietitians
Nutritionists
Nurse Practitioners
Physician Assistants
Registered Nurses
Dietary Managers
Chiropractors
Physical Therapists
Coaches
Occupational Therapists
Occupational Therapy Assistants
Personal Trainers
Athletic Trainers