Description
Many leading clinics worldwide are using hypnosis to help people with trauma and co-morbid conditions, such as anxiety, chronic pain, and those generally feeling stuck in deep-rooted dysfunctional patterns.
But for many therapists, hypnosis is shrouded in mystery, can seem difficult to learn, and finding good training can be tough.
That's why we're offering this all-new training with expert Courtney Armstrong who will dispel hypnosis myths and show you simple ways to integrate hypnotic induction into your current treatments.
You'll learn:
When and how to introduce hypnosis to your clients
A step-by-step foundational guide for integrating hypnosis into sessions
What hypnosis can and can't help with
How to use it to safely help clients re-process traumatic memories
After this training, you'll have the potential to improve your treatment outcomes by 60-70% and help clients transform toxic attachment schemas, destructive habits, and painful emotional memories-- leaving them with deeply felt corrective experiences.
And don't worry--in this training, only evidence-based hypnosis strategies will be covered, so you can be sure you are offering clients the most proven interventions.
Register now!
Credits
---
CE Information Coming Soon
Continuing education credit information is coming soon for this live webcast.

---
---
Speaker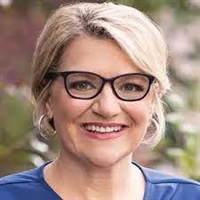 ---
Courtney Armstrong, LPC-MHSP, is a licensed professional counselor who specializes in grief and trauma recovery with over 25 years' experience. Certified as an approved consultant by the American Society of Clinical Hypnosis (ASCH), she is the founder of the Institute for Trauma Informed Hypnotherapy and has developed clinical hypnosis training programs for the Veterans Administration, serves on the ASCH Education and Training committee, and has trained thousands of clinicians worldwide.

Courtney is also bestselling author of the books, Rethinking Trauma Treatment: Attachment, Memory Reconsolidation, and Resilience, The Therapeutic "Aha", and Transforming Traumatic Grief. She has been featured as a trauma and grief expert on national television and radio programs and contributes to publications such as Psychotherapy Networker, Counseling Today, and The Science of Psychotherapy.
Speaker Disclosures:
Financial: Courtney Armstrong is the founder and president of Courtney Armstrong Consulting and Training Services and the Institute for Trauma Informed Hypnotherapy. She receives a speaking honorarium and recording royalties from PESI, Inc. She has no relevant financial relationships with ineligible organizations.
Non-financial: Courtney Armstrong serves on the Clinical Hypnosis Education and Training Committee of the American Society for Clinical Hypnosis. She is a member of the American Mental Health Counselor's Association, the Tennessee Licensed Professional Counselors Association, and the Chattanooga Area Psychotherapy Association.
---
Additional Info
Access Period for Live Webcast
For live CE credit, you must watch the live webcast in its entirety at its scheduled time and complete the CE quiz and evaluation within one week. You will have access for 90 days after the program for review.
Webcast Schedule
Please note: There will be a 70-minute lunch and two 15-minute breaks; one in the morning and one in the afternoon. Lunch and break times will be announced by the speaker and at their discretion. A more detailed schedule is available upon request.
Questions?
Visit our FAQ page at www.pesi.com/faq or contact us at www.pesi.com/info
Objectives
Understand clinical hypnosis and its mechanisms for therapy.
Explore how hypnosis can aid trauma treatment, enhancing healing, and resilience.
Learn effective hypnosis techniques for therapeutic trance states.
Apply neuroscience insights to memory reconsolidation in trauma therapy.
Utilize metaphor and imagery to rescript trauma memories and beliefs.
Apply benefits of age progression techniques in trauma therapy.
Outline
Foundations of Hypnosis: Definitions, Research & Mechanisms
Definition, theories, and models of modern hypnosis
Noteworthy research outcomes and benefits
Debunking myths and misconceptions
Neurophysiology of hypnosis and why it matters
Clinical applications of hypnosis research, such as trauma
Comparing hypnosis outcomes with other therapeutic interventions
Conducting a Hypnosis Session: Step by Step
Identifying suitable candidates for hypnosis (and when you shouldn't use it)
Three foundational hypnosis inductions (and how to choose based on the client)
Hypnotic suggestions: regulate the nervous system, identify resources, rescript traumatic memories, and reduce distress
How to open, facilitate, close, and process a hypnosis session
Hypnosis for Trauma (and co-morbid disorders)
3 stages of trauma therapy
Unpacking the "Act of Triumph" for trauma healing
The effect of hypnosis on the traumatized client
How "felt" experience can update subcortical brain regions
Knowing how to choose: meditation, hypnosis or guided imagery for your client?
Using hypnosis to enhance CBT, and other therapies you use
Hypnosis Interventions for Trauma Treatment
Techniques for establishing a sense of safety
Emotional regulation and self-soothing strategies
Instilling hope, motivation, and positive expectations
Containment and reducing the distress of traumatic images
Evoking self-compassion and self-care practices
Internal resources and strengths-based interventions
Empowerment techniques for trauma clients
Safely Reprocess Memories with Hypnosis
Hypnosis for safe memory reconsolidation
Five-step process for reprocessing trauma memories
Prevent re-traumatization during memory review
Techniques for fewer trauma triggers and safe memory recall
Imaginal rescripting for updating negative beliefs
Reparenting techniques that treat attachment trauma
Ego-states and parts work for integration and healing
Techniques to foster positive post-trauma identity
Ethical Considerations in Clinical Hypnosis
Culturally responsive approaches, adaptations and considerations
Staying within the scope of practice
State regulations and legal requirements
Understanding per se exclusion rules in hypnosis practice
Risks, limitations and contraindications
Target Audience
Psychologists
Psychiatrists
Counselors
Social Workers
Psychotherapists
Marriage and Family Therapists
Case Managers
Addiction Counselors
Physicians
Nurses
Other Mental Health Professionals