Description
You see your clients struggling with severe issues like extreme emotional volatility, personality disorders, self-harm, interpersonal distress and more. You desperately want to help! To keep them from falling back into their destructive behavior patterns. Here's your opportunity – DBT gives hope and confidence to clinicians and clients alike. The evidence-based Dialectical Behavior Therapy (DBT) approach can be an extremely powerful tool to create the lasting behavioral change you both want!

DBT is perfect for those clients who seem resistant to your current therapeutic techniques. Designed in the early 1990s, DBT helps individuals create a life worth living. It is a synthesis of several therapeutic approaches designed primarily to treat disorders involving emotional dysregulation. In contrast to free-flowing and introspective talk therapies, DBT is a highly structured approach to treatment. Using a combination of behavioral techniques, psycho-educational modules and eastern mindfulness practices, DBT targets the issues that cause intense distress and teaches practical skills for dealing with these issues.

This seminar is designed to help you understand why DBT is so effective with your clients and will lay the groundwork of skills for a solid foundation in DBT.

Don't wait to give your clients the healing they deserve... see what DBT training can do for you and your practice today!
Credits
Planning Committee Disclosure - No relevant relationships
All members of the PESI, Inc. planning committee have provided disclosures of financial relationships with ineligible organizations and any relevant non-financial relationships prior to planning content for this activity. None of the committee members had relevant financial relationships with ineligible companies or other potentially biasing relationships to disclose to learners. For speaker disclosures, please see the faculty biography.
---
* Credit Note - *
NOTE: Each purchase includes CE credit for one individual (participants in full attendance will be able to print the certificate of completion after passing the online post-test (80% passing score) and completing the evaluation). Instructional methods will include PowerPoint, didactic lecture, Q&A, and others.
Continuing Education Information: Credits listed below are for full attendance at the live, interactive webinar only. This webinar is being broadcast live in real-time and must be attended live, in its entirety, in order to earn credit. You will be able to type questions to the speaker. The speaker will see the questions and address them during the presentation as time allows. Please note, your state licensing board dictates whether web-based activities are an acceptable form of continuing education. Please refer to your state rules and regulations. If your profession is not listed, please contact your licensing board to determine your continuing education requirements and check for reciprocal approval. For other credit inquiries not specified below, please contact info@pesi.com or 800-844-8260 before the event.
Materials that are included in this course may include interventions and modalities that are beyond the authorized practice of your profession. As a licensed professional, you are responsible for reviewing the scope of practice, including activities that are defined in law as beyond the boundaries of practice in accordance with and in compliance with your profession's standards.
For Planning Committee disclosures, please see below. For speaker disclosures, please see the faculty biography.

---
New York Addiction Professionals
This course has been approved by OASAS for 6.25 clock hours toward Initial Credentialing for CPP Section #1 or CPS Section #1 or Renewal for CASAC, or CPP or CPS. Board required certificates will be sent after the program.
NEW YORK PARTICIPANTS ONLY: To automatically receive a special certificate, please answer YES to the question: "New York Addictions Counselors: Do you need the special OASAS certificate?" while completing the online post-test/evaluation.
---
New York Social Workers
PESI, Inc. is recognized by the New York State Education Department's (NYSED) State Board for Social Work as an approved provider of continuing education for licensed social workers #SW-0008. This activity will qualify for 7.5 contact hours. Full attendance is required; no partial credits will be offered for partial attendance.
---
Other Professions
This activity qualifies for 380 continuing education minutes as required by many national, state and local licensing boards and professional organizations. Save your activity advertisement and certificate of completion, and contact your own board or organization for specific requirements.
---
---
Speaker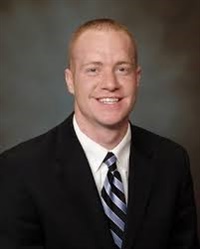 ---
Dr. Brad Simpson earned his bachelor's degree at Brigham Young University, Idaho and followed his passion for social work by pursuing his master's degree from the University of Utah and his doctoral degree in social work from the University of Tennessee. Brad specializes in working with couples, families, and adolescents in acute inpatient, intensive outpatient, and residential settings. He is intensively trained in Dialectical Behavior Therapy (DBT) and provides trainings for mental health professionals across the United States. Brad has served in several administrative capacities, most recently as executive director of a fully adherent DBT program. He is currently an associate professor and director of the Bachelor of Social Work program at Southern Utah University as well as being the director of research and development at Sunrise Residential Treatment Center, a fully adherent DBT program. Additionally, he is the founder and owner of 3rd Wave Counseling and Consulting.

In addition to research, administrative duties, and clinical practice, Dr. Simpson enjoys teaching undergraduate students, mentoring students, interns, and clinicians. Brad loves running, hiking, mountain biking, lifting weights, long boarding, and spending time with his family.
Speaker Disclosures:
Financial: N. Bradley Simpson has employment relationships with Boise State University, Southern Utah University, 3rd Wave Counseling and Consulting, Brigham Young University, and Sunrise Residential Treatment Center. He receives a speaking honorarium and recording royalties from PESI, Inc. He has no relevant financial relationships with ineligible organizations.
Non-financial: N. Bradley Simpson has no relevant non-financial relationships.
---
Objectives
1. Assimilate the theories of DBT and communicate their importance and clinical implications.
2. Assess the 4 Modes and Functions of DBT in relation to treatment planning.
3. Determine the Stages of Treatment in DBT to utilize within your practice.
4. Demonstrate how diary cards can be used by clients to monitor their emotions and track how they are using DBT skills to deal with challenges.
5. Effectively utilize a chain analysis with clients to help them gain insight into how they can change
6. Demonstrate DBT skills in the areas of Mindfulness, Distress Tolerance, Emotional Regulation and Interpersonal Effectiveness to improve treatment outcomes.
7. Support how interpersonal effectiveness exercises can be employed in therapy to help clients keep relationships without sacrificing their self-respect.
8. Develop techniques in which clinicians can maximize client buy-in for DBT homework assignments.
Outline
DBT in the Clinical Setting
Core Philosophies and Practices
Dialectics Explained
Foundations of DBT
Why Dialectics and what does that mean anyway?
Common "Dialectical Dilemmas"
Biosocial Theory of Borderline Personality
Disorder… Etiology and why we need to know it
Engendering compassion and empathy for this "difficult-to-treat" population
Current research on DBT and why this is important
Understand high fidelity DBT
Stages and Targets of DBT — Structuring the Treatment
Pre-Treatment Stage: Orienting the client to treatment and getting commitment
Identifying and understanding treatment targets

Analysis of psychosocial/behavioral skills
Client values and targeted outcomes
Assessment of impacts on daily life, health, and social participation

Stage 1 Target Behaviors: Decrease lifethreatening, therapy interfering and quality of life interfering behaviors and increase DBT skills
Stage 2 Target Behavior: Decrease posttraumatic stress responses
Stage 3 Target Behavior: Increase self-respect and achieve individual goals
Stage 4 Target Behavior: Increase joy, freedom and spiritual fulfillment
Modes and Functions of DBT
Individual Therapy — enhancing motivation
Telephone Consultation — enhancing generalization
DBT Consultation Group — enhancing motivation & skill of the therapist
Skills Training — enhancing capabilities
Therapist Tools
Teaching a client to fill out a diary card
Review a diary card in an individual therapy session
Where to look and what to treat on a diary card
Completing a Behavior Chain Analysis
DBT Skills Training
Demographics and structure of the DBT
Skills Training Group
DBT Skills Training Group
Targets of DBT Skills Training Group
Roles of facilitators
Core Mindfulness Skills
Using Core skills to achieve mindfulness
Become more mindful of thoughts, feelings and urges
Decrease pejorative thoughts of self and others
Doing what is needed and being effective
Distress Tolerance Skills
Tolerate a crisis (without making it worse)
Help clients "Distract" themselves in their attempts to regulate their emotions
Self-Soothing the five senses in times of a crisis
"Radically Accepting"
Interpersonal Effectiveness Skills
Reduce negative emotion, Objective, relationship, and self-respect effectiveness
Validation skills for the client and clinician
Emotion Regulation Skills
Regulate and be effective with emotion
Reduce emotional vulnerability
"Building a Life Worth Living"
Target Audience
Target Audience
Counselors
Psychologists
Psychotherapists
Social Workers
Marriage & Family Therapists
Addiction Counselors
Case Managers
Nurses
Mental Health Professionals