Description
In this video the client, a therapist, has a fear of public speaking. She would like to present publically, but she is very anxious and avoids situations where speaking would be required. She said that when she speaks, she can't think, and has significant anticipatory anxiety that could be so severe it affected her sleep before scheduled events. Her goals for treatment were to be confident enough that "I can handle whatever happens so I can think." She wanted to be able to speak publically and do presentations and also to see more couples without sleepless nights.
In the session the client using tactile stimulation pulsers for bilateral stimulation, installed resources. We then used the bridging technique to bridge from a recent example of her speaking anxiety to find a target from the past. After processing that target to completion and installing a positive cognition we returned to the incident we bridged from to check our work. She felt much better, but found another area that still had charge. We then bridged a second time to find another target from her childhood and processed that. When that was complete, we again returned to the recent anxiety-producing situation to check our work. She felt much better in that situation, no distress. She then imagined future scenarios of speaking. These felt better, but new concerns came up that she hadn't been aware of before. After exploring these, we decided to close the session with the understanding that these could be targeted in future sessions. At the end of the video I summarize the session and explain what I did and why.
Credits
---
No CE Available
Continuing education credit is not available on this product.
---
---
Faculty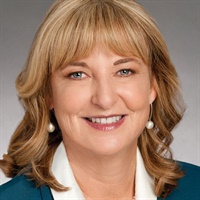 Clinical Psychologist, EMDR Trainer
Private Practice
---
Laurel Parnell, Ph.D., is one of the world's leading experts on EMDR. A clinical psychologist, she has trained thousands in EMDR in her international workshops. Dr. Parnell is the author of A Therapist's Guide to EMDR, EMDR in the Treatment of Adults Abused as Children, Transforming Trauma: EMDR, and Tapping In: A Step-by-Step Guide to Activating Your Healing Resources Through Bilateral Stimulation as well as articles and a chapter in the EMDR Casebook. Dr. Parnell is at work on her newest book: Attachment-Focused EMDR: Healing Relational Trauma, which will be published by WW Norton in 2013. Dr. Parnell has served on the faculty of the California Institute for Integral Studies and John F. Kennedy University.
An EMDR pioneer and innovator, Dr. Parnell has immersed herself in the practice and development of EMDR since 1991 bringing a client-centered attachment-focused approach to the work. A frequent presenter at conferences, she has been interviewed for television, radio and print. She maintains a private practice in San Rafael, California.
Speaker Disclosures:
Financial: Laurel Parnell is in private practice. She receives a speaking honorarium from PESI, Inc.
Non-financial: Laurel Parnell has no relevant non-financial relationship to disclose.
---
Additional Info
Program Information
Access for Self-Study (Non-Interactive)
Access never expires for this product.
Target Audience
Counselors, Social Workers, Psychologists, Case Managers, Therapists, Addiction Counselors, Marriage & Family Therapists, Other Mental Health Professionals
Objectives
Recognize the installation of resources
Apply the bridging technique to find targets linked to the presenting problem
Outline use of the three-part protocol (past, present, future)
Recognize when and how there can be multiple contributors and multiple targets linked to an issue or problem
Outline
Explore the presenting problem, symptoms and triggers
Create and install resources and metaphors for nurturing, wisdom and peace
Establish a signal for stop and keep going
Set up a bridge from a recent example of anxiety to find a target
Develop the target using the modified protocol
Refine the picture or scene
Check the target
Check the Subjective Units of Disturbance Scale (SUDS)
Install a positive cognition (PC)
Check the trigger scene that we bridged from
Explore to see if there is another target to process
Target the anticipatory anxiety directly (without a bridge)
Check the trigger scene again and the SUDS
Bridge back from new feelings and beliefs
Recognize the negative cognition
Begin bilateral stimulation
Focus on the body
Check the SUDS
Process the trigger scene with positive cognition
Check the original scene
Check the imagined future scenarios for change
Closing and debriefing
Reviews
Overall:
5
Total Reviews: 6