Description
EBOLA: What's New, What's True & What's Next

CRE – The new "Nightmare Bug"

Serogroup B Vaccine – Meningococcal Disease a Thing of the Past

Eradicate HIV

New Testing & Treatment for TB

New Reporting Requirements for the National Healthcare Safety Network

Updates for Healthcare-Associated Infections
Open any newspaper or watch the daily news and you will find the next infectious disease scare. Infectious diseases have been called the terrorists of the natural world. As a healthcare provider you play a critical role in preventing the spread of infection.
Patients and families depend on you to provide them with the most up-to-date information and the best possible care. Controlling infectious disease is one of the most fundamentally important aspects of healthcare. Join nationally-recognized expert, author and epidemiologist, William "Barry" Inman, for this cutting-edge seminar.
Barry regularly works with the CDC and will share his first-hand knowledge of infectious disease, prevention strategies, and the newest treatment break-throughs. Barry will teach you essential strategies to protect patients and staff from resistant microorganisms, reemerging vaccine-preventable diseases, and new infectious threats. You will leave this seminar knowing proper precautions, disease management and the new required reporting guidelines.
Credits
---
* Credit Note - **
NOTE: Tuition includes one free CE Certificate (participant will be able to print the certificate of completion after completing the on-line post-test (80% passing score) and completing the evaluation).
Continuing Education Information: Listed below are the continuing education credit(s) currently available for this non-interactive self-study package. Please note, your state licensing board dictates whether self-study is an acceptable form of continuing education. Please refer to your state rules and regulations. If your profession is not listed, please contact your licensing board to determine your continuing education requirements and check for reciprocal approval. For other credit inquiries not specified below, please contact cepesi@pesi.com or 800-844-8260 before the event.
Materials that are included in this course may include interventions and modalities that are beyond the authorized practice of your profession. As a licensed professional, you are responsible for reviewing the scope of practice, including activities that are defined in law as beyond the boundaries of practice in accordance with and in compliance with your profession's standards.
All members of the PESI, Inc. planning committee have provided disclosures of financial relationships with ineligible organizations and any relevant non-financial relationships prior to planning content for this activity. None of the committee members had relevant financial relationships with ineligible companies or other potentially biasing relationships to disclose to learners. For speaker disclosures, please see the faculty biography.
---
New York Infectious Diseases
PESI, Inc. provider identification number IC128, is an approved provider who has been authorized to offer the mandated course work in barrier precautions and infection control measures. This entire self-study course qualifies for credit under this requirement.
---
California Nurses
PESI, Inc. is a provider approved by the California Board of Registered Nursing, Provider #: 17118 for 6.0 self-study contact hours.
** You will need to provide your license number to PESI. PESI must have this number on file in order for your hours to be valid.
---
Florida Nurses
PESI, Inc. is an approved provider by the Florida Board of Nursing. Provider #: FBN2858. These materials qualify for 6.0 self-study contact hours.
---
Iowa Nurses
PESI, Inc. is an approved provider by the Iowa Board of Nursing. Provider #: 346. Nurses successfully completing these self-study materials will earn 7.2 self-study contact hours. Please email cepesi@pesi.com with your license number, include the title, speaker name and date. PESI must have this number on file in order for your hours to be valid.
---
Other Professions
This self-study activity qualifies for 6.0 continuing education clock hours as required by many national, state and local licensing boards and professional organizations. Save your activity advertisement and certificate of completion, and contact your own board or organization for specific requirements.
---
---
Speaker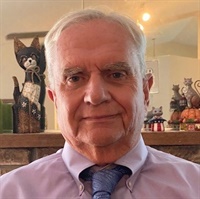 ---
William "Barry" Inman has 40 years of experience as an epidemiologist, working for a busy health department in Florida. In his current role, Barry is responsible for control of communicable diseases through surveillance and investigation methods, working directly with the infection control personnel in hospitals, long-term care, acute long-term care, and NASA. He advises concerning appropriate precautions/management strategies and assists infectious disease physicians in the diagnosis of uncommon or exotic diseases by working as a liaison between the Department of Health in Florida and the CDC.

Barry has vast experience in outbreak mitigation and prevention, whether within a healthcare facility, in the community or on a cruise ship. His expertise has been sought for a variety of outbreaks, including: rubella, influenza, legionnaire's disease, measles, pertussis, norovirus and multi-drug resistant microorganism (MRSA, CRE, ESBL). Numerous awards have been bestowed upon Barry for his contributions to minimize the effects of constantly evolving infectious diseases.

Speaker Disclosures:
Financial: William "Barry" Inman has employment relationships with Brevard County Health Department, Circles of Care, Brevard Community College, Circles of Care, and Health First Inc. He receives a speaking honorarium and recording royalties from PESI, Inc. He has no relevant financial relationships with ineligible organizations.
Non-financial: William "Barry" Inman is a member of the Association of Practitioners of Infection Control, the Association of Practitioners of Infection Control Local Chapter 45, and the Florida Practitioners of Infection Control.
---
Additional Info
Access for Self-Study (Non-Interactive)
Access never expires for this product.
Outline
National Healthcare Safety Network
New requirements from CMS

Health-care Associated Infections what to report to the CDC
Compendium Strategies: Critical Updates
Catheter-Associated Urinary Tract Infections

Surgical Site Infections

Ventilator Associated Pneumonias

Central-Line Associated Bloodstream Infections

Influenza Outbreaks in Healthcare
CDC, APIC, SHEA, IDSA Guidelines to Control Multi-Drug Resistant Organisms
CRE: Carbapenem-Resistant Enterobacteriaceae

C Diff: Clostridium Difficule

Epidemiology

New Treatments-cure 90%

MRSA: Methicillin-Resistant Staphlococcus Aureus

VRE: Vancomycin Resistant Enterococcus

ESBL: Extended Spectrum Beta-Lactamase Organisms
EBOLA: What's New, What's True & What's Next
Probable Reservoir & Epizootic Cycle

Bats

Non-Human Primates

Duikers

Prior Outbreaks of Ebola in Africa

Sudan (1976 & 1979 & 2005)

Kikwit, Congo (1995)

Gabon (1994-1996)

Uganda (2000-2001 & 2007-2008)

DRC (2007)

Symptoms of Ebola

Fever

Myalgia

Malaise

Vomiting/Diarrhea

Abdominal Pain

Unexplained Hemorrhage

Transmission of Ebola

Bodily Fluids

Cultural Rituals

Possible Treatments for Ebola

Supportive

Mono-clonal Antibodies

Appropriate Infection Control Protocols

PPEs

During Aerosol-Generating Procedures

Hand-washing and Disinfectants

Appropriate laboratory tests

Protocol for Testing for Ebola
Emerging Infectious Diseases: Exotic to the Common
Managing Foodborne Illnesses
E. Coli O157-H7

Salmonella

Listeria

Campylobacter

Vibrio

Norovirus
Vaccine Preventable Diseases are Back!
Influenza Information
Current Vaccine

Treatments

Prophylaxis

Infection Control Protocols

Seasonal vs Pandemics (H1N1)
Pneumococcal Disease
New Vaccine for Adults

New Protocols

PPSV-23 & PCV-13
Updates & New Protocols for Bloodborne Pathogens
Hepatitis B:

Protocols for Immunizations

Healthcare Personnel

Children-Adolescents

Diabetics

Approved Treatments for Chronic Hepatitis B

Outbreaks of Hepatitis B and C in Healthcare

Hepatitis C:

Risk Groups and Factors

New Treatment

One pill for 12 weeks

95-100% Cure Rate

HIV/AIDS:

"Now a Confirmed Cured Patient"

New Treatment: One Pill a Day

Prophylaxis for High Risk Groups

The Strategy to Eradicate HIV-AIDS

Tuberculosis:

Blood Test vs Skin Testing

New Treatment Protocols

Infection Control Protocols for TB
Objectives
Plan strategies to reduce and eliminate catheter-associated urinary tract infections, surgical site infections, ventilator associated and non-ventilator-associated pneumonias and central-line-associated bloodstream infections.
Assess best practices for treatment and control of multi-drug resistant microorganisms, including MRSA, Clostridium difficile, VRE, ESBL and CRE.
Evaluate the newest vaccine recommendations for healthcare workers and children.
Distinguish between mosquito-borne illnesses of Dengue, Chikungunya, and Zika, which may be a threat to the United States.
Assess the latest treatments available for HIV/AIDS, as well as pre-exposure prophylaxis.
Determine the medications available that "cure" Hepatitis C.
Evaluate the current recommendations to control and treat tuberculosis.
Target Audience
Nurses, Nurse Practitioners, Clinical Nurse Specialists, Physician Assistants, Respiratory Therapists
Reviews
Overall:
4.7
Total Reviews: 3