Description
If you're like most clinicians you've been hearing a lot about Polyvagal Theory lately.
But the complicated theory that's changed our understanding of the nervous system's response to stress and danger can be difficult for non-scientists to grasp. And even if you can wrap your head around the complex research, you're still left trying to figure out how to make the knowledge useable in real life.
Without the right guide, one who can simplify the science and show you how to operationalize it, you'll be left unable to bring this important information to your practice.
Dr. Sherrie All is a licensed psychologist specializing in neuropsychology whose trainings have made complicated research and scientific concepts accessible and useable for mental health professionals across the country.
Join Dr. All for this live one-day training as she unpacks the science behind the Polyvagal Theory and shows you how you can immediately put it to use in your clinical work!
In just one day, you'll get:
An accessible and user-friendly explanation of Polyvagal Theory
Guidance on recognizing and responding to clients' autonomic states in therapy
Ways to create a space of safety and co-regulation using body, face, and tone
Movement, breath and grounding practices as applied through a Polyvagal lens
Don't miss this chance to understand Polyvagal Theory better than ever before and enhance your therapeutic work!
Register today!
Credits
Planning Committee Disclosure - No relevant relationships
All members of the PESI, Inc. planning committee have provided disclosures of financial relationships with ineligible organizations and any relevant non-financial relationships prior to planning content for this activity. None of the committee members had relevant financial relationships with ineligible companies or other potentially biasing relationships to disclose to learners. For speaker disclosures, please see the faculty biography.
---
CE Information Coming Soon
Continuing education credit information is coming soon for this live webcast.

---
---
Speaker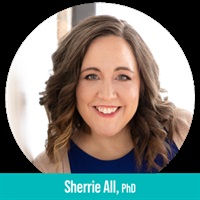 Chicago Center for Cognitive Wellness
---
Sherrie All, PhD, is a licensed clinical neuropsychologist who has specialized in treating people with dementia, Parkinson's disease, TBI, MS, and other neurological disorders for over a decade. Dr. All is the founder and director of the Chicago Center for Cognitive Wellness, a private neuropsychology practice specializing in cognitive rehabilitation and brain health. The evidence-based cognitive rehabilitation interventions she uses have helped hundreds of adults experiencing cognitive declines improve their thinking skills, expand their functional independence, and enhance their brain health. Dr. All has worked as a consultant to the Mather LifeWays Institute on Aging, helping to develop and evaluate a holistic brain fitness program, and her work with individuals on ways to lower their personal risk for dementia has earned the attention of media outlets including The New Yorker and Crain's Chicago Business. Dr. All earned her PhD in clinical psychology from Rosalind Franklin University of Medicine and Science, is a member of the American Psychological Association and author of The Neuroscience of Memory: Seven Skills to Optimize Your Brain Power, Improve Memory and Stay Sharp at Any Age.

Speaker Disclosures:
Financial: Sherrie All is the owner of Chicago Center for Cognitive Wellness and receives a speaking honorarium from the Alzheimer's Association. She receives royalties as a published author. Sherrie All receives a speaking honorarium, recording and book royalties from Psychotherapy Networker and PESI, Inc. She has no relevant financial relationships with ineligible organizations.
Non-Financial: Sherrie All is a member of the American Psychological Association.
---
Additional Info
Access Period for Live Webcast
For live CE credit, you must watch the live webcast in its entirety at its scheduled time and complete the CE quiz and evaluation within one week. You will have access for 90 days after the program for review.
Webcast Schedule
Please note: There will be a 70-minute lunch and two 15-minute breaks; one in the morning and one in the afternoon. Lunch and break times will be announced by the speaker and at their discretion. A more detailed schedule is available upon request.
Questions?
Visit our FAQ page at www.pesi.com/faq or contact us at www.pesi.com/info
Objectives
Investigate the clinical implications of the Polyvagal Theory's explanation of how the nervous system reacts to social factors.
Analyze the concept of neuroception and how it can impact autonomic states in clients.
Assess how psychoeducation with clients about the nervous system can help generate buy-in for interventions designed to impact the nervous system's reactions to stress, trauma and anxiety.
Analyze the treatment implications of hyperarousal and hypoarousal on a client's window of tolerance.
Analyze therapeutic presence through the lens of Polyvagal Theory to help explain the mechanisms of change that presence evokes.
Evaluate the current state of research on the application of a Polyvagal perspective to mental health treatment.
Outline
Polyvagal Theory:
User-Friendly and Accessible Explanations for Non-Scientists
Understanding the autonomic nervous system
The vagus nerve and how your nervous system reacts to social factors
The complexities of fight/flight/freeze response
Neuroception and co-regulation
Rest and digest – the state of social engagement
Neuroplasticity Simplified:
Nervous System Change and Balance Explained
Learn how neurologically-based conditions are treatable
Foundations for using "neurorehabilitation"
Train the nervous system for better coping
Review the science, research and limitations behind neuroplasticity
Incorporate a Polyvagal Perspective into Your Daily Clinical Practice
Why is this relevant to your clinical practice?
Help clients cope using Dan Siegel's
Window of Tolerance
Recognize autonomic states of clients
Hyper-arousal and hypo-arousal
How overlooking hypo-arousal in clients impacts treatment
Therapeutic presence
Sensory Interventions to Increase Felt Safety
Create a space of co-regulation - body, face, tone, and breath
Visual interventions: Scanning for safety
Auditory interventions: Safe & Sound protocol
Tactile interventions
Apply a Polyvagal Lens to Movement, Breath and Grounding Practices
Movement to put stress to the use nature intended
Imagined movement: Running Faster than the Tiger
Diaphragmatic breathing and the vagus nerve
Non-threatening breath exercises to control hyperventilation
Muscle tension and the vagus nerve
Research, treatment risks and limitations
Target Audience
Counselors
Social Workers
Psychologists
Case Managers
Addiction Counselors
Marriage and Family Therapists
Nurses
Other Mental Health Professionals