Description
Clinicians working with complex trauma are honored with the most sacred of tasks: to bear witness to clients' suffering and to attend compassionately to their wounds.

In The Complex PTSD Treatment Manual, clinicians will find the road map they need to conduct successful therapy with clients who have experienced prolonged exposure to traumatic events. Combining the science and art of therapy, Dr. Arielle Schwartz seamlessly integrates research-based interventions with the essentials of healing to create a whole-person approach to trauma treatment.

Drawing from her years of experience in working with trauma survivors, Dr. Schwartz provides clinicians with the tools they need to become a trustworthy companion to trauma survivors and become capable of guiding a healing journey for clients with a history of abuse or neglect. Within these pages, you will find:
Essential interventions that strengthen mindful body awareness, enhance distress tolerance, cultivate self-compassion, and facilitate trauma recovery
Over 50 practices, worksheets, and self-regulation points to utilize in each stage of the client's therapeutic process
Integration of several therapeutic approaches for trauma treatment, including relational therapy, mindful body awareness, parts work therapy, CBT, EMDR, somatic psychology, and practices drawn from complementary and alternative medicine
Author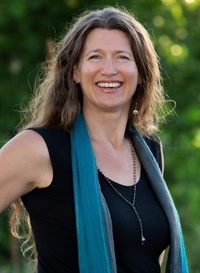 ---
Arielle Schwartz, PhD, CCTP-II, E-RYT, is a clinical psychologist, internationally sought-out teacher, therapeutic yoga instructor, and leading voice in the healing of PTSD and complex trauma. She is the author of six books based upon her integrative, mind-body approach to trauma recovery: The Complex PTSD Workbook; The Post Traumatic Growth Guidebook; A Practical Guide to Complex PTSD; EMDR Therapy and Somatic Psychology; The Complex PTSD Treatment Manual, and Therapeutic Yoga for Trauma Recovery. Her unique blend of spirituality and science can be found in her writings, guided trauma recovery programs, and applied Polyvagal Theory in yoga for trauma recovery.
Dr. Schwartz is an accomplished teacher who guides therapists in the application of EMDR, somatic psychology, parts work therapy, and mindfulness-based interventions for the treatment of trauma and complex trauma. She has a succinct way of speaking about very complex topics. She is a longtime meditation and yoga practitioner with a passion for the outdoors; all of which she incorporates into her work as founder of the Center for Resilience Informed Therapy in Boulder, Colorado where she maintains a private practice providing psychotherapy, supervision, and consultation. Dr. Schwartz believes that the journey of trauma recovery is an awakening of the spiritual heart. Discover more at drarielleschwartz.com.
Speaker Disclosures:
Financial: Dr. Arielle Schwartz maintains a private practice and is a trainer with Advanced EMDR Therapy Trainings. She receives compensation as an international presenter. Dr. Schwartz receives a speaking honorarium, recording royalties, and publishing royalties from PESI, Inc. She also receives publishing royalties from Norton Publishing, Sounds True, and Rockridge Press. She has no relevant financial relationships with ineligible organizations.
Non-financial: Dr. Arielle Schwartz has no relevant non-financial relationships.
---
Endorsements
Arielle Schwartz has written THE guidebook for clinicians seeking to understand complex PTSD and how to treat it! On every page, she interweaves up-to-date theoretical ideas with practical clinical wisdom. Every word of this book can easily be implemented by therapists regardless of their training or approach.
Janina Fisher, PhD, author of Transforming the Living Legacy of Trauma: A Workbook for Survivors and Their Therapists

Dr. Schwartz's book is likely to be a big help to clients and also to therapists who treat individuals with severely traumatic life histories. It is very readable and accessible. Reading it gives a feeling of being in a conversation with Dr. Schwartz. The chapters give many examples of how cognitive behavioral therapy, somatic experiencing, and EMDR can be successfully integrated in therapy preparation, diagnostic assessment, and treatment planning. It also includes many transcripts of therapy sessions, which illustrate with clarity how particular interventions can be effectively used. This book is a significant contribution to our developing knowledge of the best ways to treat complex PTSD and dissociative conditions.
Jim Knipe, PhD, Author of EMDR Toolbox: Theory and Treatment for Complex PTSD and Dissociation

Dr. Schwartz guides us into a field of healing practices and possibilities founded in a resilient-informed approach. She offers portals into the untold and hidden stories of pain that live in the nervous system and the biology of people affected by chronic traumatization. She reminds us of the power and strength that lay in the core of human existence and put us in touch with our inner capabilities. The Complex PTSD Treatment Manual is a rich, comprehensive, well-integrated, and immensely useful masterpiece that will support child and adult therapies working with C-PTSD in bringing healing to generations!
Ana M. Gomez, MC, LPC, Author of EMDR Therapy and Adjunct Approaches with Children: Complex Trauma, Attachment, and Dissociation

Arielle Schwartz does it again, delivering clinicians a practical volume full of useful skills with her uncanny ability to translate complex neurological concepts into relatable language. I am especially impressed with the sensitivity and humanity that she employs in addressing parts work and dissociation. This is a marvelous foundational volume on complex trauma that I will be very happy to recommend to my students.
Dr. Jamie Marich, The Institute for Creative Mindfulness, Author of EMDR Made Simple, Trauma Made Simple, and many other books on trauma recovery

Dr. Arielle Schwartz has done it again. A thorough explanation of the reasons complex trauma exists, how it expresses itself in behaviors, and what treatment entails. An important foundation for therapists treating complex trauma. Knowing these foundational insights will make treatment easier and more effective.
Annie Brook, PhD, Founder of The Brook Institute, Author of Birth's Hidden Legacy and other books focused on healing developmental trauma

Arielle Schwartz has crafted an up-to-date synthesis of many of the best practices of the evolving science of resolving complex PTSD. This highly practical treatment manual is an essential guide for beginner therapists and a useful summary for seasoned clinicians. Bravo!
Will Van Derveer, MD, Cofounder of the Integrative Psychiatry Institute

The Complex PTSD Treatment Manual is a must-have for any mental health professional who treats complex trauma. In this manual, Dr. Arielle Schwartz seamlessly integrates components of several evidence-based therapeutic modalities for the treatment of complex trauma and provides clinicians with concrete tools and techniques that help clients improve emotion regulation and attunement, process traumatic events, and ultimately regain their lives and sense of connection. Dr. Schwartz's compassionate, scientific, and client-centered approach to C-PTSD makes her a rare and valued voice in the field of trauma psychology!
Jennifer Sweeton, PsyD, Author of the Train Your Brain card deck and Trauma Treatment Toolbox

The Complex PTSD Treatment Manual is an essential masterpiece for any clinician working in the fields of trauma, complex PTSD, and mind-body medicine. Integrative health providers will love it. Woven into the academic rigor of this masterpiece are practical healing practices and embodied exercises for the lucky reader. It is the perfect balance between a personal transformation roadmap and a scholarly treasure. Dr. Schwartz takes us on a highly attuned and compassionate journey through multiple trauma-healing modalities and presents them in a user-friend, practical way. The psychological needs arising at this post-pandemic juncture are different than they've ever been, and this will surely be your indispensable reference book for years to come. This book is a must-have!
Dr. Ilene Naomi Rusk, Integrative Trauma Therapist and Director of the Healthy Brain Program, Brain & Behavior Clinic and Clinical Neuropsychologist