Picky eaters. Problem feeders. Dysphagia. ARFID.
What's the safest diet? Is he aspirating? Can she swallow these pills? He hates the pureed food – what else can we do? She's refusing the thick liquids! Is he going to get pneumonia? Does he need a feeding tube?
These are the questions we face every day in our work with children with feeding disorders.
Feeding disorders make it difficult or impossible for a child to eat, drink, or digest food normally, often compromising their health and development. The limited intake seen in these children can lead to food aversions, lack of interest in eating, avoidance based on sensory characteristics of food, fear of choking, and serious medical complication such growth failure or severe malnutrition.
How do we keep our young clients safe, while making sure they're well hydrated and well nourished, and normalize eating as much as possible? Sometimes, it's about more than just swallowing.
Most of these "feeding" disorders are actually linked to respiratory, gastrointestinal, behavioral, and nutritional conditions, which aren't commonly considered, putting you at a disadvantage from day one of treatment, and extending pain for your client.
That's where this online course puts you at an advantage!
Presented by feeding expert, Dr. Kay Toomey, and Board Recognized Specialist in Swallowing Disorders, Angela Mansolillo, MA/CCC-SLP, BCS-S
Picky Eaters vs Problem Feeders & Best Practices in Dysphagia Management will guide you through a multi-system approach to feeding and swallowing disorders that prepares you to accurately identify, assess, and treat feeding disorders while considering aspiration, airway considerations, reflux, the GI tract and respiratory systems, sensory issues and dozens of other contributing factors.
Learn practical therapeutic interventions to use with children from each diagnostic group and ways to improve family meal routines and increase children's intake of more nutritious foods.
You'll get access to self-paced modules that prepare you to treat the whole child from beginning to end, changing the battlefield back to the family dinner table. You'll walk away with dozens of strategies to intervene that use the interrelationships between multiple systems - such as respiratory, oral-motor, gastrointestinal - and contributing factors to the child's diagnosis, like environmental, sensory, behavioral, and many others.
As a bonus, when you enroll you will get a FREE training on managing complex swallowing and feeding disorders in children so they begin eating with ease…
…Plus, earn up to 18 CE hours, when you get started today.
Picky Eaters vs Problem Feeders
& Best Practices in Dysphagia Management

$599.97 Value
Just $349.99 Today— Unbelievable Savings!
Plus, earn up to 18 CE Hours included in the course tuition.
" I could listen to Kay Toomey every day. I have learned so much from her over the years and today was no exception. " — Holly W
" Wonderful course! Thank you! I am excited to put into place things I have learned right away. First step will be giving a few of my patients families the picky eaters vs problem feeders check list. " — Amber G
" Great course. Hoping for more courses targeting feeding challenges. " — Erika P
" Great evidence-based presentation with knowledgeable presenter " — Lindsey M
" Outstanding course that was packed to the brim with useful information. Would highly recommend " — Jennifer T
" Best seminar on Dysphagia I have attended. Not just the same basic review of what a new speech therapist should know. She gave us great information! " — Lori W
" Excellent course and great reference material in handout. Very knowledgeable speaker. Appreciate her support of clinical skills in relation to standardized tests. " — Kara B
---
Picky Eaters vs Problem Feeders vs Avoidant/Restrictive Food Intake Disorder (ARFID)
Watch feeding expert, Dr. Kay Toomey, who has over 30 years of clinical experience assessing and treating children with a wide range of feeding challenges, guides you through clear guidelines to utilize the appropriate therapy approach.
Module 1
It's common for therapists to misdiagnose common feeding disorders because they're so similar, which means assessments are key to distinguishing between and properly treating each condition in your clients. In this module, you'll dive into how common each condition is based on data, and difficulties that contribute to feeding issues.

Key topics covered in this module include:
Organ system issues that affect feeding, such as breathing and postural stability, which need your attention first.
Easy modifications to improve muscle tone and posture, which increase the child's ability to eat successfully.
The sensory connection to food and why eating is the most difficult sensory task that children do.
Busting common eating myths that limit progress and critical skills to teach for proper eating.
Module 2
In module two, you'll learn common factors that affect feeding habits and difficulties, while discovering comprehensive feeding assessment tools and treatment approaches for picky eaters, ARFID cases, and problem feeders.

Dr. Toomey provides essential insight into:
Key differences between problem feeders and picky eaters.
Development, environment, and nutrition factors that contribute to feeding disorders, and techniques to decrease them.
Common signs and concerns with each diagnosis, and how to approach each accordingly for easier treatments.
How to include family in feeding practices.
Step-be-step assessments and techniques, and how to apply them in-practice with dozens of case studies.
Practical feeding strategies that help you make food fun and easy to consume even for your most difficult clients.
Common red flags you may already be facing and how to approach them in practice.
Dr. Kay A. Toomey
, is a Pediatric Psychologist with over 30 years of clinical experience assessing and treating children with a wide range of feeding challenges. She developed the SOS Approach to Feeding as a family-centered program for assessing and treating children with feeding problems. Dr. Toomey helped to form The Children's Hospital – Denver's Pediatric Oral Feeding Clinic, as well as the Rose Medical Center's Pediatric Feeding Center.
She also acts as a consultant to Gerber Products. Dr. Toomey co-chaired the Pediatric Therapy Services Department at Rose Medical Center prior to entering private practice. She acted as the Clinical Director for Toomey & Associates, Inc.'s Feeding Clinic for six years and SOS Feeding Solutions at STAR Institute for eight years, and speaks nationally and internationally about her approach. Dr. Toomey is currently the president of Toomey & Associates, Inc., and acts as a clinical consultant to the Feeding Clinic at STAR Institute.
Click here for information about Kay A. Toomey
.
Breathing, Digestion and Swallowing: Best Practices in Dysphagia Management
Module 1
Gain an in-depth understanding of the interrelationships between the GI and Respiratory systems, and dive into common conditions associated with these systems in relation to feeding/swallowing disorders.

Key topics covered in this module include:
Multi-system overview and understanding of the relationship with swallowing/feeding disorders, including assessment techniques.
Interventions to treat reflux, constipation, and respiratory connections to the GI system.
An in-depth look at aspiration and the airway from infants to the elderly, including management techniques and working with varying situations, such as tracheostomies and feeding.
Assessments and interventions for respiratory diseases (including an understanding of each process), such as pneumonia.
Module 2
Dive into dozens of tools that help you properly assess dysphagia and other conditions linked with feeding and swallowing disorders. This module shows you airway management exercises, assessments, and modifications you can use immediately to put your client on a better path to feeding.

Key topics covered in this module include:
Dozens of techniques, exercises and assessments on aspiration management.
Reflux assessments and management, including lifestyle changes, medication recommendations and more.
How to adapt to sensory conditions.
Approaching liquids and nutrition, including thickened liquids, water protocols, and diet management.
Angela Mansolillo, MA/CCC-SLP, BCS-S
, is a speech-language pathologist and board recognized specialist in swallowing disorders with more than 20 years of experience. She is a senior speech-language pathologist at Cooley Dickinson Hospital in Northampton, Massachusetts where she provides evaluation and treatment services for adults and children with dysphagia and is involved in program planning and development for inpatient and outpatient programming including quality improvement initiatives, patient education, and clinical policies and protocols.
In addition, she is an adjunct faculty member at Elms College Department of Communication Sciences and Disorders in Chicopee, Massachusetts. Over the course of her career, she has worked in a variety of clinical settings, provided numerous regional and national presentations, and lectured at several colleges and universities throughout Massachusetts. Ms. Mansolillo is also a member of the American Speech-Language-Hearing association and is a member of Special Interest Division 13, which focuses on swallowing and swallowing disorders.
Click here for information about Angela Mansolillo
.
Picky Eaters vs Problem Feeders
& Best Practices in Dysphagia Management

$599.97 Value
Just $349.99 Today— Unbelievable Savings!
Enroll today and you'll receive this Bonus CE training (valued at $199.99)!
Eating with Ease: Managing Complex Feeding & Swallowing Problems in Children
In this BONUS session, Angela Mansolillo, MA/CCC-SLP, BCS-S will show you how to develop a behavioral treatment plan to address problem feeding behaviors, and intervene with practical evidence-based strategies that maximize function. Inside this training you'll dive into:
The most at-risk populations for feeding and swallowing disorders.
In-depth looks and interventions for:

Respiration
Pharyngeal Dysphagia
The GI system
Oral Motor conditions
Sensory issues
Behavioral factors
Nutrition

Real-life scenarios so you can see strategies in practice
Exercises, assessments, and interventions for multiple disorders, such as reflux, constipation, dyspnea, cough and much more.
This video training will elevate your practice and give you the strategies you need to combat the most complex disorders you see.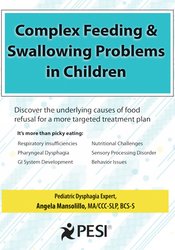 The Next Steps in Advancing Your Practice
Watch your email for your order confirmation
, and get instant access to all course materials, including the bonus materials — all designed to help you effectively integrate feeding disorder treatments into your practice.
Click here for course objectives and outline
.
Review the course materials at your own pace and at your convenience! You'll have unlimited access to all course videos and materials online forever. Plus, use the CE21 Mobile™ app to access the course content on-the-go, wherever and whenever you want on your mobile devices.
Instantly collaborate with other professionals on the course materials through interactive message boards. You'll be part of a community of hundreds of practitioners, providing valuable opportunities to share insight and experiences and to build your professional network.
100% Satisfaction Guarantee
Register for this intensive training course without risk. If you're not completely satisfied, give us a call at
800-844-8260
. We're that confident you'll find this learning experience to be all that's promised and more than you expected.
Picky Eaters vs Problem Feeders
& Best Practices in Dysphagia Management

$599.97 Value
Just $349.99 Today— Unbelievable Savings!
Plus, earn up to 18 CE Hours included in the course tuition.