Discover Relational EMDR, the evidence-based intervention that transforms the memories underlying trauma and creates safety and hope through the client-therapist relationship.
Trauma clients need a clinician with both training and heart to help them overcome their pain.

With Relational EMDR you can leverage EMDR's proven ability to change the impact that traumatic memories have on the brain while leveraging the full healing potential of the client-therapist relationship—to offer clients not only relief from symptoms but hope for a better future.

Now, in this comprehensive Master Class, join Deany Laliotis, LICSW—Director of Training for EMDR Institute and associate of EMDR originator Francine Shapiro—to experience the life-changing power of Relational EMDR in action!

Through powerful in-session videos and in-depth, therapist-to-therapist conversations, you'll get inside access to four remarkable single-session breakthroughs with actual clients struggling with deep-rooted trauma, attachment wounds, shame, anger, and depression. Learn how to attune to clients to enhance the power of your work and discover how to increase positive outcomes, avoid clinical impasses, and help clients resolve traumatic experiences once and for all.

This is an essential learning experience for both EMDR-trained and non-EMDR-trained therapists who are ready to bring a new dimension of healing to their current therapeutic approach.

Don't miss this opportunity to experience Relational EMDR's ability to dramatically improve outcomes—even with the most challenging cases.
EMDR In Action: A Step-By-Step Master Class with Deany Laliotis
Valued at $529.93
Today Only $229.99 — An Unbelievable Value!

Plus, earn up to 14 CE Hours — included in the course price!
"EMDR is a comprehensive psychotherapy approach that is compatible with all theoretical orientations. Easily integrated with other therapeutic modalities—from couples' therapy to neurofeedback—it is shown to accelerate healing and enhance change that lasts." -Deany Laliotis
What's Included:
Master the ability to break the bonds of trauma, shame, depression, and anger so your clients can experience full aliveness!
Dramatic clinical demonstrations with in-depth analysis by Deany Laliotis and fellow psychotherapist Rich Simon, make this comprehensive Master Class an essential learning experience. These sessions showcase the clinical mastery of Laliotis and demonstrate Relational EMDR's transformative approach to working with trauma, attachment wounds, suicide ideation, shame, depression, and anger.
Through this engaging course, you'll discover how to ...
Help clients experience the freedom to be themselves so they can build stronger relationships
Attune to a client's emotional state somatically so you can track progress and make adjustments in real time
Tailor responses help clients experience safety, autonomy, and control
Increase positive outcomes by assessing your own strengths and vulnerabilities as a therapist
Enhance your EMDR effectiveness by integrating the practices of Relational EMDR in your current approach
Laliotis will guide you through these five step-by-step modules to prepare you to incorporate the Relational EMDR approach in your practice.

The Power of Attunement: Introduction to Relational EMDR
In this introductory session, gain a foundational understanding of EMDR's proven ability to heal anxiety, depression, complex trauma, relationship problems, low self-esteem and more. Laliotis provides a step-by-step breakdown of the essentials of the model to take trauma treatment to a new, truly transformational level. In this session, you'll:
Learn the importance of tracking the client's emotional state somatically and responding to shifts and unspoken changes in real time
Discover the role of therapist to encourage, regulate, and validate, based on the needs of the client

Relational EMDR Approach to Working with Shame, Overwhelm and Clinical Impasse
Meet Mary, an accomplished, successful professional who's been in therapy for three years with a goal of engaging authentically in relationships. But she and her therapist have hit an impasse on dating—something she would like to do for the first time in her life. With Laliotis' help, Mary moves through the impasse in a powerful single session with unexpected insights and a dramatic resolution. In this session, you'll:
Learn how to assess a disconnected client's ability to access inner experiences
Follow subtle client clues to the hidden source of the self-limiting reaction within the client
Experience how attunement allows Deany to track moment-to-moment shifts in the client's emotional state
Discover how unprocessed secondary trauma can be as intrusive and disruptive as primary trauma
Observe Relational EDMR's full ability to work with a unique and complex history

Using Relational EMDR to Address Anger, Trauma, and a Violent History
The client in this session, Carlos, came to therapy with a history of violence, anger, and trauma. He wants to maintain a relationship with his son, keep his job, and stay out of prison. But he's been feeling increasingly triggered and afraid that he might act out in the same violent ways that he did when he was a member of a Hispanic gang in South Central, LA. Watch as Laliotis establishes a genuine connection with him and then helps him work through the painful memories that have been haunting him. In this session, you'll:
Learn how to identify and work with a client whose traumatic stress resulted from being a witness to a violent event
Find out what it takes to establish trust and a contract to do the work with a client who has no reason to trust anyone
Discover how to ascertain safety—for both client and therapist—to move forward with work on trauma, rage and violence
Experience how EMDR processing continues to work beyond the session, as Carlos returns for a follow-up session

Relational EMDR for Working with Shock Trauma, Depression, and Suicide Ideation
Imagine losing not one, but two children to suicide. That is Gloria's reality at the start of this session. She has been hospitalized several times for deep depression and suicidal ideation. She has a history of childhood abuse and trauma, and she feels hopeless and without meaning in life. Observe in action the moment-to-moment process Laliotis uses to break through Gloria's resistance and guide her toward healing and a hopeful future. In this session, you'll:
Observe the step-by-step process that Laliotis uses to help Gloria find a reason to move forward
Gain actionable insights on the importance of touch, attunement and asking permission for trauma work as Laliotis helps Gloria process her pain
Experience EMDR reprocessing where the attuned therapist supports the client through almost unendurable pain
Learn how to balance the injunction of "first do no harm" with the need to support clients through a full experience of unprocessed events

Using Relational EMDR to Overcome Traumatic Stress
Meet Amy, an experienced and skilled EMDR therapist who has found herself stuck and triggered during a session with a challenging client. Realizing that the impasse is likely related to herself, not the client, she has come to Laliotis for help. In this evocative session, you'll observe the effectiveness of Relational EMDR to guide clients through long-term traumatic stress to reach a place of security and confidence.
Learn to sort through the three likely causes of a clinical impasse
Take in the power of an open-ended question—Is that voice familiar?— and how it leads directly to the target memory
Observe Laliotis' clinical technique as she focuses reprocessing not on Amy's sense of responsibility for her parents' dysfunctional behavior, but on undoing her profound and overwhelming sense of aloneness
Learn how to check for complete restructuring of the past belief as well as the emotional shift that ensures the transformation will hold in the future
EMDR In Action: A Step-By-Step Master Class with Deany Laliotis
Valued at $529.93
Today Only $229.99 — An Unbelievable Value!

Plus, earn up to 14 CE Hours — included in the course price!
Limited Time Offer!

Get these FREE Bonuses to further enhance your treatment results when you register today ($290 Value):

Exclusive Q&A Call Recording with Deany Laliotis
In this Q&A recording, Laliotis answers specific questions about incorporating EMDR into your clinical practice.

CE Video: The Many Faces of EMDR: Harnessing a Broad-Based Approach to Change
While EMDR is best known for its treatment of trauma, it has developed into a comprehensive psychotherapy approach that treats a broad spectrum of presenting issues across various clinical populations. This workshop is for practitioners who are interested in learning more about this highly effective, evidence-based approach that can treat a wide range of problems from single traumatic events to relationship problems, self-esteem issues, and complex trauma.

CE Video: Mastering the Craft of Treating Trauma: Four Core Skills
Underlying all the techniques and methodologies for treating trauma today is a core set of fundamental skills that determine a clinician's effectiveness in this challenging arena of practice.

Watch Deany Laliotis identify and explore in-depth the clinical skills that transcend theoretical paradigms, bringing together all that we know about trauma treatment. Help your clients understand their traumatic experiences and create a safe environment for them to heal.

CE Video: Advances in Trauma Treatment Today Expert Panel
This video, features Deany moderating a panel of trauma experts that includes Janina Fisher, Don Meichenbaum, Mary Jo Barrett, and John Brier. Get fresh perspectives and insight into trauma treatment through compelling presentations and engaging exchanges.

Case Study: Using EMDR to Revive a Traumatized Vet's Marriage
The devastating world of war-related trauma impacts many of our clients. In this special Networker magazine case study, discover the fascinating story of how EMDR helps a young Iraq War vet and his wife emerge from the nightmare of his war experience. Read specific strategies that EMDR expert and author Nancy Errebo, Psy.D., used to guide the couple through the anger issues (and a resulting restraining order), fear, shame, and PTSD to a place of healing and hope.
EMDR In Action: A Step-By-Step Master Class with Deany Laliotis
Valued at $529.93
Today Only $229.99 — An Unbelievable Value!

Plus, earn up to 14 CE Hours — included in the course price!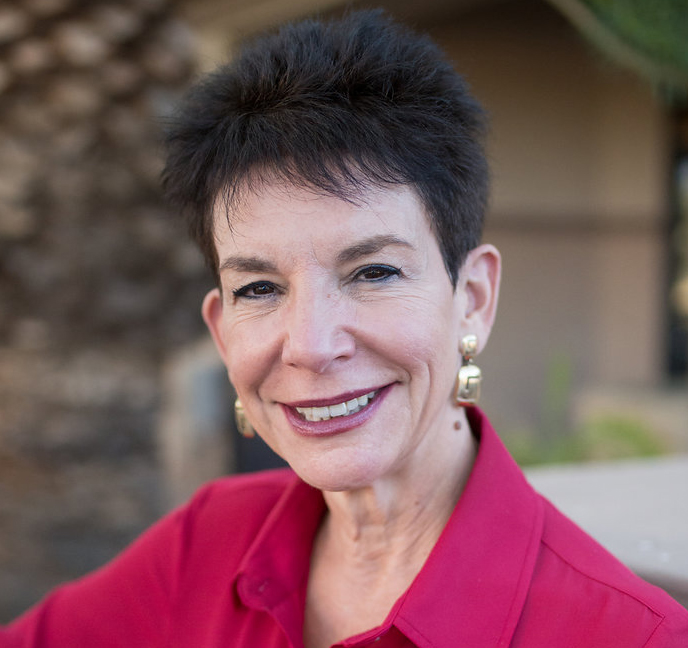 Deany Laliotis, LICSW, is the originator of Relational EMDR— a comprehensive relational EMDR psychotherapy that focuses on the transformational healing of complex trauma and other challenging cases as well as the ongoing personal and professional growth of experienced therapists. Deany is Director of Training for EMDR Institute, a senior faculty member and co-author with Francine Shapiro of the Institute's Training Curriculum. Deany offers private advanced trainings, master classes and in-depth professional development retreats in Relational EMDR around the country. Deany is in demand internationally as a presenter, master trainer, case consultant and keynote speaker.
Speaker Disclosures:
Financial: Deany Laliotis is in private practice. She is a senior trainer for EMDR Institute, Inc.
Non-financial: Deany Laliotis has no relevant non-financial relationship to disclose.

Here's what your colleagues are saying about Deany's EMDR Training Program
"Deany is a phenomenal speaker, presenter, and truly a healer. It was such an honor to learn from her, and her transparency in her work is amazing. I will take so much from this training into my own work with clients."

"Deany's training and information is inspirational! I believe that I will be able to incorporate the information and tools into my existing skill set and start using it immediately with clients."

"Deany is very real and authentic and vulnerable in a strong way. I greatly admire and respect her. My goal is to be as good as she is at interweaving someday. She truly has a gift!"

"Deany is such a gifted teacher and mentor. It was very helpful to have the opportunity to weave together in real-time what we were learning in the lectures, discussions, and videos."
100% Satisfaction Guarantee
If you're not completely satisfied, please give us a call at 1-800-844-8260. We're that confident that you'll find this learning experience to be all that's promised and more than you expected.

Learning that Fits YOUR Schedule:

Access 5 modules of in-depth training, plus 4 additional free bonuses, all designed to help you effectively integrate the latest insight from Deany Laliotis' Relational EMDR approach to help you improve your client outcomes.
Click here for course objectives and outline
.

Review all the course materials at your own pace and at your convenience! Watch your email for the order confirmation and link to get immediate access to all course videos and materials online. Plus, use the PESI Mobile™ app to access the course content on-the-go, wherever and whenever you want on your mobile devices.

You'll have the opportunity to instantly collaborate with other professionals on the course materials through interactive message boards. You'll be part of a community of hundreds of practitioners all focused on these materials, providing valuable opportunities to share insight and experiences, and to build your professional network.

This course is not affiliated with the EMDR Institute or EMDRIA.
EMDR In Action: A Step-By-Step Master Class with Deany Laliotis
Valued at $529.93
Today Only $229.99 — An Unbelievable Value!

Plus, earn up to 14 CE Hours — included in the course price!