Cognitive Behavioral Therapy (CBT) Training Course
Featuring Internationally-Renowned CBT Trainer, Author, and
Distinguished Founding Fellow of The Academy of Cognitive Therapy
Leslie Sokol, Ph.D.
No therapist takes a one-size-fits-all approach. Depending on your client's presenting problem and their unique background, you tailor your approach to best fit their needs.
This is why the latest research on CBT has focused on HOW to adapt the world's most proven treatment modality to a wide range of clients and concerns, making it even more effective for lowering distress quickly.
Filled with the most up-to-date research, this course helps you turn theory into practice - giving you specific, step-by-step insights on how to help your clients get better faster.
From common questions like how to introduce CBT to your clients to the latest research on how to adapt it to blast through roadblocks... This course could be the most comprehensive, advanced CBT training we've created to date.
Whether you've just finished grad school or have been in practice for years, this course will take you from beginner to advanced through easy-to-follow guides, video case studies, and live demonstrations.
Join international CBT trainer and author, Dr. Leslie Sokol, in this comprehensive and engaging training course, you'll learn:

How to build a stronger therapeutic alliance with your client from day 1… even if they've been mandated to come in


The most surprising myths and misconceptions most therapists have about CBT (and what the experts know about CBT instead)


Leading-edge research on how to adapt CBT for clients with depression, anxiety, bipolar disorder, anger, suicidal thinking, personality disorders, and more...


How to address the most common client objections to CBT with confidence… so you can help them lower distress faster
Limited Time Bonus! When you register for this course, you'll also receive 2 FREE bonus video trainings from Dr. Sokol, showing you how to adapt these principles to your work with couples and building self-esteem with teens (valued at $199).
What other clinicians have said about the course: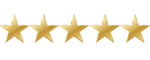 "
This was one of the best PESI trainings I have completed.
Leslie did a wonderful job of covering a wide variety of topics and applied CBT effectively to every diagnosis."
— Hadley G.
What other clinicians have said about the course: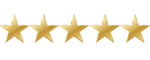 "It was a great training and
I feel more confident in CBT.
"
— Angel M.
What other clinicians have said about the course: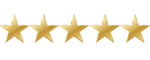 "I really learned a lot.
Dr. Sokol made me a believer in CBT!!!
"
— Tillie B.
What other clinicians have said about the course: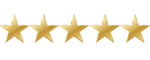 "Very good information. Thank you!
Leslie was phenomenal!
"
— Rick C.
What other clinicians have said about the course: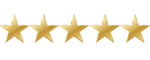 "
This is one of the most helpful CEU courses that I have taken.
"
— Tanya S.
Cognitive Behavioral Therapy (CBT) Training Course
$854.96

Value
Today, Just $499.99 — Incredible Savings!
Here's what you'll learn in this advanced CBT course:
In this exclusive online training, this world-class CBT trainer will show you...
The most proven, up-to-date techniques to help your clients lower distress in as little as 6 to 12 weeks, even if they've struggled with chronic issues like… depression, anxiety, trauma, anger, suicidal thinking, personality disorders, and substance use.


Easy-to-follow tips on how to build a strong alliance with your client from the start, helping them follow through and get the most out of therapy…even if it wasn't their idea to be there.


Sample scripts showing you how to confidently answer the most common questions and troubleshoot the toughest objections from your clients at each stage of therapy.
Building the Foundation and Busting CBT Myths
How to engage even the most challenging clients starting in session 1, including court-mandated clients and oppositional teens
The 13 CBT myths that most therapists get wrong about CBT
The handy roadmap you can follow to confidently say you understand your client's biggest concerns… and what to do next
4 shockingly simple steps to make sure your clients never "forget" their homework between sessions
FREE Access to the "Gold Standard" tool to assess your level CBT proficiency - showing you where you're hitting the mark and shining a lot on your areas of growth
CBT for Depression or Anger
The 4 creative techniques you can use to unearth your client's automatic thoughts, even if they're struggling to identify the thoughts themselves
The hidden root of your client's anger… and 6 simple steps to help them cope effectively
Why you should never START by asking for the evidence for their automatic thought (and what to do instead)
How some therapists unconsciously make CBT less effective for their clients (and the one reframe that instantly flips this problem on its head)
Anxiety, Suicidal Thoughts, and Bipolar Disorder
The newest directions in CBT research… including virtual reality, mindfulness, ACT, and more
How the "Risk-_______ Ratio" helps clients so dangerous/anxiety-provoking situations feel less threatening
Why Dr. Sokol recommends using "anti-suicide contracts" rather than outdated, ineffective safety contracts
The most common "suicidogenic" beliefs clients have (and how to combat them to help keep your clients safe)
Why using reflective delays can help clients stop impulsive, manic behaviors before they cause problems
Trauma, Substance Use Concerns, and Personality Disorders
How to adapt therapy to best help your clients after trauma… whether they're "just going through the motions" or actively dissociating in session
When intervening after trauma can actually be MORE harmful for clients (and when the research says it's best to jump in and do the work together)
The "parking lot" analogy that captures the biggest challenges for every personality disorder in one simple diagram (This is a reference tool you'll come back to for years to come)
How you can use CBT to help clients cope with substance use urges and relapses (and how to use it with clients with other impulse control issues)
Join Hundreds of Your Fellow Clinicians in Advancing Your Practice Today
Hundreds of your colleagues have already joined the course, and the feedback has been incredible.
Take a look at just a few examples from other clinicians who decided to master these advanced CBT skills...
"She may be the best speaker I've heard in my career — energetic, expert, professional, focused, etc." — Brandy M.
"One of the most informative, engaging speakers with volume of material and great modeling of techniques continuously! Thank you so much!" — Mary T.
"Great training. We were so fortunate to have an expert teach us!" — Melissa M.
Cognitive Behavioral Therapy (CBT) Training Course
$854.96

Value
Today, Just $499.99 — Incredible Savings!
Bonus - Your CE Hours are included in the course tuition!
LIMITED TIME BONUS: Enroll Today and You'll Get These FREE BONUSES
(Valued at $234.98)
Free CE Video: Building Self-Esteem in Youth
While parents can often list dozens of their children's positive traits along with specific examples, it can be a challenge helping kids and teens with low self-esteem really believe these good things about themselves.
In this bonus video training, Dr. Sokol provides specific techniques to help young clients build their self-esteem and feel more confident using foundational CBT principles.
You'll learn...
What parents can do to build competence and positive self-esteem in their children
How to identify positive traits and labels children will actually believe, helping them create a healthier self-image
What to do to replace perfectionism and ineffective communication patterns (like manipulating, being unassertive, and defending) with more effective actions
How to replace GIVE UP thoughts with GO TO thoughts that will increase their confidence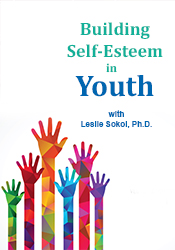 Free CE Video: Cognitive Behavioral Therapy for Couples
When couples aren't on the same page about what the real problem is in their relationship, why it's happening, and what would fix it, it can feel impossible to see a clear path towards a better relationship.
Dr. Sokol teaches how to adapt these incredibly effective CBT principles to your work with couples, also providing case examples and exercises you can use both inside and outside of sessions.
In this video training, Dr. Sokol reveals...
Positive signs to watch for that signal hope for recovery in the relationship (and the red flags that suggest trouble ahead)
The essential elements of a successful relationship you can identify and build upon in therapy
The instrument she uses with every couple she sees to address problematic communication styles
One of the biggest obstacles to wellness in a relationship and to positive action in therapy
And more...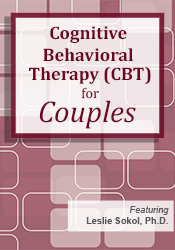 Free PDF eBook: The Comprehensive Clinician's Guide to Cognitive Behavioral Therapy
Written for mental health professionals, students, trainers, supervisors, teachers, and clinicians of all levels, this workbook is filled with practical, easy-to-understand tools to help you put theory into practice.
Filled with worksheets, coping cards, step-by-step plans and activities, this accessible guide will help you teach clients effective coping skills, which builds their confidence, and eliminates self-doubt—the most crucial part of treatment. These tools will help clients become their own therapist and sustain recovery across a variety of issues, including:
Depression
Bipolar Disorder
Anxiety
Anger
Substance Abuse
Personality Disorders
PTSD
Self-Harm and Suicidality
Psychosis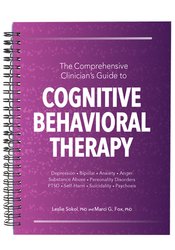 Meet Your Course Expert, Dr. Leslie Sokol: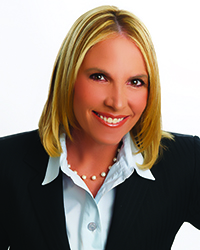 Dr. Leslie Sokol is an internationally recognized leader in cognitive-behavioral therapy (CBT) with more than 30 years of experience in practice, teaching, and research.
She is a distinguished founding fellow of the Academy of Cognitive Therapy and a past president, currently serving as chairman of its credentialing committee and as a fellow of the Association for Behavioral and Cognitive Therapies (ABCT).
Advance Your Practice Now...With 3 Simple Steps
To get started, just click the "Get Instant Access" button below.
You'll be brought to a secure checkout page where you can review and complete your order
Within a few minutes, your order confirmation will be sent to your email, and you'll get instant access to all the course videos, handouts, and bonus materials.
Click here for course objectives and outline
.
Access your course videos and materials online anytime you'd like. You'll have lifetime access to all of the course materials... And with the CE21 Mobile™ app, you can access the course content on-the-go, wherever and whenever you want on your phone or tablet.
You'll end this intensive training with a newfound confidence in helping your clients of all ages, using the most up-to-date, advanced CBT interventions available.
100% Satisfaction Guarantee
Register for this intensive training course without risk. If you're not completely satisfied with your new collection of advanced CBT treatment skills, give us a call at
800-844-8260
. We're that confident you'll find this learning experience to be all that's promised and more than you expected.
Cognitive Behavioral Therapy (CBT) Training Course
$854.96

Value
Today, Just $499.99 — Incredible Savings!