Most trauma clients carry complex layers of pain – and often, that suffering was passed on from previous generations.

Whether it's the result of abuse within a family … or the far-reaching, painful legacies of racism, oppression, and violence …

… these wounds can lead to decades of hurt and unhappiness, unless our clients get the help they badly need.
To effectively treat trauma, we must be able to provide healing for the complex, inherited trauma that's inhibiting our clients today!
Fortunately, thanks to innovative neurobiological research and clinical insight, we now have the knowledge and skills to expertly pinpoint and transform trauma!
Now, in this groundbreaking online CE course, we're bringing together a world-class group of innovators and researchers to share their in-depth insights and proven techniques that will help your clients take back control of their lives.
Watch clinical Q&A recordings with Dr Stephen Gilligan, Dr Dwight Turner, and our special guest Linda Thai, LMSW.
Register today and you'll get...
9 ONLINE sessions with leading transgenerational trauma innovators and researchers
3 Q&A recordings with Dr Stephen Gilligan, Dr Dwight Turner and special guest Linda Thai, LMSW
Digital access to ALL recordings, slides and clinical resources
PLUS FREE BONUS workshop recording on healing Transgenerational Trauma with Dr Peter Levine (Valued at $159.99!)
Earn up to 11.75 CE Hours


Register today and you'll get this FREE BONUS Session (and earn up to 2.5 additional CE hours!)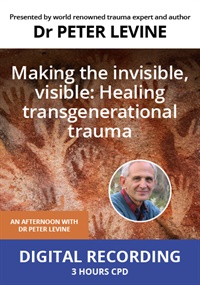 Making the Invisible, Visible with Dr Peter Levine ($159.99 value)
Join Dr Levine in this transformative CE recording and discover how to not only help your clients connect to their ancestors' suffering with healing reverence but also learn to guide your clients to reclaiming their destinies, so they can experience authentic freedom.
Learn:
How trauma is stored in the body-mind
How to transform your practice by understanding the importance of orienting and defensive responses
Why immobilized responses need to complete to heal trauma
How boundaries are impacted as a result of trauma and how they can be reinstated

The Next Steps in Advancing Your Practice
Watch your email for your order confirmation
and get instant access to all course materials designed to help you effectively integrate these solutions into your practice and your life.
Click here for course objectives and outline
.
Review the course materials at your own pace and at your convenience! You'll have unlimited access to all course videos and materials online forever. Plus, use the PESI Mobile app to access the course content on your phone or tablet. Choose video or audio-only versions of online courses from the world's best instructors, and complete your CE requirements anywhere, anytime, at your own pace.
Instantly collaborate with other professionals on the course materials through interactive message boards. You'll be part of a community of hundreds of practitioners all focused on integrating medication and behavior management strategies into clinical practice, providing valuable opportunities to share insight and experiences and to build your professional network.

100% Satisfaction Guarantee
Register without risk!
If you're not completely satisfied, give us a call at
800-844-8260
. We're that confident you'll find this intensive course to be all that's promised and more than you expected.