Revolutionize your ability to help clients by integrating Gabor Maté's
profound healing insight and interventions into your work
In order to offer truly impactful healing, it's crucial that you understand the deep roots of your clients' pain and suffering.
But with ever-growing caseloads, increasingly complex clinical challenges, and conflicting messages about trauma and chronic stress…
…offering that depth of care has never felt so daunting.
World-renowned medical doctor, speaker, and bestselling author Gabor Maté is a master at quickly getting to the heart of complex and deep-rooted clinical issues and diagnoses… including trauma, addiction, stress, depression, autoimmune disease, and childhood attachment wounds.
His vast experience working directly with unrelenting drug addiction and mental illness—and his ability to interpret and provide guidance on the latest scientific insight—has resulted in a compassionate treatment approach that is empowering therapists throughout the world.
Now is your chance to join him for this unique program where you'll experience engaging discussions, case histories, and interactive demonstrations…
…and walk away with deepened insight into how to help your adult and child clients overcome complex physical and mental health challenges from a fresh, empowered perspective.
Register today for this powerful opportunity to add Gabor Maté's expert insight into your work—and enhance your ability to offer clients healthier, more fulfilling relationships with themselves and others.
Gabor Maté on Treating Trauma, Stress, and Addictions
Just $329.99 Today — DON'T MISS THIS SAVINGS!
Endorsements of Gabor Maté's Groundbreaking Work
"Dr. Maté's compassionate commitment to social well-being—no matter how elusive—is inspiring,
as is his rendering of each individual's painful, poignant story."

— Peter Levine, world-renowned trauma treatment pioneer
"Gabor Maté is a common-sense doctor and a truth-teller. By looking at causes and their effects, he helps you find your way home."

— Jamie Lee Curtis, Author, Actress, Activist
"Gabor Maté is a voice of reason and compassion in a sea of white noise. Where so many others see only the comeuppance of lives of sloth and foolishness, he sees the human spirit battered by the crush of indifference."

— Ed Burns, Former Baltimore City Homicide detective and co-creator of HBO's The Corner and The Wire
"Gabor Maté's connections—between the intensely personal and the global, the spiritual and the medical, the psychological and the political—are bold, wise, and deeply moral. He is a healer to be cherished."

— Naomi Klein, NYT bestselling author
---
In this unique online program, you'll get access to engaging discussions, case histories, and interactive demonstrations. Experience Gabor's groundbreaking work first-hand and discover how it will invigorate your practice and help you achieve lasting positive outcomes with your clients.
Included in this Engaging & Innovative Program:
Healing the Wounds of Trauma with Bruce Perry, MD, renowned child psychiatrist and co-author of the NYT Best-Selling What Happened to You? (with Oprah Winfrey) and The Boy Who Was Raised as a Dog.
Join two of the most profound healers of our time to access unique insight into the causes of suffering and the potential for healing.
This module that's based on Gabor's bestselling book The Myth of Normal, explores the most common misconceptions around trauma and chronic stress, how and why we get stuck, and the specific pathways to healing.
Gabor covers some of the most prevalent mental health diagnoses therapists are seeing today including: ADHD, Depression, Bipolar Disorder, Self-Harm, ODD, Eating Disorders... and how we should be treating them through the lens of developmental trauma.
---
The Biology of Loss: How to Foster Resilience When Attachments Are Impaired
In this module, Gabor offers in-depth insight into how trauma and emotional stress, often hidden below consciousness and interwoven into the fabric of society, prepare the ground for disease. He'll also explore how to unlock our natural abilities for recovery and healing, and what it really means for humans to be resilient in the face of attachment injuries.
---
When Psychedelics Hurt: Psychedelic Unpleasant Experiences as a Pathway to Healing
Integrating psychedelics has become a widely popular topic in treating trauma and other clinical issues. But not all experiences with psychedelics feel good. It's, in fact, common for people to experience some level of distress, and without proper guidance, these unpleasant journeys can leave people feeling more disintegrated than they were before.
In this dynamic module, Gabor will present from research and his own extensive experience, ways to reduce the likelihood of harm from psychedelic use — and how negative or unpleasant experiences can be transformed into deeply meaningful and healing experiences.
---
The Seven Myths of Addiction
Drawing from his 12-year experience as the staff physician at a clinic for drug-addicted people in Vancouver's Downtown Eastside, this module offers transformative insight into the roots of addiction — and introduces how to develop a compassionate approach toward the addict that has the highest probability of restoring him or her to wholeness and health.
Based on cutting-edge scientific insight, this module also illuminates how the source of addictions is not to be found in genes, but in the early childhood environment where the neurobiology of the brain's reward pathways develops.
---
When the Body Says "No": Listening to Our Stress & Re-connecting with Our Self
Stress is ubiquitous these days, and it can take a heavy toll unless it is recognized and managed effectively and insightfully. Though compassion fatigue is an oft-used phrase, how accurate is it? Does one truly become fatigued by feeling, expressing, or manifesting compassion?
This module will explore the deeper source of the well-known phenomenon of burnout. Gabor will show you practices to prevent compassion fatigue and restore your energy as a healer. He'll also offer research results, as well as compelling and poignant anecdotes from his own extensive experience in family practice and palliative care.
Gabor Maté on Treating Trauma, Stress, and Addictions
Just $329.99 Today — DON'T MISS THIS SAVINGS!
When you register today, you'll receive this FREE bonus
(a $169.99 value!)
Compassionate Inquiry Foundational Workshop
In this CE workshop from the Psychotherapy Networker Symposium, Gabor will introduce you to his widely popular Compassionate Inquiry approach to psychotherapy which takes the simple act of asking questions and transforms it into a powerful intervention that gets to the heart of a client's suffering more quickly and effectively than you likely ever imagined possible.
The first part of the workshop recording will address mental health diagnoses, such as addiction, ADHD, and depression; the second, chronic physical illnesses from autoimmune disease to malignancy.
These interactive sessions will demonstrate how to recognize the lifelong impact of early childhood stress, often exacerbated by socially induced cultural dislocation — and how to use that insight to revolutionize your healing work.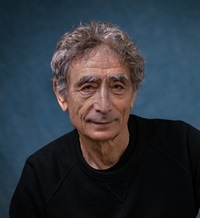 Gabor Maté, M.D., C.M., is a Canadian physician (retired), public speaker, and bestselling author, published internationally in multiple languages. His book on addiction, the award-winning In the Realm of Hungry Ghosts: Close Encounters with Addiction, is used as a text in many institutions of higher learning in Canada and the U.S. His most recent book, The Myth of Normal: Trauma, Illness, and Healing in a Toxic Culture, to be published in over 30 languages on five continents, has been and continues to be a #1 Canadian bestseller and, as of April 16, 2023 will be 19 weeks a New York Times bestseller.
Gabor's Compassionate Inquiry approach draws from his professional work as a physician as well as his personal experience, having suffered trauma as an infant in Nazi-occupied Hungary, and his adult struggles with behavioral addictions, depression, and an ADHD diagnosis.
Among other honors, he's received the Hubert Evans Prize for Literary Non-Fiction; an Outstanding Alumnus Award from Simon Fraser University, and the Order of Canada, his country's highest civilian distinction.
"Trauma is not what happens to us.
It's what happens inside of us as a result of what happens to us."
Click here for information about Gabor Maté.
Frequently Asked Questions
Immediately! You can start on this program as soon as you register.
Your access to this course is unlimited for as long as you have your account.
Not at all. This program is designed for all therapists that work with trauma, addictions, or other clinical issues. Gabor will provide unique insight and demonstrate principles and techniques from his Compassionate Inquiry approach that any clinician can benefit from.
Even if you have trained in Compassionate Inquiry, you'll walk away with new a understanding of specific clinical challenges and populations that can greatly enhance your work.
The Next Steps in Advancing Your Practice
Review the course materials at your own pace and at your convenience! You'll have unlimited access to all course videos and materials online forever. Plus, use the PESI Mobile app to access the course content on your phone or tablet. Choose video or audio-only versions of online courses from the world's best instructors, and complete your CE requirements anywhere, anytime, at your own pace.
Instantly collaborate with other professionals on the course materials through interactive message boards. You'll be part of a community of hundreds of practitioners all focused on integrating the most effective trauma techniques, providing valuable opportunities to share insight and experiences and to build your professional network.
100% Satisfaction Guarantee
Register for Gabor Maté's Treating Trauma, Stress, and Addictions
completely risk-free
.
We're that confident you'll find this learning experience to be all that's promised, and maybe even more than you expected. But if you're not completely satisfied with the course, call us at
800-844-8260
.
Gabor Maté on Treating Trauma, Stress, and Addictions
Just $329.99 Today — DON'T MISS THIS SAVINGS!