Discover how to use EFIT, CBT, IFS, Somatic interventions, & more to help clients heal their wounded attachment to improve outcomes
The truth is, you can try any approach with clients, but if you do NOT address their wounded attachment, they will never feel safe enough to fully engage...
And without trust in the therapy room, even your most heroic efforts will fail.
However, wounded attachment can be so subtle that it's difficult for both you and your client to recognize.
That's why, in our all-new online course, world-renowned researcher and clinician Sue Johnson leads eight premier trauma and attachment experts, including
Dr. Kevin Keith
,
Dr. Pam Stavropoulos
, and others...
In sharing evidence-based treatment strategies including
EFIT
, CBT,
IFS
, Gottman Method Couples Therapy,
Somatic interventions
, Family Systems Therapy, and more...
That can help you
identify and work with subtle attachment wounds
that undermine therapy.
Not only that, but this training meets the educational requirements to
become a Certified Clinical Trauma Professional (CCTP-I)
... And we'll pay your certification application fee ($99.99 value)!
Register today to discover how to integrate this key element into your practice so you know exactly what to do to help your most challenging trauma clients heal.
Certified Clinical Trauma Professional Level 1
Attachment-Focused Trauma Treatment

$1,288.44 Value
Just $459.99 Today — Stunning Savings!

Dr. Sue Johnson's research reveals that secure attachment positively affects all areas of our life, creating safety and resilience.
That's why our goal in this training is to give you attachment-focused skills and tools to help clients feel safe, secure, and at peace beyond trauma.
Designed for Psychologists, Counselors, Psychotherapists, Social Workers, Couples Therapists, and Mental Health Professionals, this online course will reveal how to:
Confidently use an attachment-focused approach to create a safe foundation for trauma work
Know where to start the healing with your client and then map their needs
Inform and guide your client so they understand their feelings and challenges
Apply clear interventions to keep your client moving on their healing journey
And much more!
---
WHAT YOU'LL DISCOVER IN THIS COURSE
Attachment: The Royal Route to Effective Psychotherapy
Dr. Sue Johnson shows you how Emotionally Focused Individual Therapy (EFIT) uses attachment-focused interventions to take us to the heart of the matter with every client.
Healing Protective and Wounded Parts Using Internal Family Systems Therapy
Sean Cuthbert discusses Internal Family Systems (IFS) Therapy as an attachment-based, trauma-focused model that focuses on healing the connection between the client's Self, and the protective and wounded parts that hold the residues of traumatic experiences.
The Role of Reflective Function in Repair Work with Couples
Elizabeth Neal explores the prism of reflective functioning to understand its markers, measure repair processes, and evaluate interventions.
Working at the Interface of Attachment, Trauma, and Attachment Trauma
Jackie Burke reveals how to discern attachment from trauma and attachment trauma. You'll explore the critical elements of the interface between these psychological wounds to enable effective and targeted therapeutic interventions.
Trauma-informed TEAM-CBT: Strategies to place secure attachment at the forefront of therapy
Robyn Blake-Mortimer revises the reasons CBT might have been difficult to apply within the population of trauma survivors and analyze different techniques to overcome those issues by applying TEAM-CBT, an advanced form of Cognitive Behavioral Therapy developed by renowned psychiatrist and author, Dr. David Burns.
Applying Attachment Theory to Heal Trauma in Cultures, Families, and Individuals
Kevin Keith demonstrates how attachment and trauma are overlapping realities and how to identify and assess attachment-related capacities (e.g., emotion regulation) as a platform for understanding the severity of trauma to explore treatment options and considerations.
Techniques to Help Clients Restore Trust in Themselves so They Can Trust You
Lizzie Spencer reveals several ways you can help your clients reconnect with their own truth, knowing, and wisdom. She explores beneficial ways of working with dissociation and differentiating ways of staying warmly connected with your clients.
A Somatic Approach to Repairing Trauma and Attachment Ruptures: Restoring the natural rhythms of connection
Narelle McKenzie identifies and observes how traumatic disruptions occur energetically in the physical body from a somatically oriented perspective. She presents the cognitive, emotional, and behavioral correlates of different regulatory patterns.
Treating Attachment and Trauma Issues from a Systemic Family Therapy Approach
Ari Badaines provides a grounding in trauma from a family systems approach, and its capacity to help to heal attachment and traumatic wounds. You will learn how to apply Circular Questioning in family sessions to give you a 'scaffolding' in your work with families as well as a powerful method for helping families recover from individual and family traumas.
Complex Trauma—Recognising and Responding Effectively to Our Clients: Theory and training for working beyond single incident trauma
Pam Stavropoulos addresses the stakes of recognizing and responding to complex trauma (which comes in many guises) in light of current research findings and their implications for treatment.
Certified Clinical Trauma Professional Level 1
Attachment-Focused Trauma Treatment

$1,288.44 Value
Just $459.99 Today — Stunning Savings!

When you register today, you'll receive these FREE bonuses
($134.98 value!)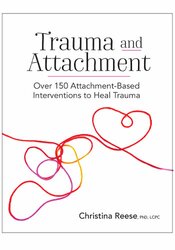 In this comprehensive yet accessible book, Dr. Reese provides an attachment framework for treating clients who have experienced a multitude of traumas, ranging from abuse and neglect to medical traumas, natural disasters, and exposure to violence.

Through a variety of worksheets, exercises, and activities, this book provides clients with the tools they need to develop a foundation for healing so they can find feelings of safety and security within relationships again.
---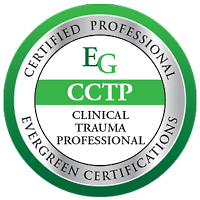 PESI will cover your first year of certification ($99.99 value)
Certification Made Simple
It's never been easier to become a Certified Clinical Trauma Professional (CCTP-I).
Step 1: Watch this online course.
Step 2: Complete the CE tests and instantly print your certificate of completion.
Step 3: Submit the Certification Questionnaire included in this training, and your application is complete.*
Click here for certification requirements.
That's it! No hidden fees. No catch. Just certification made EASY.
*Professional Standards apply.
Click Here to Learn More About CCTP Certification
We partner with Evergreen Certifications to include certification with some of our products. When you purchase such a product, we may disclose your information to Evergreen Certifications for purposes of providing services directly to you or to contact you regarding relevant offers.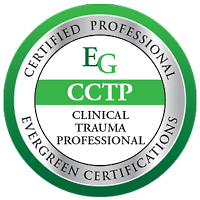 Are you ready to step into the life awaiting you as a Certified Clinical Trauma Professional (CCTP-I)?
Benefits of Certification
Clinical expertise: Show clients and colleagues your practice is based on leading-edge research in this complex area of mental health.
Client Trust: Certification shows your clients you care about providing the best care possible. It reveals your professional ability to take on challenging clients and succeed!
Documentation of knowledge: Certification is both a professional and personal accomplishment. It's an unbiased barometer of your training and dedication to your practice.
Professional recognition: Set yourself apart from the thousands of clinicians relying on outdated methods to treat their clients. Increase your opportunities for career advancement and client referrals.
Certified Clinical Trauma Professional Level 1
Attachment-Focused Trauma Treatment

$1,288.44 Value
Just $459.99 Today — Stunning Savings!


The Next Steps in Advancing Your Practice
Review the course materials at your own pace and at your convenience! You'll have unlimited access to all course videos and materials online forever. Plus, use the PESI Mobile app to access the course content on your mobile devices
Instantly collaborate with other professionals on the course materials through interactive message boards. You'll be part of a community of hundreds of practitioners all focused on integrating the most effective trauma techniques, providing valuable opportunities to share insight and experiences and to build your professional network.
Certified Clinical Trauma Professional Level 1
Attachment-Focused Trauma Treatment

$1,288.44 Value
Just $459.99 Today — Stunning Savings!

100% Satisfaction Guarantee
Register for this intensive training course without risk. If you're not completely satisfied, give us a call at
800-844-8260
.
We're that confident you'll find this learning experience to be all that's promised and more than you expected.