Pain brings couples into therapy. Hope keeps them coming back.
The hope that couples are looking for when they come into your office can be lost if sessions are focused primarily on problems and pathology, leaving clients (and therapists) overwhelmed and discouraged.
But with Solution-Focused Therapy (SFT) you can provide rapid, meaningful results for the couples in your care and help them build their ideal future together.
SFT is an evidence-based approach to psychotherapy that focuses on your clients' greatest desired outcomes instead of the problems to be reduced. Designed to complement any therapeutic framework, the Solution-Focused Therapy approach engages and activates clients to make a change, whether they are new to therapy or have found themselves "stuck" in the therapeutic process.
And unlike traditional problem-driven approaches, Solution-Focused Therapy helps clients recognize their internal resources, identify personal strengths and build on what is already working for them.
Join world-renowned SFT experts Elliott Connie, MA, LPC, and Linda Metcalf, PhD, LMFT, for a comprehensive online course to learn step-by-step how to use Solution-Focused Therapy to help your clients grow their relationships — even in the presence of complex issues such as trauma, PTSD, anxiety, depression and more...
Don't wait to learn the approach that 77 empirical studies have shown to be effective in as little as 3 sessions.
Reconnecting Couples with Solution-Focused Therapy:
An intensive online course
Valued at $379.98
Today Only
$259.99
— An Unbelievable Value!

Solution-Focused Therapy (SFT) starts with the end in mind.
"What do you want from our work?"
Rather than "What brought you here today?"
The evidence-based Solution-Focused Therapy model (also known as Solution Focused Brief Therapy, SFT or SFBT) focuses on your clients' greatest desires, goals and solutions instead of the problems to be reduced. As a result of this focus, this approach of helping is much more simple than traditional problem-focused approaches.
In this step-by-step training, you'll learn how to use Solution-Focused Therapy to improve cooperation between partners and move them towards their agreed-upon goals and future. Through clear explanations, engaging exercises and case studies, you'll see exactly how to conduct SFT sessions and use concrete, pointed questions and conversations with couples to positively shape their preferred future together.
Enroll now and learn how to:

Instill hope and promote change
from your very first session with practical skills from SFT

Move couples from their "best hopes" to finding real solutions
in just 5 simple steps

Quickly engage your most challenging clients
to become active participants in therapy by focusing on desired future outcomes instead of past problems

Enhance the effectiveness
of your current therapeutic approach

Improve client communication
with evidence-based communication strategies that lead to calm, productive conversations between clients

Experience greater creativity and satisfaction
in your work

Create customizable treatment plans
that meet the unique needs of individual clients

Extract meaningful responses and solutions
, even from those who just seem to want to fight, by learning how to ask the right questions
If you're at that point where your clients aren't improving, continue to argue in-session or don't participate, then this course is for you!

Here's what your colleagues are saying about this training...

"This has been the missing piece for my therapy."
—Sandra G.

"I have learned a new way to approach couples counseling and seeing it from a different perspective was great. I liked that we were taught the how's, not just a theory. "
—Monica A.

"Even as a trained solution focused, strength-based therapist, I learned a great deal about how to use this with couples. The seminar was very helpful, and I'm a hard sell."
—Rebekah W.

"This form of therapy is new to me so I found this to be very informative, clear, effective, and encouraging for positive progress. I appreciated the enthusiasm and excellent communication skills of the presenters. Thank you for making this enjoyable. "
—Connie G.

How this training works...
Enroll today and renowned experts Linda Metcalf, PhD, LMFT, and Elliott Connie, MA, LPC, will guide you step-by-step through two engaging modules of intensive training on the foundations of Solution-Focused Therapy as well as the specific application in couples therapy.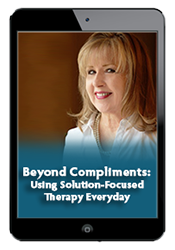 Module 1 |

Beyond Compliments:
Using Solution-Focused Therapy in Clinical Practice
A 5-Hour Video Training featuring Linda Metcalf, PhD, LMFT
Imagine a therapy session where you focus solely on the priority goals of your client and you collaborate on the steps to accomplish that goal...
Where the client becomes an active part of the solution for their own desired outcomes by identifying what is already working.
Using the solution-focused approach, empowerment takes place in the very first session and keeps your client focused on their direction of choice.
In this innovative module with Linda Metcalf, you will begin by learning the fundamentals of the evidence-based SFT model. Through step-by-step instruction, you'll discover how to create goals with your clients through a variety of questions, and how to help clients work efficiently to accomplish their desired change in their lives — no matter what the circumstance.
Introduction to Solution-Focused Therapy
The Five Steps to Solutions

Concern
Goal Setting
Exception Identification
Scaling Question
Task Development

Re-description of diagnosis to help clients see themselves within the normal range
Interactive Solution-Focused practice
The Solution-Focused Process
Solution-Focused ideas to consider
Working with challenging clients
Specific applications of SFT

Sexual abuse
Grief and loss
School issues
Chemical Dependency
Eating disorders
Discovering exceptions and how to handle them
The art of making lists with clients struggling with depression, relationship conflict or family issues
Techniques you can begin to use immediately in your next session
---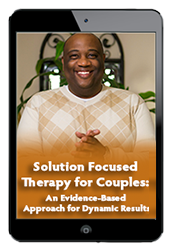 Module 2 |

Solution Focused Therapy For Couples:
An Evidence-Based Approach for Dynamic Results
A 5-Hour Video Training featuring Elliott Connie, MA, LPC
In this module, you'll learn how to use the foundations of SFT from module 1 to help couples work together to build the relationship they desire rather than arguing about the problems that have occurred. You'll gain the tools necessary to help couples focus on moving forward and positively shape their preferred future together.
Combining hope-filled stories, dynamic lecture, interactive exercises, and video examples, Dr. Elliott Connie offers you a new and effective perspective for working with couples with all personality types.
You'll end this session confident in your ability to help couples through the 6 steps of effective SFT therapy:
Step 1: Establishing a "best hope" for the session
How to establish a set of goals and direction from the very start
How to use questions and language to accomplish goals
Step 2: Problem free talk
The value of taking time to get to know the client beyond their problems
Identifying the therapist's task during this stage
How to identify the couple's exceptions and amplify them
How to identify the couple's strengths and amplify them
Step 4: Detailed picture of the preferred future
Discovering key components to a usable preferred future
How to use solution building language to assist the couple in describing their future
Step 5: Assess current status toward progress
Examining different types of scaling questions
The 4 points to an SF scale
Step 6: Session feedback/suggestions
---
Enroll today and you'll get these
TWO FREE BONUSES (A $79.98 value)!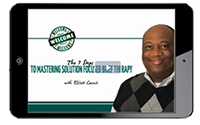 Free Bonus Video

| The 7 Steps to Mastering Solution-Focused (Brief) Therapy
This exclusive video from Elliott Connie provides you the 7 steps you need to use SFT effectively and with confidence — regardless of what brought your clients into therapy. Elliott will also give you the ultimate tool to hone your clinical SFT skills.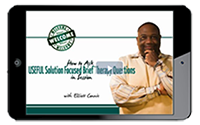 Free Bonus Video

| How to Ask Useful Solution-Focused (Brief) Therapy Questions
This free seminar from Elliott Connie guides you through 9 action steps that will increase the effectiveness of the questions you ask in session. Through real video case studies, you'll see directly how you can apply SFT in your own clinical sessions. You'll leave this session with tools and strategies you can immediately apply in your next session.
Reconnecting Couples with Solution-Focused Therapy:
An intensive online course
Valued at $379.98
Today Only
$259.99
— An Unbelievable Value!

About the course faculty: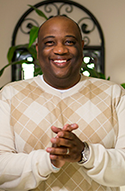 Elliott Connie, MA, LPC, is a psychotherapist that practices in Keller, Texas. He has worked with thousands of individuals, couples, and families applying the solution-focused approach to help them move their lives from the current problems towards their desired futures. He is the founder and Executive Director of The Connie Institute, an organization that conducts trainings to help clinicians to master the Solution Focused Approach in their work as well as developing training materials and conducting research.
As a national and international teacher, he is recognized as an expert trainer and has taught thousands of practitioners how to apply solution-focused questions and techniques in their work. He has authored or co-authored 3 books including The Art of Solution Focused Therapy, Solution Building in Couples Therapy and The Solution Focused Marriage. He was mentored by noted authors and practitioners such as Bill O'Hanlon, Chris Iveson and Linda Metcalf.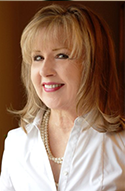 Linda Metcalf, PhD, LMFT, is a licensed marriage and family therapist and supervisor, a licensed professional counselor and supervisor, and a certified school counselor. She has been in private practice for over 20 years. Dr. Metcalf is the author of nine books on Solution-Focused Therapy and one book on marriage and family therapy. She received her Bachelor of Arts degree in Education from Baylor University, her Master of Education degree in School Counseling from Texas Christian University, and her Doctorate degree in Marriage and Family Therapy from Texas Woman's University. She is a professor at Texas Wesleyan University where she is director of the School Counseling Program. She has served as president of the Texas Association for Marriage and Family Therapy, been a board member of the American Association for Marriage and Family Therapy (A.A.M.F.T.), and is the current president of A.A.M.F.T.
Learning that Fits YOUR Schedule:

Watch your email for your order confirmation
, and get instant access to all of the course materials plus the FREE Bonus materials — all designed to help you effectively integrate proven treatment strategies into your practice. Review all the course materials at your own pace and at your convenience!
Click here for course objectives and outline
.

Access all course videos and materials online forever. Plus, use the PESI Mobile™ app to access the course content on-the-go, wherever and whenever you want on your mobile devices.

Instantly collaborate with other professionals on the course materials through interactive message boards. You'll be part of a community of hundreds of practitioners all focused on mastering Solution Focused Therapy for couples, providing valuable opportunities to share insight and experiences and to build your professional network.
---
Who is this training for?
This training has been specially created for professionals who work with couples, including Counselors, Social Workers, Psychologists, Case Managers, Addiction Counselors, Therapists, Marriage & Family Therapists, Nurses, and other mental health professionals.
The education provided in this intensive online training is designed to breathe new life into your clinical treatment plans for clients who are looking to make rapid improvements in their well-being.
This interactive online training also offers you a community of peers and mentors all focused on helping clients succeed.
Continuing Education Credits Available!
Click here for CE credit details and details specific to your profession.
Want to know more about the course outline?
Click here for course objectives and outline.
Additional questions about this certificate training?
Please contact PESI toll-free at 800-844-8260.
---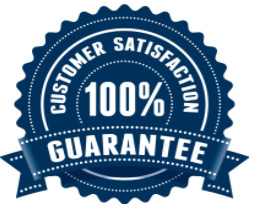 100% Satisfaction Guarantee
Register for this comprehensive training course without risk. If you're not completely satisfied, give us a call at 800-844-8260. We're that confident that you'll find this learning experience to be all that's promised and more than you expected.
Reconnecting Couples with Solution-Focused Therapy:
An intensive online course
Valued at $379.98
Today Only
$259.99
— An Unbelievable Value!

---