Are you ready to transform your practice with Internal Family Systems?
IFS has been hailed as "the treatment method that all clinicians should know to treat clients effectively" by Bessel van der Kolk, author of the New York Times Best-seller The Body Keeps the Score.
And now, you can join Deran Young, President & CEO of Black Therapist Rock, and Dr. Richard Schwartz, founder of IFS, as they guide you step-by-step through the latest research and techniques you need when working with cultural trauma to heal trauma, disease, shame, chronic pain, toxic stress, and much more.
Together, you will dive deeply into applying IFS theory to traditional and emerging applications to heal and restore in the Self.
Whether you're brand new to IFS or have been practicing the model for years, you will discover how to refine and customize the model to fit your client's unique needs and improve therapeutic outcomes.
Don't wait, lock in your spot today!
Healing Cultural Trauma with Internal Family Systems (IFS)
$716.99 Value
$399.99 Today — Just for you!
"Much to learn in this module and it was presented in a thoughtful way!"
— Meg S.
"Enjoyed this module and felt it was certainly timely"
— Kathleen R.
"Excellent presentation. Material is dense and interesting. Curious about further study."
— Lynn D.

What is Culture? What are the 4 Main Legacy Burdens of America?
Culture refers to common patterns of behavior/experience (parts) derived from the settings
in which people live.
How and Why parts get in the way of connecting with people from different beliefs/backgrounds/cultures.
The 4 main Legacy Burdens of America are: Racism, Patriarchy, Materialism, and Individualism.
...and more!
How does Materialism and Individualism Impact Personal and Collective Wellbeing?
Understanding economic class as a culture.
Cultural burdens of poverty, middle class and wealth.
What does "Survival of the Fittest" mean from a systems perspective?
...and more!
Parts Impacted by Racism and Patriarchy
Understanding race and gender as a culture.
Comparison, Control and Competition (three factors that decrease cross cultural compassion).
How the "U-turn" can be an important tool for identifying parts impacted by collective legacy burdens.
...and more!
Understanding Collective Legacy Burdens using the Intercultural Developmental Continuum (IDC)
Curiosity and Self compassion towards our parts when approaching diversity,
equity and inclusion work.
Moving from judgement to deep understanding (acknowledge and reduce shame).
Healing nature of cross-cultural relationships and corrective experiences.
...and more!
---
New to IFS? Don't worry, when you register today, you'll receive a FREE bonus seminar!
An Introduction to Internal Family Systems (IFS)!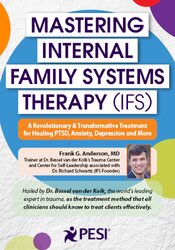 Internal Family Systems Therapy (IFS) ($219.99 value)
with Frank Anderson, M.D.
In this intensive, self-paced, 6-hour bonus seminar, you'll discover step-by-step instructions for applying IFS to your clinical practice. From beginning to end, Dr. Frank Anderson will show you everything you need to know in using the empirically validated IFS model for treating a wide variety of clinical diagnoses.
Click here for information about Frank Anderson
Healing Cultural Trauma with Internal Family Systems (IFS)

$716.99 Value
$399.99 Today — Just for you!
"In a complex world, systems thinking is the tool of choice. To my knowledge, it has never before been put to such good use as it has in Richard Schwartz's model of the Internal Family Systems."

— Ron Kurtz, B.A., Developer of the Hakomi Method of Body Centered Psychotherapy
---
The Next Steps in Advancing Your Practice
Review the course materials at your own pace and at your convenience! You'll have unlimited access to all course videos and materials online forever. Plus, use the PESI app to access the course content on-the-go, wherever and whenever you want on your mobile devices.
Instantly collaborate with other professionals on the course materials through interactive message boards. You'll be part of a community of hundreds of practitioners all focused on integrating IFS in clinical practice, providing valuable opportunities to share insight and experiences and to build your professional network.
---
100% Satisfaction Guarantee
Register for this intensive training course without risk. If you're not completely satisfied, give us a call at
800-844-8260
.
We're that confident you'll find this learning experience to be all that's promised and more than you expected.
Healing Cultural Trauma with Internal Family Systems (IFS)

$716.99 Value
$399.99 Today — Just for you!
Are you ready to become IFS Certified?

Already completed your IFS Level 1 Training? Those who've completed a Level 1 IFS Training through the IFS Institute can apply this course towards IFS Certification. This course meets 20 IFS hours toward the post-Level 1 educational requirements to become certified or your recertification in IFS. Click Here for more information on certification and to apply. Additional requirements and fees may apply.
Get Certified and Go Further
The IFS Certification process provides a clear set of actions for the IFS Therapist and IFS Practitioner to undertake in order to demonstrate the competencies and experience necessary to practice the IFS model effectively. Certification adds a measure of quality control in the practice of IFS by providing a way to recognize those who have demonstrated the capacity to safely and effectively use the model.
Professional Reputation and Credibility
Distinguish yourself from your peers and increase your opportunities for career advancement, earning protentional, and client growth. Certification is a personal accomplishment and an unbiased barometer of your skills.
Client Trust
Provide assurance to consumer and clients when you display your certification. When you complete your certification, they can be confident you are providing them with the best tools and strategies for improving clinical outcomes.