"The Process-Based revolution has arrived and is changing the future of mental health interventions. Update and evolve your practice by learning about the power of PBT with Dr. Joseph Ciarrochi and Dr. Diana Hill." –Steven C. Hayes, Originator of Acceptance and Commitment Therapy, Relational Frame Theory, and Co-Developer of Process-Based Therapy
Say goodbye to the outdated era of "protocols for syndromes."
It's time to shift the focus from just treating symptoms to understanding the intricate processes that shape client's unique experiences.
Process-based Therapy (PBT) is a revolutionary approach that provides individualized care to the whole person in front of you—not their diagnosis.
And PBT isn't just another addition to your therapy toolbox; it's a fresh perspective that transforms how we perceive therapy itself.
Join PBT experts Drs. Joseph Ciarrochi and Diana Hill for this experiential workshop as they unveil how PBT equips you with a powerful roadmap, unravelling distinct patterns and processes underlying all psychological distress.
With their expert guidance, you'll learn the skills to:
Reveal the hidden drivers of your clients' distress, turning them into catalysts for healing and growth
Customize interventions to reshape the very patterns that fuel their distress, empowering them to reclaim control
Seamlessly integrate PBT with your existing therapeutic modalities, making your practice even more effective and versatile
And don't miss this captivating discussion as we welcome special guest, esteemed Dr. Steven Hayes, who will shed light on the future of individualized psychotherapy and the transformative power of PBT to promote growth, resilience, and well-being for your clients!
Unleashing the Power of
Process-Based Therapy
Moving Beyond Diagnoses to Powerful, Personalized Change
Live Online: Friday, December 8, 2023
11:00 AM–5:00 PM Pacific time
$125.00
This unique training offers a deeply interactive learning experience grounded in the teachings of the world's most recognized authorities on Processed-Based Therapy!
Here's a sneak peek at what you'll learn:
Challenges and Limitations of Our Current Mental Health System
Stop Categorizing… Start Empowering
Disadvantages of the DSM
Case Example: Demonstrating the need for individualized interventions
Disadvantages of Manualized Treatments
Pair Work: Where do you get stuck with manualized treatments?
How Process-Based Therapy (PBT) is Revolutionizing Mental Health
It's Not About Signs and Symptoms but Processes of Change
How focusing on processes of change, changes everything
How the "network" turns dead ends into right turns
Research, limitations, and treatment
Essential First Step to Implementing PBT
Use Network Modeling to Create A Case Conceptualization as a Roadmap to:
Understand clients' core difficulties
Capture complex interactions between client's processes
Identify and target psychological, biological, and sociocultural nodes
Uncover patterns of influence and causality
Experiential activities: Practice the four steps to a network
What PBT Looks Like in Clinical Practice:
Experiential Exercises and Demonstrations on How to:
Implement PBT in a diagnosis-focused system
Create PBT individualized treatment plans
Address multidimensional processes underlying clients' distress through:

One-minute flexes with DBT, ACT, CBT, MI, IFS and more

6 dimensions of affective, cognitive, motivational, self, attentional, and behavioral interventions
2 levels of biopsychosocial and sociocultural interventions
Putting PBT into Clinical Practice
Get Concrete Answers to These Questions and More!
Do I still diagnose using the DSM? If yes, how?
How do I do an intake form from a PBT approach?
What does a PBT session look like and how is it different from traditional therapy?
How do I get started with PBT?
How do I pair PBT interventions with specific maladaptive processes?
How do I Identify which processes to focus on in session?
The Future of Evidence Based Practice
A therapist in your pocket
A therapist guided by AI
Demonstration of PsychFlex App and Mind Mapper
Panel Discussion and Live Q&A – with Special Guest Stephen Hayes, PhD
How to use Network Modeling in your practice
Incorporating App-based and individualized interventions into treatment
How to find and apply the right intervention at the right time

Your Processed-Based Therapy Expert Presenters!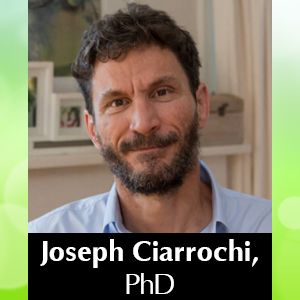 Joseph Ciarrochi, PhD, is a professor at the Institute for Positive Psychology and Education at Australian Catholic University. He has published more than 160 scientific journal articles and many books, including the widely acclaimed Emotional Intelligence in Everyday Life and The Weight Escape. Dr. Ciarrochi's latest book is What makes you stronger: How to thrive in the face of uncertainty using Acceptance and Commitment Therapy. He has been honored with more than four million dollars in research funding. Dr. Ciarrochi's work has been discussed on TV and radio, and in magazines and newspaper articles. As a highly accomplished researcher, he is ranked in the top 1% of scientists in the world across all disciplines.
Dr. Ciarrochi's passion is to use Contextual Behavioural Science principles to:
Develop character strengths such as courage, perspective-taking, and flexibility.
Assess and promote emotional intelligence
Help people live more vital, meaningful lives
Improve social relationships and social functioning
Create supportive communities
Help people to persist in what they care about, and change their behavior when the situation calls for it
Click here for information about Joseph Ciarrochi
---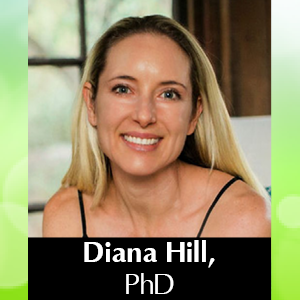 Diana Hill, PhD, is a highly regarded clinical psychologist and co-author of ACT Daily Journal: Get Unstuck and Live Fully with Acceptance and Commitment Therapy and the upcoming Self-Compassion Daily Journal. She currently provides therapy, supervision, corporate coaching, and online trainings in ACT, an approach she has been practicing for over a decade. Dr. Hill is the founder of the popular Your Life in Process podcast and has interviewed over a hundred experts in evidence-based and integrative approaches to living well. She has a knack for unpacking complex, science-based concepts and making them applicable to clinical practice and daily life.
Dr. Hill completed her undergraduate work at UC Santa Barbara, majoring in biopsychology, followed by a PhD in clinical psychology at CU Boulder where she collaborated with Stanford University to research mindfulness and acceptance-based approaches for eating disorders. Dr. Hill completed her pre-doctoral internship in the eating disorder emphasis area at UC Davis and her post-doctoral fellowship at La Luna Center Intensive Outpatient Program for eating disorders. Dr. Hill went on to serve as the clinical director of La Luna Center, where she helped develop an ACT-based group program. Dr. Hill's work with eating and body image concerns integrates values clarification, acceptance, and committed action toward meaningful goals. Through all her teachings, She encourages clients to build psychological flexibility so that they can live more fulfilling lives. Dr. Hill practices what she preaches as a mom of two, bee guardian, and yoga teacher.
Click here for information about Diana Hill
---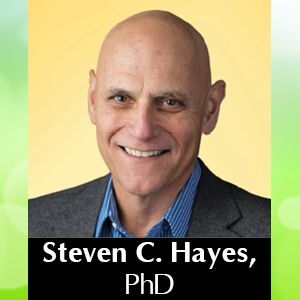 Steven C. Hayes, PhD, is the developer of Acceptance and Commitment Therapy (ACT), best-selling author of Get Out of Your Mind and Into Your Life and Nevada Foundation Professor at the Department of Psychology at the University of Nevada. An author of 32 books and over 400 scientific articles, he has shown in his research how language and thought leads to human suffering, and has developed ACT as a way of correcting these processes. Dr. Hayes has been president of several scientific societies and has received several national awards, such as the Lifetime Achievement Award from the Association for Behavioral and Cognitive Therapy.
His popular book Get Out Of Your Mind and Into Your Life was featured in Time magazine among several other major media outlets, and for a time was the number one best-selling self-help book in the United States. Dr. Hayes and the book were also part of the inspiration behind the Guy Ritchie movie Revolver (2005).
Dr. Hayes speaks internationally on acceptance and mindfulness and is one of the world's most influential clinical psychologists. His seminars are captivating, motivating and inspiring. Learning ACT will change your clinical work and your life.
Click here for information about Steven C. Hayes
Unleashing the Power of
Process-Based Therapy
Moving Beyond Diagnoses to Powerful, Personalized Change
Live Online: Friday, December 8, 2023
11:00 AM–5:00 PM Pacific time
$125.00