Deliver exceptional care—and boost your credentials—when you become a Certified Myofascial Cupping Practitioner!

As a rehab therapist, you're always thinking about how to use the tools you have in the most productive way to help your clients heal from pain, injuries, and inflammation...

But what if you're missing a key technique that could boost treatment success with your clients?
Cupping has been around for thousands of years and NOW, using the most up-to-date research and applications to integrate this method into your therapy approach, you too can offer your clients the best treatment outcomes possible.
The results of cupping are phenomenal — circulation improvement, stretching tight fascia for better mobility, increasing lymph flow, and so much more!

Unfortunately, the majority of professionals haven't had the opportunity or a cost-effective option to add this effective technique to their toolbox...

Until Now! With this online course, you'll become a RockTape Certified Myofascial Cupping Pracitioner on your time, at your own convenience with no travel required.
RockTape Myofascial Cupping Online Certification Course

$215.98 Value
Just $194.99 Today— Unbelievable Savings!
(Including Your RockTape Certification)
Bringing movement and pain relief solutions to over 50,000 professionals worldwide, this RockTape cupping certification can help advance the practices of:
Physical Therapists/PTAs
Occupational Therapists/OTAs
Athletic Trainers
Chiropractors
Massage Therapists
Lymphedema Specialists
Personal Trainers
Nurses
Nurse Practitioners
Acupuncturists
Certified Strength and Conditioning Specialists
Exercise Physiologists
Physicians
Physician Assistants
Leading RockTape experts will guide you step by step through:
How to apply cupping for optimal results
Cupping applications for all parts of the body - lower back, core, hips and much more
Case studies and in-depth demonstrations, including safety precautions
Skin/fascial screening systems
Essential principles of myofascial cupping, so you can feel confident in your approach
You'll also receive two bonuses — a FREE upper extremity kinesiology tape training AND a course-exclusive discount for your very own Clinical Myofascial Tool Kit — so you have everything at your disposal to increase your client's overall well-being.
RockTape Myofascial Cupping Online Certification Course

$215.98 Value
Just $194.99 Today— Phenomenal Savings!
(Including Your RockTape Certification)
Recognize and treat various rehab conditions, with cutting-edge myofascial cupping techniques from the experts of RockTape!

Through clinical demonstrations and experiential exercises, you'll learn exactly what to do and say with this revolutionary set of skills, so you can feel confident using it with your clients today!
Cupping isn't just a fad. With thousands of years and recent advancements with evidence, this method is an old way to get new results.

Discover the foundations of cupping, including its origins and myths, as well as an introduction to RockTape's cutting-edge version of cupping tools — RockPods.
How cupping works, the materials used to make the most impact with your clients (without the use of a blowtorch), and types of cupping that are effective
How cupping affects the body with a bit of anatomy and physiology background, and research to back it up
Common things you will see, like the red circles left behind and what they might indicate
What exactly RockPods are and how to keep your equipment clean
Cupping Assessments & Applications
Learn how to assess which cupping techniques are best for your clients, and how to properly use them so you feel confident in your skillset.
How to apply cups to specific areas in the upper and lower extremities, including hand/wrist, feet, shoulder, elbow, the trunk and more
Practical methods for keeping clients comfortable and safe
Indications and contraindications to consider when providing the best care
Therapist-assisted manipulation and screening techniques
Demonstrations and case studies with techniques, including internal and external glides
When to use dry cupping—and when not to
Connecting the Dots & Tweaking Methods
Understand how to use internal and external cueing in your care, and tweaks to treatment for better care.
The cognitive aspect of movement retraining
Sensori-motor retraining, scapular depression/retraction, movement tweaks and corrections
Stretching with bands/straps and cups working together
Nerve entrapment cupping — sciatic, tibial, femoral, median and several other key nerve areas
How to use cupping for skin scarring mobilization
Enroll today and you'll receive these TWO bonuses — Absolutely FREE! (Over $115 Value)
FREE CE VIDEO: Kinesiology Taping for Upper Extremity Rehabilitation: Step-by-Step Applications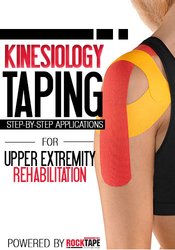 Join Dr. Shante Cofield, PT, DPT, OCS, CSCS, CF-L1, as she walks you through quick and effective ways to use kinesiology taping on the upper extremities, including difficult areas like the shoulder, elbow and hand, along with common conditions like:
Rotator cuff injury
Carpal tunnel syndrome
AC joint sprain
DeQuervain's Tenosynovitis
Bicep Tendonitis
Tennis elbow
Cervical Radiculopathy
Dive into this step-by-step guide, powered by the professionals at RockTape, to get an in-depth training through case studies and demonstrations, along with excellent billing and coding tips so your clients get the best care possible from you!
EXCLUSIVE LIMITED TIME BONUS
Only Course Registrants will Receive this Special Discount on Your Very Own RockTape Myofascial Tool Kit!
When you register today, you'll receive an exclusive email offer to
save an additional $50
on your own
RockTape Myofascial Tool Kit!
This starter kit brings together RockTapes' most effective IASTM tools — the RockPods Cupping tools, and the RockBlade 2.0 and Mohawk tools — giving you the systems you need to treat a wide range of pain, mobility and neurological issues.
RockPods Cupping Tool — Forget complicated pumps and hoses! — RockPods, made from medical-grade silicone and packaged in a convenient carrying case, are designed to easily unstick and manipulate facia to reduce pain, improve range of motion and increase athletic performance.
RockBlade 2.0 — a ready-to-go IASTM system composed of two precision-engineered soft-tissue instruments. The stainless steel "Mallet" is designed for tissue scanning and treatment, and is perfectly balanced so you can hold the tool 6 different ways. The "Mullet" is a light-weight and portable version of the Mallet, with 4 distinctive edges for comprehensive treatment.
RockBlade Mohawk — Incorporate radically different IASTM treatments into your practice with the 3-in-1 RockBlade Mohawk tool. You'll be impressed by the wide range of treatment options this one precision-crafted stainless-steel tool & its unique attachments provide.
Learn more about the RockPods included in your discounted kit...
RockTape Myofascial Cupping Online Certification Course
$215.98 Value
Just $194.99 Today— Astonishing Savings!
(Including Your RockTape Certification)
What Happens After I Enroll?
Watch your email for your order confirmation
, and get instant access to all course materials, including the bonus materials—all designed to help you effectively integrate cupping treatment strategies into your practice and your life.
Click here for course objectives and outline
.
Review the course materials at your own pace and instantly collaborate with other professionals! You'll have unlimited access to all course videos and materials online forever. Plus, use the CE21 Mobile™ app to access the course content on-the-go, wherever and whenever you want on your mobile devices.
Complete your online CE tests and earn up to 7.75 CE Hours!
Click here for CE credit details
and credit details specific to your profession.
Once you complete the certification training, pass your CE test and complete the course evaluation, your printable RockTape certificate designating you as a FMT Certified Provider will show immediately under the "RockTape Certifications" tab on the course portal. You'll also receive instructions on how you can be listed as a RockTape certified provider.
Learn more about RockTape certifications.
Watch your email for an exclusive offer within 2 days of purchase, to save an additional $50 on your own Clinical Myofascial Tool Kit!
---
What does it mean for you to become RockTape Certified?
Get Certified and Go Further...
You'll join a growing number of providers listed on RockTape's website as FMT Certified Providers. RockTape will call on FMT Certified Providers to assist with major sporting events around the country, including Crossfit Regional Competitions and city-wide marathons. A great way for you to meet your community under one of the most popular tents at events.
Professional Reputation and Credibility
Distinguish yourself from your peers and increase your opportunities for career advancement, earning potential, and client growth. Certification is a personal accomplishment and unbiased barometer of your skills.
Client Trust
Provide assurance to consumers and clients when you display your certification. When you complete your certification, they can be confident you are providing them with the best tools and strategies for improving clinical outcomes.
>> Click Here to learn more about the RockTape certifications at www.rocktape.com/medical/education/faq.
Meghan Helwig PT, DPT
, is an experienced outpatient orthopedic clinician based out of Carlsbad, CA, where she owns and manages Primal Strength Physical Therapy. Since graduating with her Doctorate of Physical Therapy from Rutgers University in 2009, she has earned numerous certifications as a trained provider of Full body Active Release Technique (ART), Selective Functional Movement Assessment (SFMA), and Neurokinetic Therapy (NKT3). In addition, she is a trained practitioner in IASTM, kinesiology taping, and performance movement techniques through RockTape, for whom she conducts national trainings.
Click here for information about Meghan Helwig
.
C. Shante Cofield, PT, DPT, OCS, CSCS, CF-L1,
is a board certified Orthopedic Clinical Specialist (OCS) practicing in NYC, with specialties ranging from CrossFit injuries to pelvic floor dysfunction. Dr. Cofield graduated from Georgetown University and continued her educational pursuits at New York University, graduating with a Doctorate in Physical Therapy (DPT) and becoming a Certified Strength and Conditioning Specialist (CSCS). She is also a certified Functional Movement Screen (FMS) provider, Selective Functional Movement Assessment (SFMA) provider, a Functional Range Conditioning mobility specialist (FRCms), and holds a CrossFit Level I trainer certificate.
Click here for information about Shante Cofield
.
100% Satisfaction Guarantee
Register for this intensive training course without risk. If you're not completely satisfied, give us a call at
800-844-8260
. We're that confident you'll find this learning experience to be all that's promised and more than you expected.
RockTape Myofascial Cupping Online Certification Course
$215.98 Value
Just $194.99 Today— Incredible Savings!
(Price includes the cost of certification)