Cognitive Therapy:
Interventions for Dementia, Memory & More



Cognitive impairments are becoming more and more complicated to treat due to complex, multi-faceted cognitive deficits... And you often only have 1 hour each day at best, to fully understand your patient's cognition and devise a plan to improve their deterioration. Plus, keeping up with the ever-changing evidence on assessment and interventions is daunting — your previous training programs may already be obsolete.

With our new online course, Cognitive Therapy, you will learn how to prioritize treatment sessions to focus on functional deficits caused by memory and cognitive changes such as inattention, executive dysfunction, depression and more. Gain a clear understanding of your patient's behavioral characteristics, how to organize their diagnosis into a manageable program, and establish realistic goals to guide their therapy effectively. Walk away with an array of therapeutic approaches that you can implement immediately!

Become better equipped to provide the best care with practical and useful techniques such as:
Cognitive-Linguistic Assessment Tools
Executive Function Strategies
System Models of Memory & Their Relationship to Dementia
iPad® Applications for Cognitive Therapy
Exercise Programs and Non-Medication Approaches
Caregiver Training Ideas
And so much more!
Broaden your understanding and evidence-based interventions with Cognitive Therapy to help you find the right approach for each patient's individual needs — Get started today!
Cognitive Therapy: Interventions for Dementia, Memory & More
Retails at $629.96
Today Only $249.99 — Limited Time Offer!

Discover therapeutic approaches specific to your patients' needs...

Cognitive Rehabilitation: Therapeutic Strategies for Effective Intervention
In Module 1, we will revisit applications of anatomy and physiology to everyday practice, affirm relevance of current-effective clinical practices, and adapt new practices supported by contemporary evidence. Drawing on over 15 years of clinical experience and more than 10 years of teaching, Jerry Hoepner, PhD, CCC-SLP, will teach you how to systematically understand the anatomy of each component of the cognitive-communication system and move quickly into specific management techniques for intervention. Walk away with a concrete understanding to:
Connect behavioral manifestations with specific cognitive and/or linguistic disorders.
Characterize the attributes of executive functions and explain their connection to other cognitive processes.
Formulate functional short-term and long-term patient goals for the remediation of cognitive-linguistic impairments.
Integrate the appropriate therapy tasks, exercises and games in patient treatment programs.
And so much more...
About Your Speaker
Jerry Hoepner, PhD, CCC-SLP
, is an assistant professor in the Communication Sciences and Disorders Department at the University of Wisconsin – Eau Claire. In that capacity, he teaches coursework in neuroanatomy, dysphagia, aphasia, acquired cognitive disorders, and counseling. Dr. Hoepner received his MS from the University of Wisconsin – Eau Claire and his PhD from the University of Wisconsin – Madison in Communication Sciences and Disorders. His current research examines the role of partners in supporting the success of everyday interactions of individuals with traumatic brain injury, aphasia and dementias. A second line of research examines teaching pedagogies and learner responses. Clinically, Dr. Hoepner specializes in the use of routines to reduce demands on working memory and executive functions. He co-facilitates Aphasia Camp and the Chippewa Valley Aphasia Group.
Learn more about Dr. Hoepner.

Cognitive Therapy for Dementia: Effective Evaluation & Therapeutic Interventions
Module 2 focuses on the variables associated with learning for cognitively impaired patients. You will learn the characteristics of dementia for effective differentiation as well as how to accurately stage your patients. Additionally, you will discover how to fully comply with the recent Medicare policies and how these changes will impact treatment for your patients. You will uncover:
Differences between cortical and sub-cortical dementias.
Forms of memory and the dementia diagnosis associated with each form.
iPad® applications for cognitive therapy.
Long-term and short-term goals for your cognitive therapy patients specific to their needs.
And so much more...
About Your Speaker
Peter R. Johnson, PhD, CCC-SLP
, earned his MS and PhD in Speech-Language Pathology at the University of Pittsburgh and an Executive Graduate Degree in Healthcare Financial Management from Ohio State University. As a healthcare consultant, Dr. Johnson develops continuing education programs, coaches one-on-one mentoring, and assists in the development of memory units. His previous experience includes working in acute care, home care, outpatient clinics and long-term care.
Dr. Johnson served as a Column Editor for the American Speech-Language Hearing Association (SID 13) Dysphagia Newsletter and the (SID 11) Administration and Supervision Newsletter. He is a four-time recipient of the President's Award and the Outstanding Service Award from the Florida Association of Speech-Language Pathologists and Audiologists. He is the Chair of the Florida Department of Health State Licensing Board for Speech- Language Pathologists and Audiologists.
Learn more about Dr. Johnson.

Rehabilitation to Support Memory and Cognitive Decline: Effective Interventions for Managing the Aging Brain
With Module 3, you will learn the effect of aging on memory and cognition to provide the most effective therapy intervention possible. Gain more knowledge of the age spectrum related to memory/cognitive decline from normal memory loss to Mild Cognitive Impairment (MCI) to end stage Alzheimer's and the behavioral characteristics of each. We will also explore the effects of memory/cognitive decline on executive function. Gain more insight to:
Explore the advantages and disadvantages of the three most commonly used cognitive assessments.
Implement effective evaluation and treatment interventions in the management of memory/cognition decline.
Recognize medical conditions/comorbidities that impact cognitive/memory function.
Communicate the most up to-date evidence based resource information for patient/family education.
And so much more...
About Your Speaker
Maxwell Perkins, MS, OTR/L
, is an occupational therapist with extensive experience with interdisciplinary clinical management focusing on the geriatric population. His clinical focus is on effective assessment and intervention for older adults experiencing memory/cognition issues in a variety of clinical settings including, acute inpatient/outpatient and skilled nursing facilities. Maxwell is an independent consultant/educator and previously served as the rehab education director for two large health care organizations.
Maxwell co-authored the article, "Interdisciplinary Team Approach in the Rehabilitation of Hip/Knee Arthroplasties", which was published in the American Journal of Occupational Therapy. He presents workshops at both the local, regional and state level and is a guest lecturer in the Pacific University Occupational Therapy program in Forrest Grove, Oregon.
Learn more about Maxwell Perkins, MS, OTR/L.
Cognitive Therapy: Interventions for Dementia, Memory & More
Retails at $629.96
Today Only $249.99 — An Incredible Value!

Plus, earn 17+ CE Hours — included in the course tuition!
BONUS! 100 Ways to Help Your Clients Live Productive and Happy Lives (PDF Book)
Absolutely FREE When You Register Today!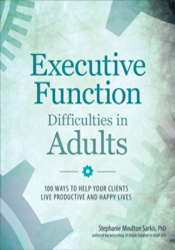 Executive Function Difficulties in Adults
Featuring Nationally-Recognized Speaker and Author, Stephanie Moulton Sarkis, PhD
100% Satisfaction Guarantee
If you're not completely satisfied, please give us a call at 800-844-8260. We're that confident that you'll find this learning experience to be all that's promised and more than you expected.
Learning that Fits YOUR Schedule:

View any of the video modules at your convenience with immediate entry into the online portal. You'll have unlimited access to all the materials, and you can download everything to keep for future reference! Plus, use the PESI Mobile™ app to access the course content on-the-go, wherever and whenever you want on your mobile devices.
Click here for course objectives and outline

Interact and collaborate with other professionals in the online community through chat boards and online forums. Participants love sharing ideas, asking questions and networking with other practitioners!

Complete your CE tests online at the completion of each module, with instant access to your CE certificates - earn 17+ CE hours.
Click here for CE credit details