Certification Made Simple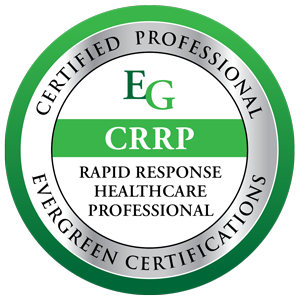 It's never been easier to become a Certified Rapid Response Healthcare Professional!
Step 1: Complete the training.
Step 2: Complete the Continuing Education quiz and instantly print your certificate of completion.
Step 3: Submit your certificate of completion and professional license to Evergreen Certifications.
That's it! No hidden fees. No catch. Just certification made EASY.
*Professional standards apply. Learn more by
clicking here.
We partner with Evergreen Certifications to include certification with some of our products. When you purchase such a product, we may disclose your information to Evergreen Certifications for purposes of providing services directly to you or to contact you regarding relevant offers.