f
11 nationally recognized wound care experts share powerful new techniques to heal wounds faster
Wound care is more complex than it's ever been.
And as the patient population with chronic wounds grows and the evidence changes, the journey to healing is often long and arduous.
But not for you and your patients.
Join us for the Wound Care Certification Summit and master the latest wound care techniques, so you can offer patients faster healing and better outcomes.
At this live online summit, you'll get intensive training with 11 leading wound care experts, including Laura Swoboda, DNP, APNP, FNP-BC, CWOCN-AP, Mark Hinkes, DPM, Laurie Klipfel, RN, MSN, ANP-BC, CDCES, WCC®, and more!
In just 2 days you'll discover the latest evidence and clinical insights you can use to tackle the most stubborn and hard-to-heal wounds, from chronic pressure injuries to diabetic foot ulcers.
PLUS: You'll be eligible to earn your credentials as a Certified Wound Care Professional (CWCP)* through Evergreen Certifications — at no additional cost. By becoming a CWCP, you distinguish yourself as an expert with a commitment to the highest standards in wound care. Evergreen Certification demonstrates that you have the expertise to provide a consistent level of high-quality wound care. Display you certification with pride!
Here's a sneak peek at what you'll learn:
Strategies to create a comprehensive wound care plan for all types of wounds
How to break the cycle of chronic wound degradation — and finally heal wounds!
Essential interventions to reduce needless amputation
Key skills in palliative wound care for when the focus changes from healing to comfort
Simple steps that will help you master differential diagnosis
How to confidentially choose the appropriate dressing as the wound condition changes
When adding telehealth services can improve your patient outcomes
If you want to heal wounds faster, feel more confident at the bedside, and give your patients the best possible care, this comprehensive 2-day Summit is for you.
Wound Care Certification Summit
LIVE 2-Day Event | December 7–8, 2023
$1,949.84 Value — Just $399.99 Today — Stunning Savings!
And this includes your certification as a Certified Wound Care Professional (CWCP)*!
Earn up to 25.5 CE hours! Full details coming soon...
Conference Highlights
2-day conference event, designed to advance your abilities to the next level!
Presented by multi-disciplinary clinical wound experts
Earn up to 25.5 CE Hours
Guidelines from WOCN, NPIAP, ACWHTR, ADA, and more
Save $100 when you register by 11/28/2023
Developed for: RNs, NPs/APRNs, PAs, PTs, DOs, MDs, and anyone desiring next-level skills wound care skills!
FREE BONUS!! $299.99 Value! Earn your certification as a Certified Wound Care Professional (CWCP)*!
Option #1:
---
Participate in the Live Online Event
2-day LIVE online event
Opportunity for Q&A with faculty
Earn up to 25.5 CE hours... immediately after the event
Online access available for 30 days afterwards*
Option #2:
---
Can't Attend Live?
Watch the sessions at your own pace and schedule
Earn up to 25.5 self-study CE hours
Unlimited access to all conference sessions
Unlimited access to all handouts
*Please note you would need to watch the presentations that are being presented live in order to receive live credit.
Wound Care Certification Summit
LIVE 2-Day Event | December 7–8, 2023
$1,949.84 Value — Just $399.99 Today — Stunning Savings!
And this includes your certification as a Certified Wound Care Professional (CWCP)*!
Earn up to 25.5 CE hours! Full details coming soon...
Summit Schedule — Day 1
Thursday, December 7, 2023
8:00 AM – 4:00 PM CT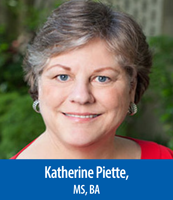 8:00 AM – 9:00 AM Central

Telehealth in Wound Care: Impact of Patient and Providers

Katherine Piette, MS, BA

Value of having access to scarce wound and ostomy specialists

Improved the quality of care resulting from… accurate identification of wound etiologies and pressure injury staging, and evidence-based treatment plans to increase healing times, decrease hospital readmissions, etc.
Improved patient quality of life in terms of reduction in pain, amputations, infections & sepsis
Lower the cost of care deriving from lower supply costs, increased clinical staff productivity, etc.

Key components of a virtual wound care program:

Technology
Regulatory compliance
Operational processes — virtual assessments, treatment recommendations, etc.
Success metrics

Benefits and challenges of virtual wound care:

Value of virtual wound care - validated studies and personal experience
Virtual wound care practice challenges
Case studies to understand the patient and clinician journeys with virtual wound care in different care settings — Home Health Care, Skilled Nursing, Facility, and Hospital at Home
---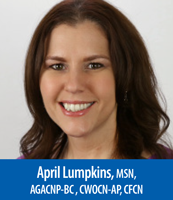 9:15 AM – 11:15 AM Central

Pressure Injury Update

April Lumpkins, MSN, AGACNP-BC CWOCN-AP, CFCN

Let's dig deep into pressure injuries... we will cover definition, terminology, staging, as well as prevention and management strategies.
Current health statistics to understand the impact of pressure injuries on patients and the healthcare system
National Pressure Injury Advisory Panel's (NPIAP) most current pressure injury stages and terminology

NPIAP staging guidelines with photo examples
Evolution of deep tissue injuries

Identifying patients at risk for pressure injuries across the various care settings
Identifying skin failure and how it leads to the development of pressure injuries
Various risk assessment tools in identifying risks for PIs
Prevention and management tools/strategies

Support surfaces — reviewing the different bed options
Offloading devices; turning support and offloading heels and other bony prominences
Wheelchair support surfaces
---
11:45 AM – 1:45 PM Central

Managing the Whole Patient:
Social Detriments, Chronic Disease, and Medications Impact on Wound Healing

April Lumpkins, MSN, AGACNP-BC CWOCN-AP, CFCN

In this session, we will identify some of the most common factors that will affect the patient and their wound healing journey including how chronic diseases, medications, and psychosocial factors affect the patient and their wound.
Diseases that wound healing

Cardiovascular, respiratory, renal, liver, oncological, dermatological

Diseases that cause immunodeficiencies

How immunodeficiency affects rate of healing
How immunodeficiency increases risks for unrecognized wound infections

Obesity and wound healing
Medications and wound healing

Discussion on the most common medications that affect wound healing

Psychosocial factors and wound healing

Patient's health literacy levels
Access to healthcare
Access to basic needs; nutritious food, clean environment, etc.
Adherence to treatment plans
---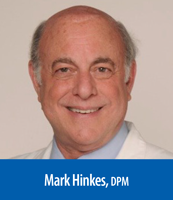 2:00 PM – 4:00 PM Central

Preventing Amputation in Patients with Diabetes

Mark Hinkes, DPM

Diabetes and Foot Ulcers

Why and how do the comorbid conditions develop?
Risk factors for developing a foot ulcer
Tips and approaches for A1c test... finger stick vs. CGM monitor... what does the data mean?
Primary Care Provider

Role in evaluating and managing the diabetic foot
Guiding principles of care for people with or at risk for developing diabetes
Business model of medicine... development and management of comorbid diabetic conditions with a focus on the diabetic foot

Patient Stratification

Prediabetes/Type 1/Type 2
Reversing and preventing prediabetes... risk factors for type1 and type 2 diabetes
Insulin resistance as a precursor to type 2 diabetes... and how to reverse it

International Working Group on the Diabetic Foot (IWGDF) Criteria

IWGDF risk stratification scheme
Why categorize patients into one of the four risk groups?
Preventing "category creep"

DFU and Amputation

Causes of DFU and the relationship between DFU and amputations
Charcot foot
Neuropathy, Loss of protective sensation (LOPS), PAD, traumatic triggering events, and pedal deformities

Diabetic Foot Exam... Value of the IWGDF foot exam and the components of the exam
Prevention of DFU, Amputations and Risk Mitigation

Future of ulcer and amputation prevention
---
Summit Schedule — Day 2
Friday, December 8, 2023
8:00 AM – 5:00 PM CT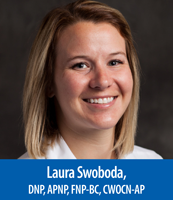 8:00 AM – 10:00 AM Central

Advanced Treatments in Wound Care

Laura Swoboda, DNP, APNP, FNP-BC, CWOCN-AP

If your patient's wound is stalled despite great wound bed preparation, and you're wondering what else is out there to stimulate healing, this presentation is for you!
Considerations for advanced therapy selection

Healing process stages
Wound and periwound tissue assessment
Wound type
Insurance considerations

Principles of advanced therapy usage
Wound bed preparation
Mechanism of action and usage of advanced wound therapy

Negative pressure wound therapy (NPWT)
Transcutaneous and hyperbaric oxygen
Grafts and matrices
Autologous treatments
Energy therapies

Limitations of advanced wound therapies
---
10:15 AM – 12:15 PM Central

The Art of Wound Debridement

Laura Swoboda, DNP, APNP, FNP-BC, CWOCN-AP

A thorough review of the benefits and limitations of debridement methods will raise awareness of what options are available, and what patients would best benefit from certain modalities.
Assessment considerations for debridement

Tissue types
Conditions and disease states
Skin pathophysiology

Biophysical indications for debridement

Biofilm
Bioburden
Healing cascade

Benefits, limitations, and usage of multiple debridement modalities
Conservative sharp
Mechanical
Enzymatic
Biologic
Chemical
Autolytic debridement
Case compendium of debridement accomplished utilizing multiple methods
---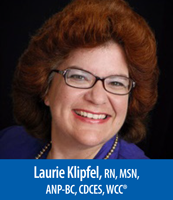 12:45 PM – 2:45 PM Central

Palliative Care and Professional Considerations in Wound Care

Laurie Klipfel, RN, MSN, ANP-BC, CDCES, WCC®

Finding that the right balance is between aggressive healing goals and palliative wound care is critical. This session guides you through the process of establishing priorities, working with a team, and approaching all patients as individuals.
Palliative Wound Care
Why need for palliative care is increasing
Benefits of using a team approach
Skin changes at the end of life
Limited mobility, incontinence, decreased immune function
Malnutrition (weight loss, low serum albumin and hemoglobin levels, dehydration)
Decrease tissue perfusion (hypotension and hypoxia) and loss of skin integrity
Changes in focus from healing to comfort
Pain control
Management of drainage, odor, itching, and bleeding
Prevention of infection/sepsis
Improved energy/sense of wellbeing
Emotional and psychological effects of end-of-life wounds for patients and families
Body image/feelings of disgust or shame
Depression/grief, social isolation, loss of control, loss of sexuality, and fear
Decreased quality of life and restricted activity
Financial concerns
Spiritual issues
Sleep disturbance
Assessing provider issues such as reimbursement/budget issues, patient advocacy, ethical issues, stress/burnout/compassion fatigue
Budget/reimbursement issues in a changing economy
Ethical issues and patient advocacy
Recognizing compassion fatigue and understanding its impact on the ability to care
Warning signs of burnout/compassion fatigue/stress
Management... mindfulness, sleep hygiene, nutrition and self-care
---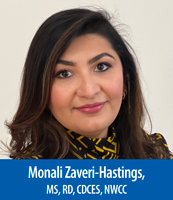 3:00 PM – 5:00 PM Central

Role of Nutrition in Wound Healing: What We Know So Far

Monali Zaveri-Hastings, MS, RD, CDCES, NWCC

Stages of wound healing
Impact of macronutrients in each stage of wound healing
Impact of micronutrients in each stage of wound healing
Malnutrition
Definition
Impact on the overall process of wound healing
Screening for malnutrition
International clinical practice guidelines and their application in practice
Nutrition recommendations
Supplements — when to initiate
Foods to avoid
Patient education
Wound Care Certification Summit
LIVE 2-Day Event | December 7–8, 2023
$1,949.84 Value — Just $399.99 Today — Stunning Savings!
And this includes your certification as a Certified Wound Care Professional (CWCP)*!
Earn up to 25.5 CE hours! Full details coming soon...
A Few of the Can't Miss Topics
Discover how to assess for infection and biofilm
Work through challenging chronic wounds
Determine when palliative wound care is the best approach
Up-to-date wound care medication management
Explore the BEST and NEWEST dressing and wound supplies
Expand your practice with telehealth: Improving wound care outcomes
Wound Care Certification Summit
LIVE 2-Day Event | December 7–8, 2023
$1,949.84 Value — Just $399.99 Today — Stunning Savings!
And this includes your certification as a Certified Wound Care Professional (CWCP)*!
Earn up to 25.5 CE hours! Full details coming soon...
When you register today, you'll receive 7 FREE bonus sessions
(a $669.93 value!)
Wound Dressings: Selecting the Best for Healing

Different types of dressings
Uses of each type of dressing
Appropriate dressing based on the wound assessment
Dressing Types

Advantages of each dressing type
Disadvantages of each dressing type

Recommendations of wound dressings based on case studies
---
Skin Assessment and Documentation

Anatomy and physiology of the skin as they relate to skin function

Review wound healing process
List and describe types of tissue damage
Describe where wounds become stalled

Age specific changes in skin and skin function

Considerations of skin changes and wound/ tissue types
Components and findings of wound assessment

How to measure a wound
Tissue types
Periwound
Drainage
Wound edges

Wound types
---
Atypical Ulcers: Diagnosis and Management

Review atypical ulcers
Prevalence and incidence
Definition
Review typical and atypical wound assessment findings

Tissue types
Edges
Types of atypical wounds
Review clinical presentation and treatment of a subset of atypical wounds

Calcinosis cutis
Infectious ulcers
Cancerous lesions
---
Wound Prevention and Management: An Integrated Approach to Patient-Centered Care

State of Chronic Wounds today

Pop Aging
Social Determinants- causal factors, relationship to risk factors, and chronic wounds
Pressure Injuries, Lower Extremity Arterial, Venous Ulcers, Neuropathic, other
Med-centric vs. Patient-Centered care

Healing — what it takes

Pathways of care by wound type
Patient story with photos
Determining goals of care
Team Collaboration

Who are the players?
Game Rules
Other drivers of care (wound literacy, perception, regulation, litigation)

Implementation and Behavior Change

Stages of Change
Social Cognitive Theory
Emotional impact of wounds
Metrics that matter
---
Managing the Diabetic Foot: Protocols That Work

Assessment and Diagnostic Tools

Loss of protective sensation
Semmes- Weinstein 5.07 monofilament
128hz tuning fork
Capillary refill
ABI

Managing the Diabetic Foot

L.E.A.P
Callus management
Footwear

Assessment of Bacterial Burden

Signs of infection
Silent infection
Quantitative tissue biopsy
Wound cultures
Proper wound cleansing
Orthopedic Assessment

X-ray
Osteolysis
Charcot foot
Osteomyelitis

Therapy Modalities

Getting the right dressing
Offloading interventions/devices
High and low-frequency ultrasound
Pulsed lavage/jet ox
Hyperbaric oxygen
Topical/transcutaneous oxygen
Electric Stimulation (HVPG)
MIRE
Wound Vac
---
Lower Extremity Wounds: Management Pearls

Morbidity and mortality issues regarding lower extremity ulcer
Differentiate between venous leg ulcers arterial ulcers and diabetic foot ulcers
Pain experiences in different types of lower extremity ulcers
Noninvasive vascular studies: arterial dopplers, ABIs, TBIs, venous dopplers
Current classification schemes and management for venous leg ulcers and diabetic foot ulcers
CEAP model. Wagner and UTHSCSA classifications, Fontaine classification
Compression modalities: indications and contraindications
Identification and management of infection
Debridement indications and types of debridement
Offloading techniques and indications
Evaluate surgical interventions for leg ulcers and indications for surgical consultation
When to refer for surgical evaluation
Podiatric surgical interventions
Vascular/endovascular interventions
Lymphedema pumps
Investigate emerging technologies in leg ulcer management
Use of allografts, xenografts
Perfusion assessment/fluorescence angiography
Moleculight
---
How to Market Your Wound Care Business with Impact: Multi-Million Dollar Marketing Secrets

Welcome & Overview

You will learn:

How to market your business with impact
Understand 2 strategies to increase referrals
3 ways to differentiate your business from all the rest

How I Grew My Hospice To $3M With Just A $6K Investment

What I Wanted To Avoid
What I Wanted To Achieve
Be a beacon to everyone in need of end-of-life care information & resources

Get past the gatekeeper and educate nurses in MD offices, case managers in hospitals, and more

Become a value-added partner and not just another face asking for a referral
Get referrals WITHOUT asking
Become the only logical choice in providers of your service
Community Education/Engagement

Connect with your CLIENTS where they are
Educate NOCs (naturally occurring groups)
Get new potential clients asking for you by name

The BIG Lessons I Learned

Investing in partner relationships FIRST yields BIG rewards
The community is hungry for knowledge & resources & will act on meaningful information
When you do what you say you will do…and then some - everyone becomes your champion
Service from the heart combined with clinical excellence & transformational customer service will win every single time
Wound Care Certification Summit
LIVE 2-Day Event | December 7–8, 2023
$1,949.84 Value — Just $399.99 Today — Stunning Savings!
And this includes your certification as a Certified Wound Care Professional (CWCP)*!
Earn up to 25.5 CE hours! Full details coming soon...
It's never been easier to become a Certified Wound Care Professional!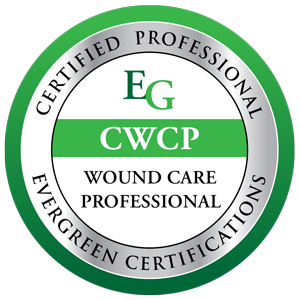 Step 1:
Complete the training.
Step 2:
Complete the CE tests and instantly print your certificates of completion.
Step 3:
Complete the certification exam and submit your application included in this training to Evergreen Certifications and we'll cover the cost of your certification*.
That's it! No hidden fees. No catch. Just certification made EASY.
*Professional and clinical experience standards apply. Learn more at www.evergreencertifications.com/CWCP.
We partner with Evergreen Certifications to include certification with some of our products. When you purchase such a product, we may disclose your information to Evergreen Certifications for purposes of providing services directly to you or to contact you regarding relevant offers.
---
Benefits of Certification
Clinical expertise: Show patients, colleagues, and employers your practice is based on leading-edge research in this complex area of wound care.
Patient trust: Certification shows your clients you care about providing the best care possible. It reveals your professional ability to take on challenging clients and succeed!
Documentation of knowledge: Certification is both a professional and personal accomplishment. It's an unbiased barometer of your training and dedication to your practice.
Professional recognition: Set yourself apart from the thousands of clinicians relying on outdated methods to treat their patient. Increase your opportunities for career advancement.
---
Wound Care Certification Summit
LIVE 2-Day Event | December 7–8, 2023
$1,949.84 Value — Just $399.99 Today — Stunning Savings!
And this includes your certification as a Certified Wound Care Professional (CWCP)*!
Earn up to 25.5 CE hours! Full details coming soon...
100% Satisfaction Guarantee
Register for this LIVE online summit without risk.
If you're not completely satisfied, give us a call at
800-844-8260
.
We're that confident you'll find this learning experience to be
all that's promised and more than you expected.