Are you struggling to effectively treat your young client who is experiencing poor academic performance, impaired motor control or a variety of unexplained symptoms that just don't make sense?
I once had a young client who was having some of the same difficulties - poor academic performance, headaches and years of being told that she "just wasn't working hard enough" and that "she needed to step up her game." All of this was creating self-esteem issues, behavioral problems and frustration, among many other things.
In 20 seconds I was able to perform a simple test and found out that she couldn't see up close, which allowed me to get her on the right path to treat the condition.
Within 5 weeks, she received a report card with no D's or F's. She was smiling, joking and finally seemed like a kid again.
Her visual impairment was causing a cascade of other issues - and 20 seconds was all it took to make a world of difference in her life.
When you see kids that are doing everything they're supposed to do and it just doesn't make sense, they could very likely have a vision problem.
I want to invite you to join me in this brand-new online course,
The Visual System in Children with Neurological Disorders
, where you'll discover how to correct common visual problems that limit progress in your young clients.
This comprehensive online course also
includes two complimentary BONUS sessions
that will take your treatment to the next level by incorporating groundbreaking neuroplasticity techniques to rewire the brain and dive deep into some of the most common conditions of the visual system, like dyslexia.
Plus, you'll earn
up to 18.75 CE hours and take home dozens of techniques
you can begin using immediately.
I hope you join us,
Robert Constantine, OTR/L
The Visual System in Children with Neurological Disorders
Valued at

$599.97
Today Only $249.99 — An Amazing Value!

Plus, earn up to 18.75 CE Hours — included in the course tuition!
Enroll now to add this comprehensive training on the visu

al system and related conditions to your toolbox - so your young clients can finally get back to being a kid again!

Assessing & Treating the Visual System in Children and Adolescents
Our vision is one of the main senses that allow us to interact with and explore the world around us, so when it's compromised, it can drastically hinder our capabilities to live independently, function and lead successful lives.
If you have visual problems as a child, it's even worse.
Visual conditions are often the undiagnosed cause of a variety of impairments, and for children with conditions such as autism, neurological disorders or ADHD, it can severely limit their progress and their potential.
This breakout training will guide you through the complex visual system, reveal common problems when it's compromised, and show you how to successfully assess and treat the young client in your care. Discover:
The anatomy of the visual system, including muscles of the eye, visual pathways and Orbit, along with how the visual pathways affect balance and posture, so you can understand the complexity causing your client's condition.
How to assess and treat -

Common eye movements, such as tracking, saccades, convergence, The Near Vision System and much more
Pathological eye movements, such as nystagmus, suppression, strabismus, anisometropia, amblyopia, convergence insufficiency, accommodative problems and many others.

How to treat conditions associated with decreased eye movement accuracy, including neurological conditions, ADHD, and dyslexia.
Mid-level visual processes, including visual motor integration tips, processing disorder and perceptual deficits.
Coding tips and goals for eye movement rehab.
How you can start your vision rehabilitation program, including equipment sources, high tech vs. DIY equipment and helpful resources for more information.
About Your Expert Instructor: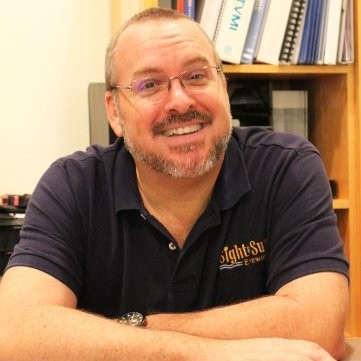 Robert Constantine, OTR/L, is a dedicated 20-year occupational therapist who focuses on visual and neurological rehabilitation, and is the only OT to be a member of the High Performance Vision Associates, an elite group of sports vision optometrists.
Mr. Constantine focuses on the treatment of eye movement disorders in neuro-typical and special needs children in his work at the Pearl Nelson Child Development Center, and has participated in sports vision screenings at IMG Academy, Hendricks Motorsports, and on the LPGA tour. He is a leading developer for drag-racing specific glasses that have been successful in NHRA Sportsman drag racing, and has worked with elite NHRA racers, golfers, and sporting clays champions.
He's also a member of the Neuro-Optometric Rehabilitation Association, a unique interdisciplinary organization that brings together the tools of optometry, occupational and physical therapy to improve outcomes for patients with neurological diagnoses.

"Very informative! Challenging subject presented in an accessible way."
— N. Hogenkamp, PT

When you enroll today, you also get 2 BONUS trainings!

Pediatric Neuroplasticity Interventions for Sensory and Primitive Reflex Integration
($200 Value - INCLUDED)
Brain injuries and congenital abnormalities can be devastating if not treated properly - but what if you could help the children in your care who have poor auditory processing, hinders in reflex integration, delayed developmental milestone achievement, poor language development, and similar conditions?
Join April Christopherson as she guides you through how to use pediatric neuroplasticity interventions to change the brain in the areas of reaction timing, motor control, language, and sensory development. Discover how to detour around damage and incorporate viable nervous system connections, while creating a rehab routine that incorporates a multisensory experience and a diverse set of new activities.

This training will show you exactly where to rewire, what works/doesn't, how to approach treatment for various developmental delays, how the nervous system can affect positive change and dozens of examples of real-world results of neuroplasticity techniques.
Discover how to integrate neuroplasticity into your therapy today!
About Your Expert Instructor:
April Christopherson, OTR/L, is an occupational therapist with over 25 years of experience working with diverse populations and treating various development disorders with groundbreaking neuroplasticity techniques. Her vast experience includes being:
Director of OT, and director of training and development for The Shandy Clinic in Colorado Springs, CO
Founder of Exploration Kids Therapy in Colorado Clinical Advisory
Board Member for Interactive Metronome Corporation
A member of both the Advanced Brain Technologies and Interactive Metronome adjunct faculty.
Worldwide trainer in the introductory and advanced fields of Neuroplasticity and Development.

"All around a great class. Full of great information I can use daily at my job and personally with my family."
— M. Mills, OT

Dyslexia, Dyscalculia & Dysgraphia
($200 Value - INCLUDED)
Discover various unique strategies to help the young clients in your care who may struggle to complete academic tasks, maintain social relationships with peers and adults, and are constantly under stress due to the significant impact of dyslexia, dyscalculia and dysgraphia.
Through this training from one of the world's leading experts in the field, you'll learn innovative strategies for improving:
Sequencing and memory
Reading ability including instant improvement
Handwriting
Number of words written
Math skills
Processing speed
Anxiety, including test anxiety
Develop a new kind of rehab plan that includes game-based learning, assistive technology, phonemic and phonological awareness practice, focused auditory interventions and simple techniques to help with visual processing ability, so you can positively impact all types of clients who come to you for help.
About Your Expert Instructor:
Mary Asper, MS, CCC-SLP is a dyslexia expert with over 40 years of experience treating all ages who holds a certification from the American Speech-Language Association.
She has developed strategies to address linguistic, cognitive and social concerns based on best-practice recommendations and current neuro-scientific findings, through her work with students from the early grades through high school, and she is highly skilled in the diagnosis, program development and implementation, therapeutic intervention and professional development for SLPs and educators in dyslexia circles.
For the last 10 years, Ms. Asper's focus has been on developing and implementing effective techniques and strategies to help students with language learning disabilities succeed in school. She also runs Codding Hollow Associates, Inc. and coordinates a team of professionals who serve students with severe language learning disabilities and communication disorders.

"This presenter, Mary Asper, was the best one I have watched or attended by PESI. Speech Language Pathologists tend to be more organized and stay on track with their presentation. I will be looking for more seminars from her"
— J. Young, SLP
The Visual System in Children with Neurological Disorders
Valued at

$599.97
Today Only $249.99 — An Amazing Value!

Plus, earn up to 18.75 CE Hours — included in the course tuition!
---
Why enroll in this training?
The smallest test can make the biggest difference. When you apply these trainings to your routines, you're not only able to assess and properly treat underlying conditions of the visual system and their cascading symptoms, but you're also able to effectively rehabilitate and rewire the brain using evidence-based neuroplasticity techniques and dive deep into common vision-related conditions such as dyslexia.
When you enroll, you get the chance to earn up to 18.75 CE hours, save over $400 instantly and finally make sense of the seemingly unrelated symptoms your young client is experiencing that's limiting their academic progress and holding them back from fully experiencing the world around them.
Learning that Fits YOUR Schedule:

Watch your email for your order confirmation
, and get instant access to your learning portal for the comprehensive training. Review all the course materials at your own pace and at your convenience!
Click here for course objectives and outline
.

Access all course videos and materials online forever. Plus, use the PESI Mobile™ app to access the course content on-the-go, wherever and whenever you want on your mobile devices.

Instantly collaborate with other professionals on the course materials through interactive message boards. You'll be part of a community of hundreds of practitioners all focused on mastering mindfulness for clinical practice, providing valuable opportunities to share insight and experiences and to build your professional network.

100% Satisfaction Guarantee
If you're not completely satisfied, please give us a call at 866-367-5697. We're that confident that you'll find this learning experience to be all that's promised and more than you expected.

The Visual System in Children with Neurological Disorders
Valued at

$599.97
Today Only $249.99 — An Amazing Value!

Plus, earn up to 18.75 CE Hours — included in the course tuition!