Guilt, shame and fear — when faced with the distress of these emotions, your client's defensive instinct is to turn away, deny, and repress the pain.

These toxic emotions monopolize your client's personality with self-hate, doubt, criticism and paranoia. By the time they arrive in your office, many of them are struggling with even deeper clinical diagnoses like depression, anxiety, eating disorders or PTSD.

The suffering caused by their feelings of unworthiness and deficiency can be the most difficult and pervasive to treat successfully. Until now...

In this new, intensive online course, clinical psychologist and internationally known teacher of mindfulness meditation Tara Brach combines the latest scientific research with decades of experiential practice to give you the tools you need to end your client's suffering.

Designed for professionals looking to take their clinical practice to a deeper level, this course will show you how to engage effectively with varying degrees of distress and pain — from mild, moderate to intense — through practical and supportive strategies that will strengthen your current clinical approach and maximize your client's human potential.
Radical Self-Acceptance with Tara Brach:
Healing Shame & Fear in Clinical Practice
Valued at $279.97
Today Only $249.99
This Radical Self-Acceptance course will revitalize you and your practice...
Based on scientific research and decades of experiential work, Tara Brach, PhD, will guide you step by step through the practices you need to effectively heal the burdens of shame and fear that your clients are carrying. Join Tara as she lays the groundwork for deeply enriching your clinical approach through masterfully executed guided meditations, experiential exercises and discussion.
Together, you'll explore how the practices of mindfulness and compassion will allow your clients to fully embrace their lives and connectedness with others while being more compassionate toward the "unforgivable" parts within themselves through the powerful tools of Radical Self-Acceptance.
Tara will guide you step-by-step through materials covering:
The cause of the pervasive sense of personal deficiency and preponderance of shame in western culture.
The cause of emotional suffering from the perspective of Buddhist psychology, Western psychology, and Evolutionary psychology.
The current research on meditation for emotional resilience, emotional intelligence and deep transformation.
How to transform your client's shame and fear with the R.A.I.N. model.
How to help your client shift from "fight flight freeze" to "attend and befriend."
How to apply Buddhist mindfulness meditation to your clinical practice — the principles and components you need to understand.
The process of forgiving and how your clinical support can help clients release their armor.
How to evolve our capacity for compassion; working with both dissociation and the tendency to get flooded.
How positive neuroplasticity can deepen intimacy and connection in our clients' individual and collective psyche.
Through Tara's expert and insightful commentary, case studies and practices, you'll develop highly practical, evidence-based skills that will strengthen your current clinical approach and improve your therapeutic outcomes.
Next, you'll join Tara for two powerful discussions...
Escaping the Cybertrance
The digital world has created an alternative reality that's altered our relationship with our senses, bodies, and the very notion of who we are. In this session, you'll explore how to help clients both deepen their awareness of their relationship to the cyberworld and challenge its powerful grip on them by:
Enhancing their ability to pause and deepen their experience of presence in the world
Recognizing the trancelike quality of digital reality and how to awaken from it
Exploring the psychology of boredom and how it keeps us from being fully connected to the moment
Developing a cyber-diet to guide your daily use of digital technology and maximize its positive benefits
Deliberate Practice and the Inner Life
Dive into a deep discussion focused on the paradoxical "craft" of meditation — how we deliberately practice certain "skillful means" to quiet the mind so that we may attain a seemingly effortless embodied state of radical and liberating "natural presence," in which we simply let life be just as it is.

"Mindfulness is probably the most ideal training that exists for therapists. It strengthens present-centered attention, it arouses compassion and empathy, and it enlarges affect tolerance of our own inner states to stay steady and open to whatever comes up with our clients, as well as guide our clients into that same state."
— Tara Brach, PhD
Exclusive to this course...
Lifetime access to a previously recorded Q&A call from Dr. Tara Brach
Gain additional insight on the teachings and practices of Radical Self Acceptance and Mindfulness.
Enroll now and you'll also get these FREE bonuses...
Meditation
Awakening Loving Presence
We each have an intrinsic capacity for loving presence, and there are powerful ways of paying attention that bring this potential alive. This meditation uses the image and felt sense of a smile to bring a relaxed receptivity to the body. We then engage with our future self (our Being when our heart is fully awake) and explore what it means to embody the fullness of that wisdom and love.
Meditation
Taking in the Goodness
This meditation guides us to look for the source of loving and to turn in that direction. It begins with a loving kindness practice that spreads the image of a smile into the body, then continues with a practice of seeing the goodness of ourselves and others.
Meditation
Waking Up from Limiting Beliefs
A guided reflection meditation that addresses limiting beliefs surrounding interpersonal conflict.
Podcast Episode
Spiritual Re-Parenting
When we are not sufficiently nurtured in childhood, we are inclined toward anxiety, depression, addiction and other forms of suffering. In a deep way, we do not feel at home with others. We are disconnected from our own body, heart and spirit. This talk explores how meditation offers "spiritual reparenting" as we learn to bring interest, understanding and love to our own inner vulnerability. This process of healing extends to our relationships with others and our larger society — by reaching out to widening circles with interest and care, we bring increasing harmony and peace to our world. From a place of caring, ask, "Where does it hurt?"
Podcast Episode
Real but Not True: Freeing Ourselves from Harmful Beliefs
Thoughts and beliefs are navigational maps that are not inherently true. Rather, some serve us and others cause feelings of separation, self-aversion and/or blame of others. We can free ourselves from harmful beliefs by investigating them with a dedicated, mindful and courage presence. This talk guides us in mindful investigation through an illustrative story, an outline of steps, and a guided meditation that addresses limiting beliefs surrounding interpersonal conflict.
Radical Self-Acceptance with Tara Brach:
Healing Shame & Fear in Clinical Practice
$279.97

Value
Just $249.99 Today — Unbelievable Savings!
The Next Steps in Advancing Your Practice
Watch your email for your order confirmation
, and get instant access to all course materials, including the bonus materials — all designed to help you heal shame and fear in clinical practice.
Click here for course objectives and outline
.
Review the course materials at your own pace and at your convenience! You'll have unlimited access to all course videos and materials online forever. Plus, use the PESI Mobile™ app to access the course content on-the-go, wherever and whenever you want on your mobile devices.
Instantly collaborate with other professionals on the course materials through interactive message boards. You'll be part of a community of hundreds of practitioners all focused on integrating Radical Self-Acceptance in clinical practice, providing valuable opportunities to share insight and experiences and to build your professional network.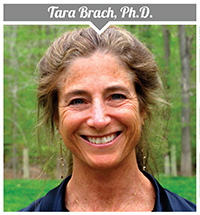 Tara Brach, PhD
, is a clinical psychologist, an internationally known teacher of mindfulness meditation, and the founder of the Insight Meditation Community of Washington. She is author of bestselling
Radical Acceptance and True Refuge
, and leads accredited workshops for mental health professionals interested in integrating meditation into the practice of psychotherapy. Tara offers meditation retreats at centers in the United States and in Europe. Her podcasted talks and meditations are downloaded about a million times each month. In addition to her public teaching, Tara is active in bringing meditation into DC area schools, prisons and to underserved populations, and in activities that promote racial justice.
Speaker Disclosures:
Financial: Tara Brach is the found of Insight Meditation Community of Washington. She receives a speaking honorarium from PESI, Inc.
Nonfinancial: Tara Brach has no relevant nonfinancial relationship to disclose.
100% Satisfaction Guarantee
Register for this intensive training course without risk. If you're not completely satisfied, give us a call at
800-844-8260
. We're that confident you'll find this learning experience to be all that's promised and more than you expected.
Radical Self-Acceptance with Tara Brach:
Healing Shame & Fear in Clinical Practice
$279.97

Value
Just $249.99 Today — Unbelievable Savings!