Working with acute care patients who have serious, life-threatening conditions can be stressful and intimidating. Their families look to you to help provide function, mobilization and independence through their rehabilitation.
The man in front of you isn't just your patient...
He's a father. Someone's son. A friend.
This kind of pressure can make you feel a little overwhelmed.
Hesitation when you're transferring him with a trach in.
Uncertainty when splinting his burn wounds, since you don't do it too often.
Or the thought of preparing him for post-acute care, unsure of his motivation to recuperating.
The good news is,
feeling prepared to address your patient's needs doesn't have to be difficult when you have the right training.
This integrative online course prepares you with strategies you can use with patients in all acute care settings, with special attention to working with your ICU population.
From mobilization to navigating depression's impact on the therapy process, this program provides a no-nonsense approach to increasing overall function for your medically complex clients with easy-to-use methods for each condition.
No matter your level of expertise, this convenient self-study course will provide you with up-to-date knowledge for:
Making appropriate decisions within the ICU and acute care environments
Implementing assessment and treatment tools
Integrating existing treatment plans with progression into the plan of care
Walk away feeling confident to address, manage, and increase overall patient success with dozens of techniques
that enhance functional mobility, strength, and independence. You'll gain new techniques to improve outcomes for your patients with burns, brain injuries, airway restrictions, cardiac complications and much more...
Acute Care & ICU Rehab Strategies
$289.98 Value
Just $119.99 Today— Unbelievable Savings!
Plus, earn up to 8 CE Hours included in the course tuition.
Acute Care & ICU Rehab:


Strategies for the Medically Complex Patient
You work with this patient population frequently... it's time you felt prepared to treat the complexity of each unique situation in front of you!
Get Moving: Mobilization and Managing Basic Challenges
In Module 1, you'll explore the process of getting your patients moving, while navigating the complicated surroundings.

Gain practical and easy to apply strategies to improve patient outcomes when you learn how to:
Use proper transfers techniques to meet the needs of the patient in front of you
Provide safe and successful bed mobility including for your ventilated patients
Manage lines, tubes, wires, and equipment - including helpful pre-checks
Customize your approach with your critically ill cardiac, neurological, or respiratory patients
Address and modify bariatric patient needs
Working with Patients Across the Board
Your work in acute care can cover a wide range of conditions, from burn injuries to traumatic brain injuries, which means you need to feel prepared to address any patient's needs at a moment's notice.

Module 2 will provide you develop an appropriate plan of care for your patients to help manage:
Burn injuries
Cardiac conditions
Neurological conditions
Traumatic brain injury
Respiratory compromise
Chronically refusing patients
Proper discharge planning
Caregiver support for better patient outcomes
Effective documentation, productivity and organization
This comprehensive training will also walk you through PT/OT reassessment goals, visual impairment testing, skin grafting, pacemakers, and much more!
When you sign up today, you'll also receive this FREE BONUS module (valued at $69.99)...
Rehab Strategies for Patients with Tracheostomies & Ventilators
Working with tracheostomies and ventilators can be nerve-wracking. From trying to apply the machine to figuring out how to navigate around the equipment, there's a lot of room for error.
The results could be fatal if a mistake is made.
Regardless if you work in acute care, the ICU, or long-term care, knowing how to work with these complex patients is a must!
In this 2-hour BONUS module, Jerome Quellier, MS, CCC-SLP, dives into evidence-based tools and rehab strategies you and your team can use to immediately start improving care with this population.

You'll discover:
Interventions surrounding communication and dysphagia
Considerations for safe patient mobilization
Evidence-based diagnostics
Risks and solutions, such as aspiration and swallowing
How to know when a patient should use a speaking valve, and safe placement
How to use mechanical vents safely with speaking valves
And much more!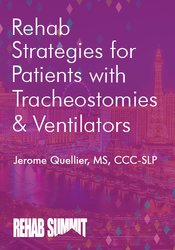 Acute Care & ICU Rehab Strategies

$289.98 Value
Just $119.99 Today— Unbelievable Savings!
The Next Steps in Advancing Your Practice
Watch your email for your order confirmation
, and get instant access to all course materials, including the bonus material — all designed to help you effectively care for your acute care and ICU patients.
Click here for course objectives and outline
.
Review the course materials at your own pace and at your convenience! You'll have unlimited access to all course videos and materials online forever. Plus, use the PESI Mobile™ app to access the course content on-the-go, wherever and whenever you want on your mobile devices.
Instantly collaborate with other professionals on the course materials through interactive message boards. You'll be part of a community of hundreds of practitioners all focused on integrating acute care and ICU rehab strategies into your practice, providing valuable opportunities to share insight and experiences and to build your professional network.
Meet Your Course Experts:
Cindy Bauer, OTR/L
, has practiced in
every
clinical setting, including home health, outpatient, skilled nursing, inpatient rehabilitation, and acute care hospitals. She has worked with clients from every background and every age group, from pediatrics to geriatrics since receiving her Master of Science in Occupational Therapy from Washington University in St. Louis in 1994.
Cindy's approach is matter-of-fact and function-oriented, combining clinical knowledge with a personalized approach for her client's optimal outcomes. Through the years, Cindy has honed her skills in a number of specialty circuits including Trauma, Burns, Spinal Cord Injury, and Brain Injury, but has spent the past 10 years primarily serving the high volume acute care populations of ICU, Cardiopulmonary, Orthopedics, and Med-Surg.
Click here for information about Cindy Bauer
.
Jerome Quellier, MS, CCC-SLP
, is a clinical specialist in traumatic brain injury and communication disorders at a 450+ bed Level 1 Trauma hospital in Saint Paul, MN with almost 25 years of acute, residential, and outpatient rehabilitation experience.
During his tenure at the hospital he has focused on neuro-based diagnostics and intervention for dysphagia, cognitive-linguistic deficits, head and neck cancer management, patient advocacy, and curriculum development. Mr. Quellier has made a career-long study of the intricacies of neurology, completed advanced training in brain dissection at Marquette University, actively engages in staff development training, and recently joined a surgery team in preserving language function during tumor resections.
Click here for information about Jerome Quellier
.
100% Satisfaction Guarantee
Register for this intensive training course without risk. If you're not completely satisfied, give us a call at
800-844-8260
. We're that confident you'll find this learning experience to be all that's promised and more than you expected.
Acute Care & ICU Rehab Strategies

$289.98 Value
Just $119.99 Today— Unbelievable Savings!
Plus, earn up to 8 CE Hours included in the course tuition.