A premier online autism certification training bringing you today's most cutting-edge, strengths-based interventions to help your clients with autism thrive!
Autism intervention continues to evolve.
We're seeing a paradigm shift to one that embraces difference, takes the client's lead, builds on strengths while supporting needs, and appreciates how the body and brain use behaviors to manage surroundings.
But keeping up with emerging evidence-based autism assessments and treatments can be time consuming and overwhelming, leaving you unsure of what steps to take next…
… that's why we're inviting you to this one-of-a-kind autism certification training!
We've gathered the leading voices in the field to breakdown what's new, what's working, and what's just around the corner in autism intervention.
Keynote speaker Temple Grandin, PhD, shares an inspiring insider's perspective on the importance of looking at autism as Different… Not Less. Together, we'll explore the extraordinary potential of those on the autism spectrum, along with strategies for celebrating their interests, ideas, and unique individual differences.
During this powerful virtual autism certification training, you'll have the opportunity to learn from other leading experts including, Dr. Stephen Porges, Dr. Varleisha Lyons, Dr. Jed Baker, Dr. Carol Westby, and Dr. Jim Ball—to name a few—as they guide you through interventions that leverage relationships, trust, communication, acceptance, self-advocacy, and the neuroception of safety.
This intensive online autism certification training provides the education you need to confidently and competently offer safe, effective transformational strengths-based interventions, strategies, and approaches to support your clients regardless of age or developmental stage!
Completely online and self-paced, you can view this comprehensive certification training whenever and wherever the time is right for you.
Once you complete this training, you'll immediately qualify to become a Certified Autism Spectrum Disorder Clinical Specialist (ASDCS) — at no additional cost to you! That's right, in just three easy steps, you can become an ASDCS (a $249.99 value)!
Certified Autism Spectrum Disorder
Clinical Specialist Intensive Training (ASDCS)
$1,099.85

Value
Just $299.99 Today — Unbelievable Savings!
Here's a peek at the cutting-edge interventions and approaches:
Polyvagal Theory: Learn from esteemed Stephen Porges, PhD, the best strategies for down regulating threat and defensive reactions by looking at the child's (and parent's) nervous systems.


Motivational Interviewing: With Sean Inderbitzen, DSW, LCSW, MINT, a clinician on the spectrum, as he guides you through ways to help your teenage/adult clients with anxiety/depression and low self-esteem.


Developmental, Individual Difference, Relationship-based Model (DIR®): Stacy Sue Rosello, MA, OTR/L, teaches simple strategies to build rhythm in relationships in early intervention for autism.


Sensorimotor Interventions: With Varleisha Lyons, PhD, OTD, OTR/L, ASDCS, you'll learn activation of the vagus nerve, music and movement techniques, and breathwork to address social, emotional, and cognitive functioning.


Theory of Mind (ToM) & Autobiographical Memory (AM): Carol Westby, PhD, CCC-SLP, BCS-CL, ASDCS, guides you through current research supporting why understanding clients ToM and AM abilities is essential to social-communication intervention.


Autism Assessment and Screening: Through role-play and case examples, Rebecca Sachs, PhD, ABPP, and Tamara Rosen, PhD, teach you how to do assessment and screening through a neurodiversity lens.
Plus, you'll get essential updates to some of the most important and trending topics in autism assessment and treatment, including how to help your clients:
Prevent the need for meltdowns and emotional outbursts
Develop social skills to successfully navigate online and in person social interactions
Build a foundation of safety and trust through a trauma-informed lens
Understand how brain-gut connection impacts behavior and what to do about it
Build on their strengths through child-centered approaches
Recognize side effects of psychotropic medication that can mimic or cause behavioral issues
---
Certification Made Simple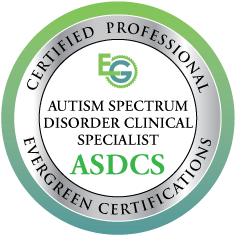 In just three easy steps, you will become a Certified Autism Spectrum Disorder Clinical Specialist (ASDCS) starting today:
Step 1: Watch the online certification training.
Step 2: Complete the CE tests and instantly print your certificates of completion.
Step 3: Submit the Certification Questionnaire included in this training and we'll cover the cost of your certification for 2 years (a $249.99 value!). Click here for full Certification requirements.
We partner with Evergreen Certifications to include certification with some of our products. When you purchase such a product, we may disclose your information to Evergreen Certifications for purposes of providing services directly to you or to contact you regarding relevant offers.
Certified Autism Spectrum Disorder
Clinical Specialist Intensive Training (ASDCS)
$1,099.85

Value
Just $299.99 Today — Stunning Savings!
Certified Autism Spectrum Disorder
Clinical Specialist Intensive Training (ASDCS)
$1,099.85

Value
Just $299.99 Today — Stunning Savings!
Register Today and Get These FREE Bonus Offers ($99.98 value):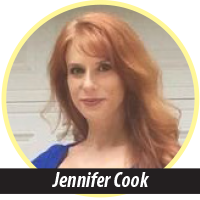 A Love Letter to Women on the Spectrum
Jennifer Cook (formerly Cook O'Toole)

Like so many women and girls, Jennifer Cook fit the profile of someone on the spectrum, but it remained unidentified, facing years of avoidable anxiety, eating disorders, volatile relationships, self-harm, and stunted independence. In this game-changing talk, Jennifer offers a love letter to all women on the spectrum. Walking us through her personal journey of self-discovery, enrichment, and understanding, she'll empower every differently wired mind to become their own best differently wired kind of wonderful!
Click here for information about Jennifer Cook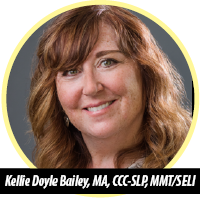 Exploring Mindfulness Practices to Help Kids Become Calm and Cool
Kellie Doyle Bailey, MA, CCC-SLP, MMT/SELI

Join author Kellie Doyle Bailey, MA, CCC-SLP, MMT/SELI, as she walks you through mindfulness interventions to help "lid flippers"—our reactive learners—become "calm and cool" kids. Kellie is the author of best-selling Some Days I Flip My Lid and Some Nights I Flip My Lid. You will find both books in the summit bookstore!
Click here for information about Kellie Doyle Bailey
Certified Autism Spectrum Disorder
Clinical Specialist Intensive Training (ASDCS)
$1,099.85

Value
Just $299.99 Today — Stunning Savings!
The Next Steps in Advancing Your Practice
Watch your email for your order confirmation
and get instant access to all course materials, including the bonus materials — all designed to help you effectively integrate transformative interventions and approaches into the clinical and educational work you do with clients with autism.
Click here for course objectives and outline
.
Review the course materials at your own pace and at your convenience! You'll have unlimited access to all course videos and materials online forever. Plus, use the PESI Mobile app to access the course content on your phone or tablet. Choose video or audio-only versions of online courses from the world's best instructors, and complete your CE requirements anywhere, anytime, at your own pace.
Instantly collaborate with other professionals on the course materials through interactive message boards. You'll be part of a community of hundreds of practitioners all focused on passionately helping clients with autism thrive. You'll have the opportunity to interact, share insight and experiences to build your professional network.
Become a Certified Autism Spectrum Disorder Clinical Specialist (ASDCS)
 through Evergreen Certifications. Certification lets colleagues, employers, and clients know that you've
invested the extra time and effort
necessary to understand the complexities of treating individuals with Autism Spectrum Disorder. Professional standards apply. Visit
www.evergreencertifications.com/asdcs
 for details. 
---
100% Satisfaction Guarantee
Register for this intensive training course without risk. If you're not completely satisfied, give us a call at
800-844-8260
.
We're that confident you'll find this learning experience to be all that's promised and more than you expected.