This advanced training will present corrective exercise strategies to address both mobility AND stability throughout the lower quarter so that you can precisely develop your plan of action.
Through this unique global and dynamic approach to evaluation and treatment, you'll learn how to:
Utilize the joint-by-joint approach to streamline your evaluation
Integrate the fascial highway that connects it all to enhance your treatment plan!
Incorporate the tools you already own to get results fast!
Filled with clinical pearls from many of the senior instructors from RockTape, you have the opportunity to learn their time-tested treatment models that are unparalleled in creating positive outcomes that translate to lasting recovery.
Lower Extremity Masterclass:
Evidence-Based Treatment Strategies for Enhanced Recovery
$839.93

Value
Just $299.99 Today — Unbelievable Savings!
Course Content
There are very few situations where you'd recommend that a patient ever wear a brace for 2+ years…yet, when it comes to foot orthotics, knee and back braces – most patients go around wearing them for decades.
Redefine what is possible for your patients! This course is jam-packed with innovative techniques that you can implement immediately! From the bottom up – feet, ankles, knees, hips, and SIJ – it's all here!
Foot/Ankle
Join Dr. Courtney Conley, founder of Gait Happens with over 100,000 followers on Instagram, as she arms you with treatment strategies for the diagnoses you treat all the time: heel pain, ankle pain, bunions, neuromas, pain with walking. You'll learn:
In depth biomechanical analysis of the foot and ankle anatomy that will enhance your clinical decision making
Differential diagnosis for the most prevalent conditions: plantar fasciitis, Achilles tendonitis, posterior tibial tendonitis and ankle sprains – and effective treatment protocols tailored to each pathology
How to improve foot function without using an orthotic or brace
Long term effects of chronic ankle instability – and how to address it!
Knee
Learn alongside Dr. Tony Mikla as he explores mobility interventions, strategies to develop stability and control and advanced strength, power & return to sport – this training will give you tactics to employ immediately.
The full spectrum of knee assessment and intervention for every patient type and ability level
A concise framework for every aspect of evaluation: tightness, strength and tolerance
Unique ways to challenge movement – without additional loading!
Fill the clinical void that many clinicians overlook - a better appreciation for the importance of training single leg stance
Hip
Join Dr. Adam Wolf for a brain-based musculoskeletal approach to hip pain. In this session, you'll uncover integrated solutions that will help you effectively assess and treat hip impingement.
Incorporate the 3 critical sensory systems into your treatment: proprioceptive, vestibular and ocular
Integrated assessment options that will re-direct your plan of care by assessing the location of the restriction: open vs closing side of a movement
How to create appropriate system compensations by working around the pain instead of through it
Feel confident knowing when to stabilize vs when to mobilize
SIJ
Unlock the secrets of quickly addressing unresolved sacroiliac joint pain with Dr. Jon Mulholland as he presents a joint by joint approach that incorporates the whole system.
Simple yet effective screening tests for motor control issues with the hips and SI joints
Hip mobility drills and targeted exercises that get results fast
How to teach your patients the ONE movement they need to master to prevent lower back pain
Core strengthening exercises to help prevent SI joint pain
Lower Extremity Masterclass:
Evidence-Based Treatment Strategies for Enhanced Recovery
$839.93

Value
Just $299.99 Today — Unbelievable Savings!
Bonus Content
And as the icing on the cake - when you register today, you'll also receive two bonus trainings - A $239.98 value – included for no additional cost.
BONUS #1: Truth, Lies, & Running Analysis: How to be the Running Expert in Your Community. - Dr. Jon Mulholland
Discover how easy it is to:
Perform a 'low cost' gait analysis
How to spot the most common biomechanical errors in runners
Identify the type of foot strike that is increasing risk of injury
You'll also "bust" some popular running beliefs. What is the optimal foot strike? What about the "minimalist" running movement? How do I choose the best running sneaker for me?
BONUS #2: Runner's Toolkit: Find the Faults, Fix them Fast
Learn from the industry insiders! Join triathlete Milica McDowell, MS, DPT, and Ironman Paul Herberger, BS, CPT, as they provide practical tools to identify the root cause of the running faults, tactics for mobility/stability and low-cost interventions that get results fast, like kinesiology taping. From 5K newbies to ultra-distance runners, their approach will help improve your confidence and skills when working with these athletes.
Your time with patients is often limited – you need quick solutions to maximize the time you have. This advanced course will present the evidence-based strategies that you need to quickly identify and correct movement dysfunction.
Simple, evidence-based advice to improve your clinical skills immediately!
Don't wait - register today!
Lower Extremity Masterclass:
Evidence-Based Treatment Strategies for Enhanced Recovery
$839.93

Value
Just $299.99 Today — Unbelievable Savings!
Now, Meet Your Course Experts: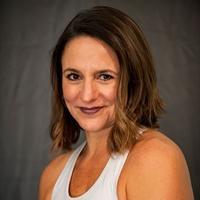 Dr. Courtney Conley is a chiropractic physician specializing in foot and gait mechanics. She holds a B.A. in Kinesiology from the University of Maryland and is the owner and operator of Total Health Solutions in Golden, Colorado. She also is the founder of Gait Happens, an online education platform specializing in foot and gait mechanics. Her personal journey of becoming a foot and gait expert began years ago when she attended chiropractic school in Chicago, Illinois. She was privileged to be mentored under some of the top experts in her field.
---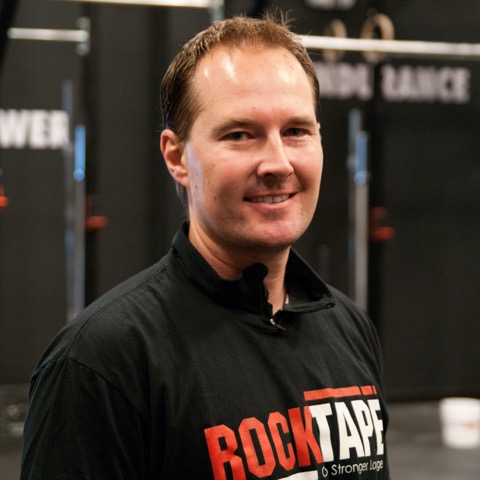 Tony Mikla, DPT, CSCS, XPS, is a sports physical therapist and performance coach. Dr. Mikla speaks and teaches nationally on sports physical therapy and is active in research having published multiple papers in international journals. He is the founder and CEO of KIME Human Performance Institute focusing improving people's lives through movement and physical therapy. He previously served as the physical therapy manager at the world renowned EXOS in Phoenix, AZ, working with best athletes in the world.
---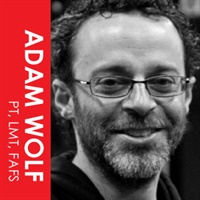 Adam Wolf, PT, LMT, FAFS, has nearly two decades of clinical experience that includes clinical, management, consulting, education, performance/strength, and conditioning, as well as ownership roles. Some of his certifications include Level III practitioner of Neurokinetic Therapy (NKT), Enhance Running Technician, Functional Range Conditioning (FRC) & Functional-Neuro-Orthopedic Rehab (FNOR) provider.
---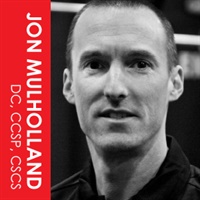 Dr. Jon Mulholland is a sports chiropractor and strength coach who has helped athletes of all levels with injury recovery and performance enhancement. He earned a Bachelor of Science degree in Exercise Science from Ithaca College in 1996, and his Doctor of Chiropractic degree from Northwestern Health Sciences University in 2000. Additionally, he has post-graduate certifications as a Certified Chiropractic Sports Practitioner (CCSP) and a Certified Strength & Conditioning Specialist (CSCS).
---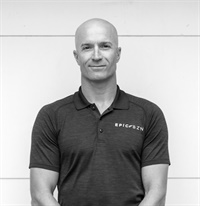 Paul Herberger, BS, CPT, is a former professional big mountain skier who competed on the Freeride World Tour for 12 years. Paul is also a Certified Personal Trainer and a Certified Ironman Triathlon coach who has coached numerous athletes to the Ironman World Championships in Kona, Hawaii and Ironman 70.3 World Championships. Additionally, he holds coaching certifications from USA Swimming and USA Cycling. Paul owns and operates Epic Fitness, a functional fitness center in Bozeman, Montana, where he manages a staff of coaches and trainers and oversees both in-person and virtual training programs.
---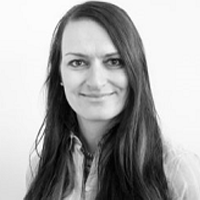 Milica McDowell, MS, DPT, is the Director of Medical Business Development for Rocktape. She holds a Doctor of Physical Therapy degree from Idaho State University, a masters degree in Physical Therapy from the University of Colorado and two bachelors Degrees in Exercise Physiology and Health Promotion. A Physical Therapist since 2003, she established an orthopedic and sports medicine physical therapy practice in 2003 in Bozeman, MT. She is also the founder of Bluebird Medical Supply and Epic Fitness Center. Dr. McDowell was a faculty at Montana State University in the Human Performance Department for 8 years where she taught exercise science related courses and mentored pre-health professions students. She is a published author, editor, researcher and speaks at State, Regional and National Medical and Fitness Conferences. She has taught over 200 continuing education courses and is the co-author of several continuing education systems. Originally from Alaska, in her free time she enjoys downhill and skate skiing, surfing, growing veggies in her garden and being active with her family.
The Next Steps in Advancing Your Practice
Watch your email for your order confirmation
and get instant access to all course materials, including the bonus materials — all designed to help you effectively integrate the Lower Extremity Masterclass into your practice and your life.
Click here for course objectives and outline
.
Review the course materials at your own pace and at your convenience! You'll have unlimited access to all course videos and materials online forever. Plus, use the PESI Mobile app to access the course content on your phone or tablet. Choose video or audio-only versions of online courses from the world's best instructors, and complete your CE requirements anywhere, anytime, at your own pace.
Instantly collaborate with other professionals on the course materials through interactive message boards. You'll be part of a community of hundreds of practitioners all focused on integrating the Lower Extremity Masterclass in clinical practice, providing valuable opportunities to share insight and experiences and to build your professional network.
100% Satisfaction Guarantee
Register for this intensive training course without risk. If you're not completely satisfied, give us a call at
800-844-8260
.
We're that confident you'll find this learning experience to be all that's promised and more than you expected.
Lower Extremity Masterclass:
Evidence-Based Treatment Strategies for Enhanced Recovery
$839.93

Value
Just $299.99 Today — Unbelievable Savings!