With aging comes structural and functional changes to the shoulder complex. Decreased sensation, stiffness, pain, weakness, and edema to name a few.
To make it more challenging… these gradual changes are tough to describe. Making it difficult to collect a thorough history and review of symptoms to pinpoint the root cause.
And when your go-to assessment and treatment approaches are not quite working, your patients are frustrated… feeling dejected, still in pain during activities they enjoy, and seeking surgical consults.
But don't worry… With new developments in shoulder differential diagnosis and treatment, becoming the shoulder specialist to help your aging patients back to pain-free participation in the activities they love is easier than ever.
Best part is it doesn't stop there… If your patient does require surgery, this comprehensive training will have you readily equipped with updated practices for new surgical options, so YOU can design the most effective rehab program!
From the Pickleball court to picking up precious grandbabies. Register today and discover strategies to help your patients stay active while aging.
Shoulder Concepts to Promote Active Aging
A Joint-by-Joint Approach to Differential Diagnosis, Pain Management and Treatment
$1,019.94 Value
Just $199.99 Today — Unbelievable Savings!
Plus, earn up to 18.5 CE Hours included in the course tuition.

It's shoulder rehab – made simple! Unwind the complexities of the shoulder through a joint by joint approach that combines the best differential diagnostic methods, treatment interventions, and surgical options in the field today.
With evaluation strategies to get to the root cause of impairment faster for the…
AC Joint dysfunction
SC Joint dysfunction
GH Joint dysfunction
Scapulothoracic Joint dysfunction
PLUS – Current best approaches for assessment and treatment of…
Instability
Impingement
Rotator Cuff Pathologies
Labral Tears
Biceps Tendonitis
Cervical Radiculopathy
When you're working with the shoulder complex, sometimes progress can feel like just that… complex. But, with this step-by-step guide from three leading authorities on shoulder rehabilitation, you are guaranteed to gain confidence working with any shoulder injury or impairment.
Shoulder Concepts to Promote Active Aging A Joint-by-Joint Approach to Differential Diagnosis, Pain Management and Treatment

$1,019.94 Value
Just $199.99 Today — Unbelievable Savings!
Plus, earn up to 18.5 CE Hours included in the course tuition.

Comprehensive Evaluation of the Shoulder Complex
→ Insidious and Acute
→ Commonly compromised structures
→ Understating the biomechanics
→ Identifying root causes for impingement
→ Assessment strategies for the:
Glenohumeral Joint
Acromioclavicular Joint
Sternoclavicular Joint
Scapulothoracic Joint
Thoracic Spine
Cervical Spine
Scapular region
→ Learn movement screens for:
Cervical spine
Shoulder positions
Multisegmental flexion, extension, and rotation
→ Maximize functional outcomes with standardized assessments such as...
Constant Score
ASES Shoulder Score
DASH Outcome Measure
Simple Shoulder Test
UCLA Shoulder Score
An Evidence-Based Approach to Treatment of Shoulder Disorders
→ Targeted interventions for…
Rotator Cuff disorders
Labral Pathology
GJ joint instability
→ Interpreting data and establishing goals
→ Integrating concepts to improve treatment outcomes...
IASTM
Cupping
Soft tissue mobs (STM)
TPR
Joint mobs
PNF techniques
Self-Assisted Interventions
Neuromuscular Re-education
→ Priority sequencing of muscle groups
→ Scapular Stabilization
Lower trap, serratus

Lower trap progression
Dynamic planks

Mid Trap/Rhomboids
→ Neuromuscular Re-education
Dynamic exercises utilizing a multitude of tools
→ Rotator Cuff Strengthening
Isometric strengthening
Resistance band training
Concentric/eccentric concepts
Proprioceptive Neuromuscular Facilitation (PNF) techniques and AROM
→ Custom exercises and manual therapy progressions
Total Shoulder Arthroplasty: Improve Outcomes Through Functional Interventions
→ Explore components and minimally invasive options for:
Standard TSA surgical repair
Reverse TSA surgical repair
Subscapularis & deltoid sparing procedures
Sub acromial decompression
Bankart repair
Proximal shoulder fractures
→ Construct evidence-based treatment interventions to:
Acquire true measures of post-TSA success
Reduce functional neglect using standardized assessments
Restore proper proprioception of the shoulder joint
Redefine best-practice TSA protocols – what actually works
→ Peri-operative approaches
→ Interscalene blocks – How are they performed and why?
→ Safer alternatives to narcotic pain prescription to expedite discharge outcomes
Shoulder Concepts to Promote Active Aging
A Joint-by-Joint Approach to Differential Diagnosis, Pain Management and Treatment

$1,019.94 Value
Just $199.99 Today — Unbelievable Savings!
MEET YOUR SHOULDER REHAB EXPERTS: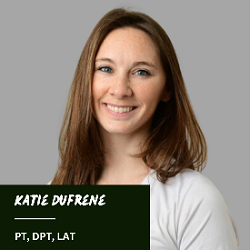 Katie DuFrene, PT, DPT, LAT, studied kinesiology during her undergraduate and began personal training and coaching for fitness, gymnastics, cheerleading and dance. She then went on to earn a master's in athletic training and a clinical doctorate in physical therapy.
Katie has worked with collegiate and professional athletes of all sports (although there is a special place in her heart for gymnasts). She has worked with a variety of orthopedic conditions from post-operative treatments, to sprains and strains, to concussions. Click here for information about Katie DuFrene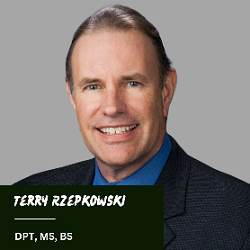 Terry L. Rzepkowski, DPT, MS, BS, is a Doctor of Physical Therapy with specialization in Orthopedic Physical Therapy. Throughout his 37-year career, he has specialized in Orthopedics, specifically: Musculoskeletal out-patient rehab as an independent private practitioner, Total Joint Replacement Surgery, and Sports Medicine. A professor in the Health Science department at Nova Southeastern University, Terry provides instruction in Anatomy, Biomechanics, Kinesiology, and Neuro anatomy.
Terry has extensive knowledge in relating the complexities of the Orthopedic joint replacement patient. He has spoken professionally on shoulder, knee, and hip injuries with advances in orthopedic management. Click here for information about Terry Rzepkowski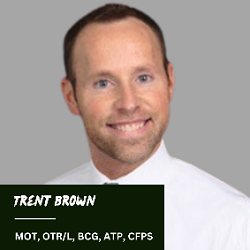 Trent Brown, MOT, OTR/L, BCG, ATP, CFPS, is a practicing therapist in Utah and is one of 36 credential holders of a board certification in gerontology (BCG) from the AOTA. Mr. Brown also holds a certification as an assistive technology professional (ATP) from RESNA. He is employed by the Utah Department of Health (UDOH) to develop, implement, and operate healthcare quality improvement programs and has authored multiple laws to legislate improved patient care.
Mr. Brown has over 15 years of clinical experience in skilled nursing, transitional care, acute, and home health. He is a master clinician and lecturer on a myriad of topics including joint arthroplasty, core strengthening, documentation, aging, functional mobility, ethics, and fall reduction. Click here for information about Trent Brown
YOUR PEERS ARE RAVING ABOUT THIS ONLINE COURSE!
"Nice review along with helpful tips for client education" — George S., Occupational Therapist
"I learned a great deal and will be a much better clinician with knowledge I've gained from this course. Thank you!" — David B., Physical Therapist
"LOVED THIS COURSE! Looking forward to more courses with Terry Rzepkowski" — Christina N., Occupational Therapist
"This course was excellent, and the speaker was very knowledgeable... Did a lot of "lab" or practical demonstrations." — Reginald M., Physical Therapist
"Excellent program, well organized and logical in progression from injury, to diagnosis, to intervention" — Charles Q., Occupational Therapist
Review the course materials at your own pace and at your convenience! You'll have unlimited access to all course videos and materials online forever. Plus, use the PESI Mobile app to access the course content on the go, wherever and whenever you want on your mobile devices.
Instantly collaborate with other professionals on the course materials through interactive message boards. You'll be part of a community of hundreds of practitioners all focused on integrating the most effective techniques, providing valuable opportunities to share insight and experiences, and build your professional network.
100% Satisfaction Guarantee
Register for this intensive training course without risk. If you're not completely satisfied, give us a call at
800-844-8260
.
We're that confident you'll find this learning experience to be all that's promised and more than you expected.
Shoulder Concepts to Promote Active Aging A Joint-by-Joint Approach to Differential Diagnosis, Pain Management and Treatment

$1,019.94 Value
Just $199.99 Today — Unbelievable Savings!
Plus, earn up to 18.5 CE Hours included in the course tuition.